Our sense of smell is nature's most authentic time machine.
No sunset at 25 can be relived with the exact hues as the one that first mesmerised us at 15. No conversation, however enchanting, can be organically reproduced, word for word, even by those who participated in the original. Smells, though, are different, for they can be embraced in just the same way as before, their essence unaltered by time and space. This is why the petrichor feels comfortably familiar every monsoon, the aroma of a sumptuous home-cooked dish spans generations and the cologne of a special someone, even when felt through someone else, makes our hearts skip a beat.
Smells, when evoked in the right setting, can also be synaesthetic — they can heighten our experience by stimulating our other senses. Think of how the whiff of books on College Street provokes intellectual curiosity or how the savour of coffee and croissants on Park Street stand in for urbane refinement or how the potpourri of smells at Shyambazar's five-point crossing reflects kinaesthetic chaos. 
Something similar happens in select alleys in the market district of Burrabazar. Within a 100-metre radius of the iconic Nakhoda Masjid, amid largely inconspicuous shops whose front desks are stocked with yellow packets labelled in Urdu, the smell of the past still lingers. It is the smell of colonial Kolkata, of relaxed adda unimpeded by Instagram, of simpler times and simpler lives. It is the smell of the enduring fragrance of attar.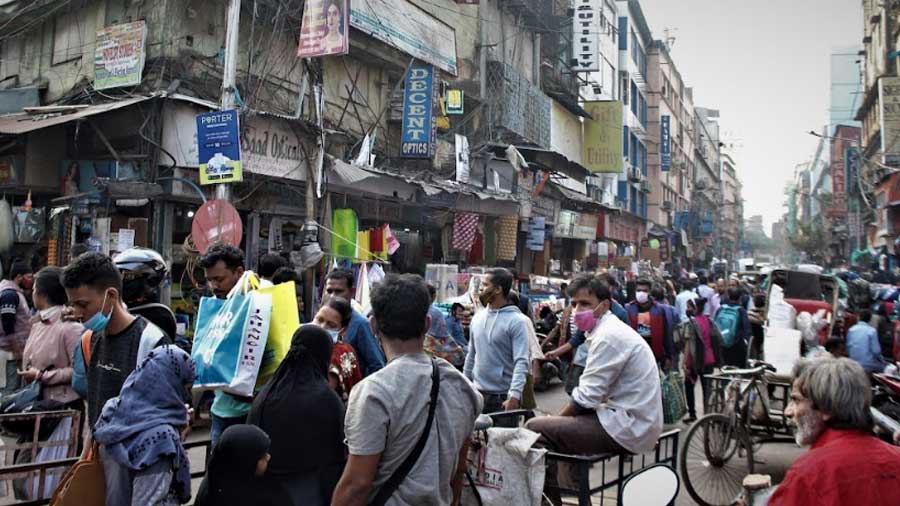 The market district of Burrazbar is among the noisiest and most congested areas of central Kolkata
Sourav Nandy
'Attar' versus modern perfumes
Home to a myriad exotic scents, the attar shops of Burrabazar are stacked with iridescent crystal containers and mini decanters filled with small portions of red, yellow, purple and green liquids that contribute to a distinctly bohemian ambience. The liquids themselves have exquisite names — Khus, Shama, Hayati, Firdausi, Shahi, Gulab, Beli, Apsara, Maulsari — as if selected for the christening of a baby girl in anticipation of her future elegance.
"Our attar shop has been operational since 1824, when our forefathers had moved from Lucknow to Kolkata. I'm part of the eighth generation that is responsible for handling this shop," says Neyazuddin Allah Buksh, the patriarch in charge of Haji Khuda Buksh Nabi Buksh on Maulana Saukat Ali Street.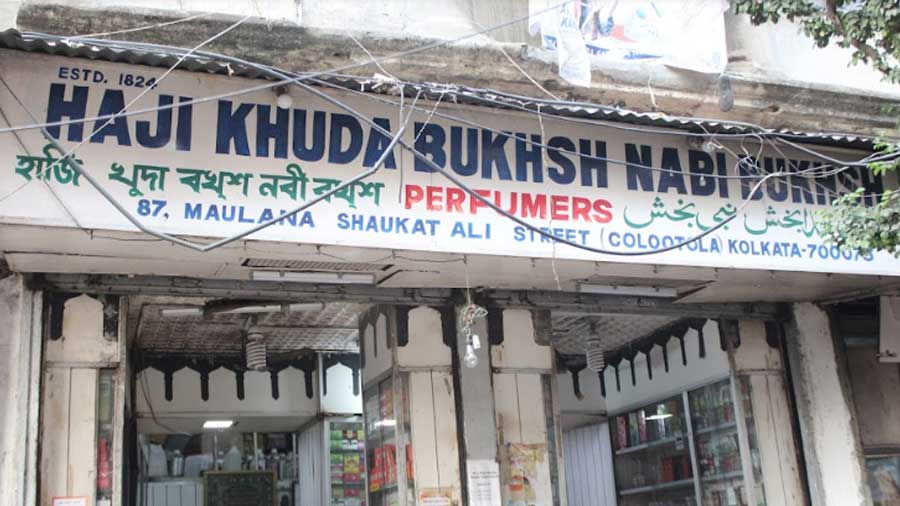 The oldest as well as the largest 'attar' shop in Burrabazar
Sourav Nandy
With avuncular charm, Buksh explains the difference between attar and artificial perfumes: "Attar has no side effects and can easily last for two to three days. Modern perfumes or deodorants, infused with chemicals, only last a few hours. But attar tends to leave a slight impression on the dress, which the youth don't approve of." 
Believed to have been derived from the Persian word itir (meaning perfume), attar is an essential oil harnessed from flowers, herbs, spices or other natural sources. Generally extracted by hydro or steam distillation into a wood base such as that of sandalwood, attar is aged for years before it is packaged and sold. Revered in Islam and believed to possess the power to ward off evil spirits and attract angels, attar has played a role in the quests of Sufi saints towards enlightenment, according to biographers and historians. Bengali literature is replete with mentions of attar adorning rich babus as they attended jalshas.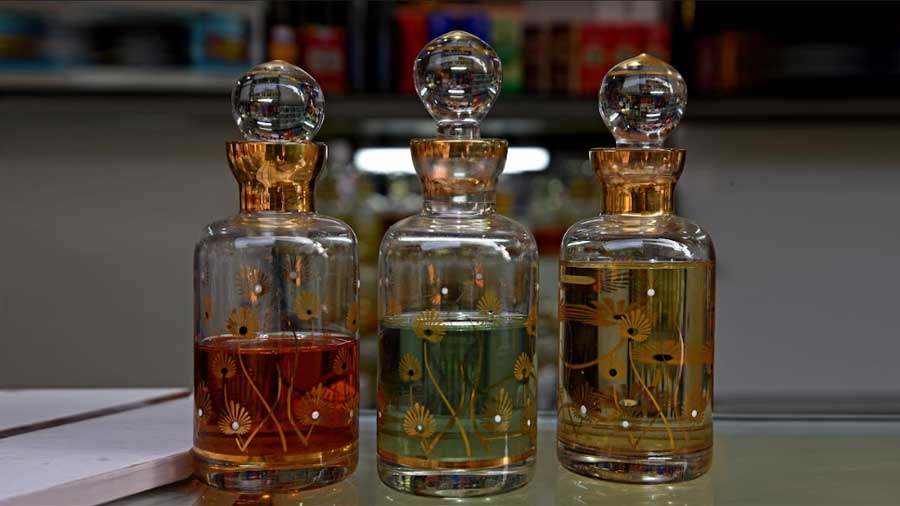 'Attar' can ward off evil spirits and attract angels, many of its wearers seem to believe
Amit Datta
Buksh acknowledges the historical appeal of attar, but, in 2022, is also acutely aware of its practical limitations.
"Our attar is manufactured mostly in Kannauj or Lucknow and then sent to Kolkata. Before Covid-19, we would export across India, but the pandemic forced us to scale down for the time being. The entry of foreign perfume companies over the last few years has also slowed us down somewhat," admits Buksh.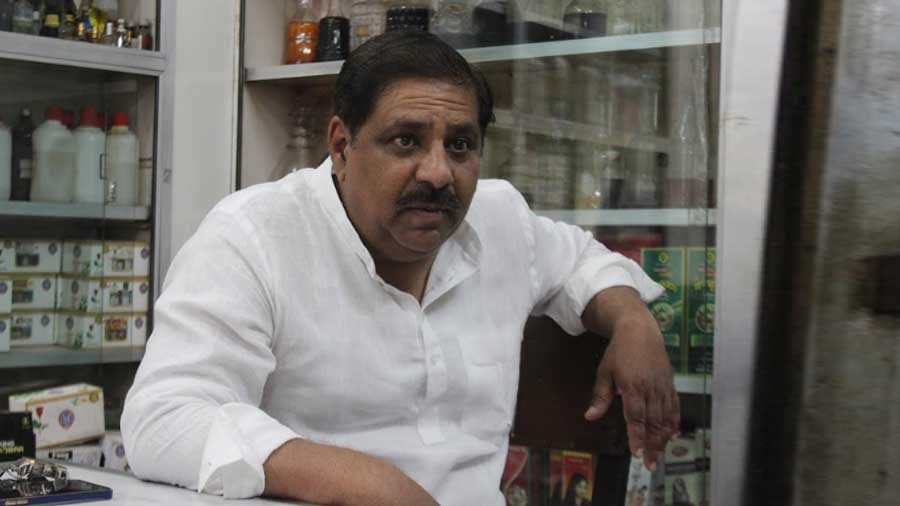 Neyazuddin Allah Buksh is part of the eighth generation of 'attar' sellers in his family
Sourav Nandy
Where Netaji and Rabindranath got their 'attar'
A spacious shop arranged with the precision of a large pharmacy, Buksh demonstrates how his store keeps its innumerable types of attar bottled in magnificent decanters that are no longer manufactured. From Khus that "cools the body during the summer" and "is preferred by older customers" to attar roll-ons like Saba, Hayati and Cobra that are more popular among the young, Buksh gives the feeling that he can name an appropriate attar for every age and occasion.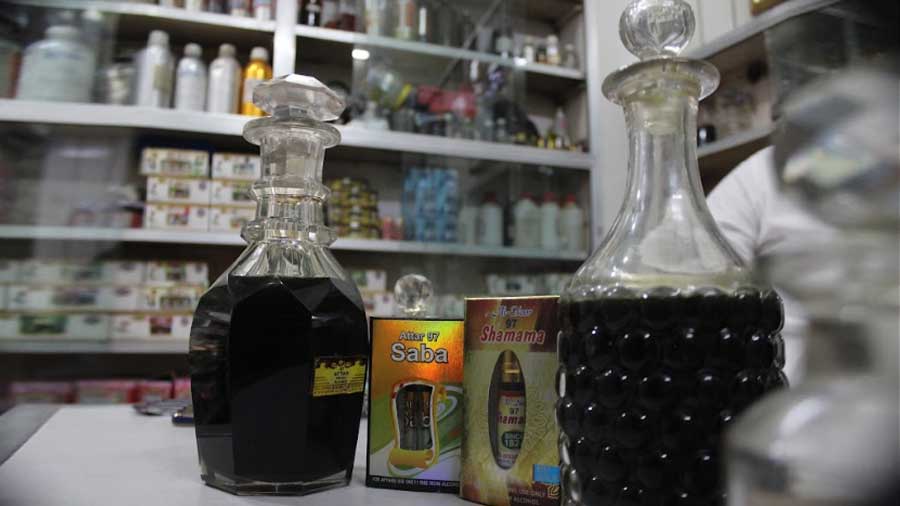 Buksh is proud of the decanters in his shop, which have been used to store 'attar' for decades
Sourav Nandy
"We also have one for headaches," interjects one of Buksh's staff members, before bringing out a sharp and mildly stifling attar of lavender.
Priced between Rs 50 and Rs 4,000, most of the attars offered by Buksh come burnished with the legacy of being worn by some of the subcontinent's most eminent names. "Netaji Subhas Chandra Bose, along with his aides, would drop by at our shop in the early 1940s, as he was a big admirer of attar. His favourites were rose and rajnigandha," recollects Buksh, before adding: "There were others, too. From Kazi Nazrul Islam to Liaquat Ali Khan to Sheikh Mujibur Rahman. I've heard stories of how Jawaharlal Nehru would come here whenever he was in Kolkata. Another of our famous customers was Rabindranath Tagore. Members of the Tagore family continue to purchase attar from us to this day."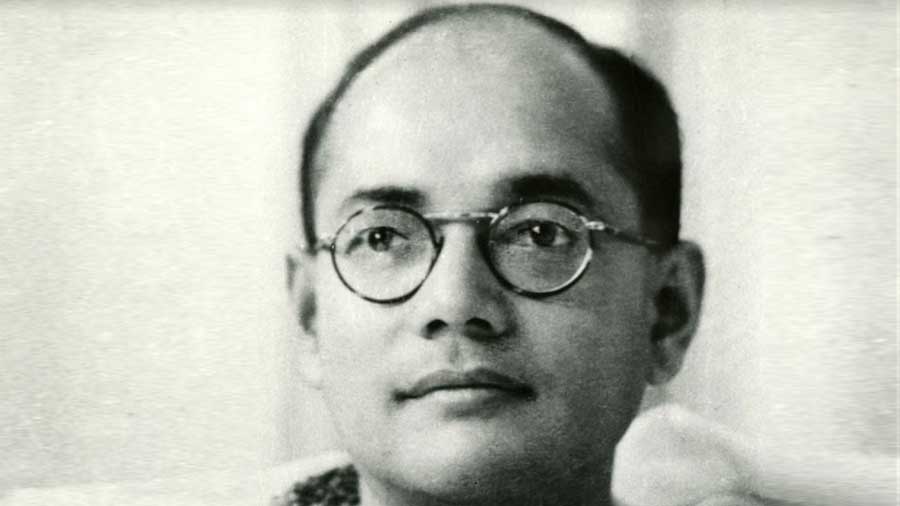 Rose and rajnigandha were among Netaji's favourite varieties of 'attar', according to a seller
TT Archives
How 'attar' and its customers have evolved
On exiting the elaborate expanse of the Bukshes, the narrow, over-populated lanes of Burrabazar seem rather banal. That is until one meets the imposing presence of the Nakhoda Masjid, built in 1926, and nestled like the most precious jewel in an emperor's crown right in the heart of Burrazbazar's Chitpur area. It is there, at the intersection of Zakaria Street and Rabindra Sarani, that attar's other addresses can be found, or at least those that still remain from the spree of shops that had sprouted in the mid-1800s, thanks to the incorporation of the Nawabi lifestyle into the quotidian realities of Bengal. A lifestyle that traces its lineage to the arrival of Nawab Wajid Ali Shah, the 11th and last nawab of Awadh, in Bengal. After being exiled by the British, Shah had brought his Nawabi habits to eastern India, where it gradually blended with the culture of the Bengali babus.
One shop frequented by the babus back in the day was Asghar Ali Mohammed Ali Brothers, which was set up in 1835 in Lucknow and has had a lucrative franchise in Kolkata for almost as long. Mohammed Asif, the current manager of the shop, can be heard announcing orders for kewra attar every five minutes alongside maintaining the daily accounts.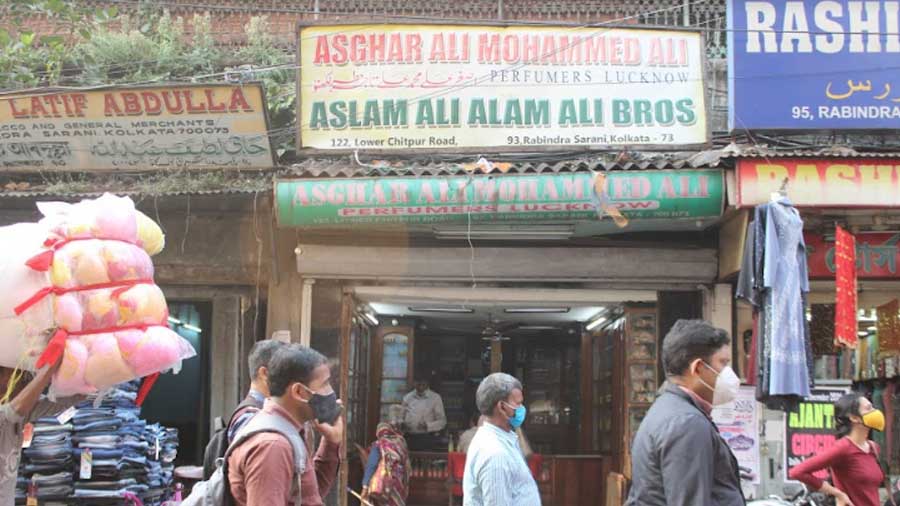 This 'attar' shop, in the immediate vicinity of the Nakhoda Masjid, used to be frequented by babus in the 19th century
Sourav Nandy
"We have attar that costs as little as Rs 10, while the costlier ones can go up to Rs 1,000. Rose, Firdaus and Majmua sell the most, although it's mostly the old customers who buy," says Asif, whose shop is neatly segregated into fragrances for attires and olfactory enhancers that go into food items like biryani.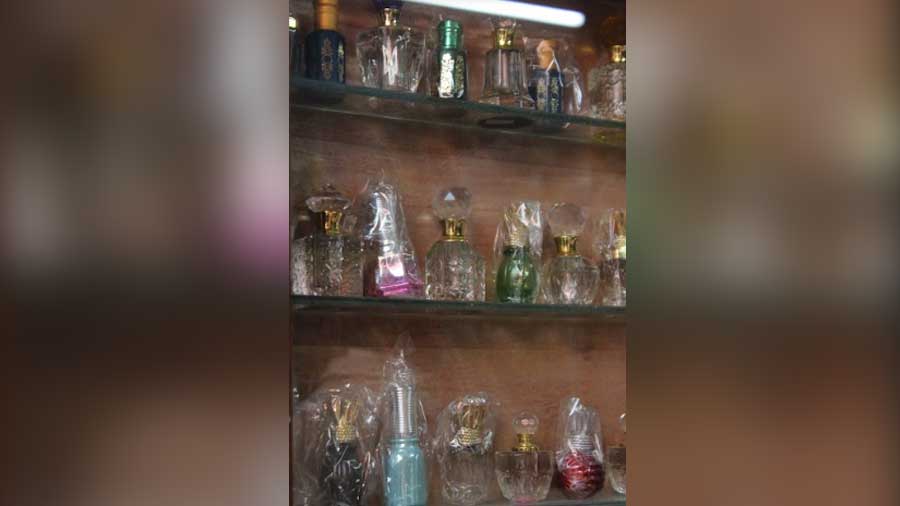 Multiple fragrances of 'attar' on display at Asghar Ali Mohammed Ali Brothers
Sourav Nandy
Over at Raunaq, a comparatively modern attar shop opposite Quality Biryani and about a dozen or so metres away from Ali Brothers, a different kind of attar is the star attraction. "This is something called white musk or Oudh attar. It comes in a 12 ml container, but its fragrance doesn't leave you for days," says Faiyaz Ahmad, who is keen to show a YouTube video featuring his shop but is let down by a sluggish connection. Without much of a fuss, Ahmad segues into searching for the perfect attar metaphor. He ends up with a simile: "Attar is like a fuel, a fuel for life. If you apply attar regularly, you tend to live longer and healthier."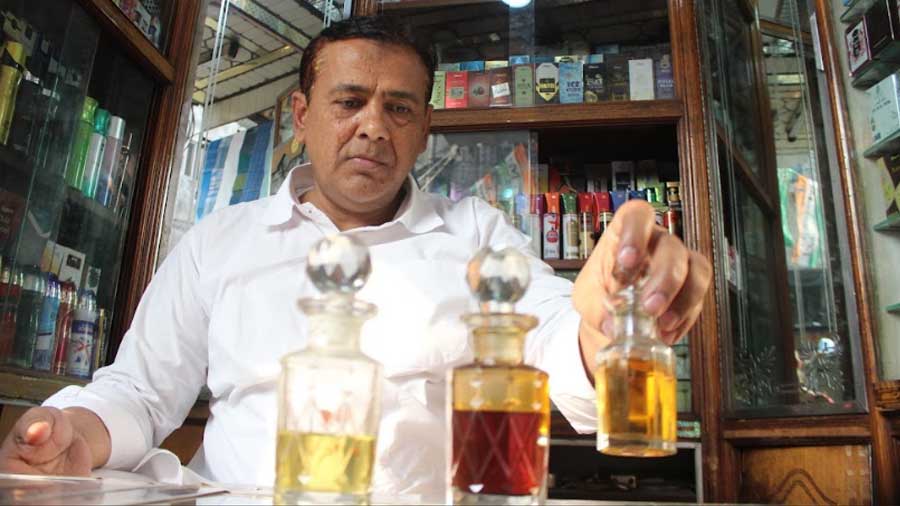 Faiyaz Ahmad calls 'attar' 'a fuel for life'
Sourav Nandy
About 50 yards away from Raunaq is another attar outlet of the Ahmads, this one run by elder brother Firoz. "I'm 60 years old and I've been sitting at this shop for 40 of those years. Attar is no longer valued by people the way it used to be, but it's not going to become extinct, either. Over time, we've adapted our attar to fit in with the demands of the new generations of customers. Which is why we've developed some varieties of attar that aren't entirely natural. They have a small composition of chemicals, which gives them more of a perfume feel," says Firoz.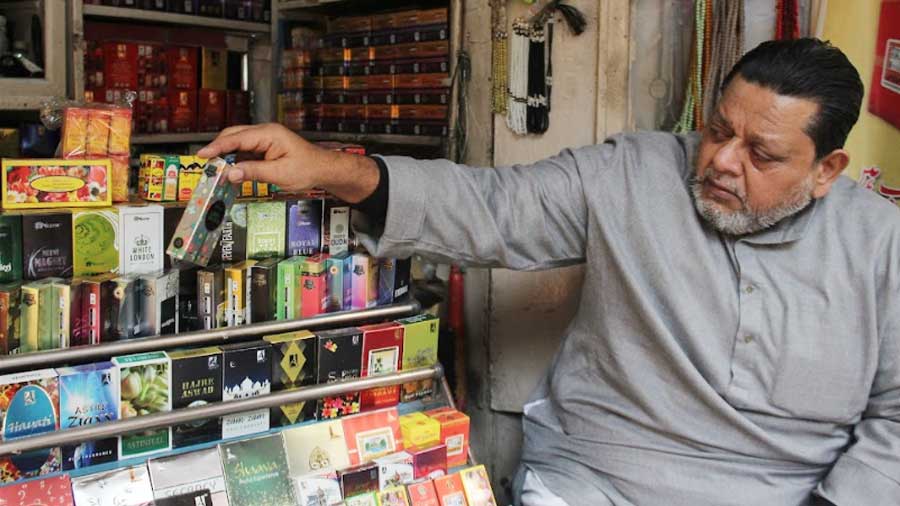 Firoz Ahmad agrees that attar's popularity is waning, but does not think it will go extinct
Sourav Nandy
An uncertain future
The last attar stop in Burrabazar is also the smallest. Chand Star Surma, which opened sometime in the early 1920s, juts out from a typical central Kolkata cranny, and is about the size of a paan shop. Its supervisor is Mohammad Iqbal, who has been witness to the attar alleys in this part of the city for the best part of four decades.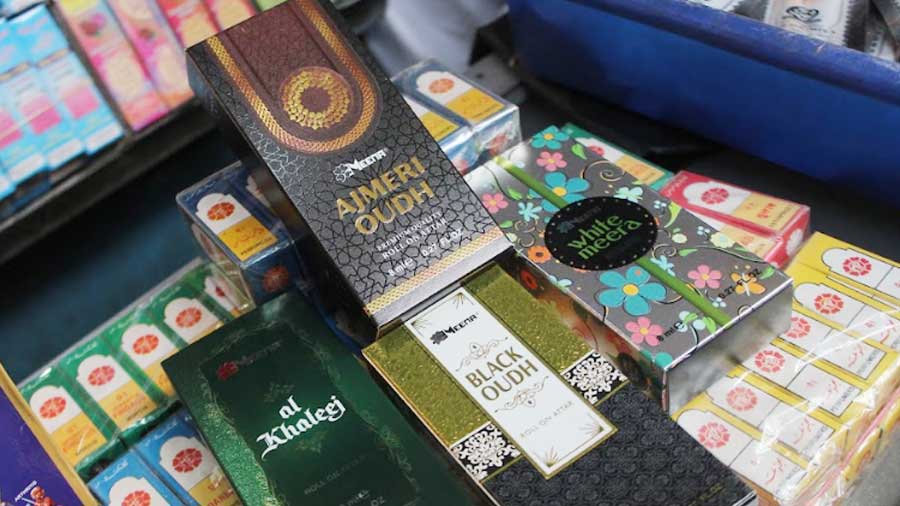 Some of the best-selling 'attar' fragrances in Burrabazar
Sourav Nandy
"I've been selling attar since I was old enough to remember. Every attar we have is alcohol-free, although in recent times, we've introduced some new fragrances, like the chocolate musk. Youngsters like it a lot," says Iqbal.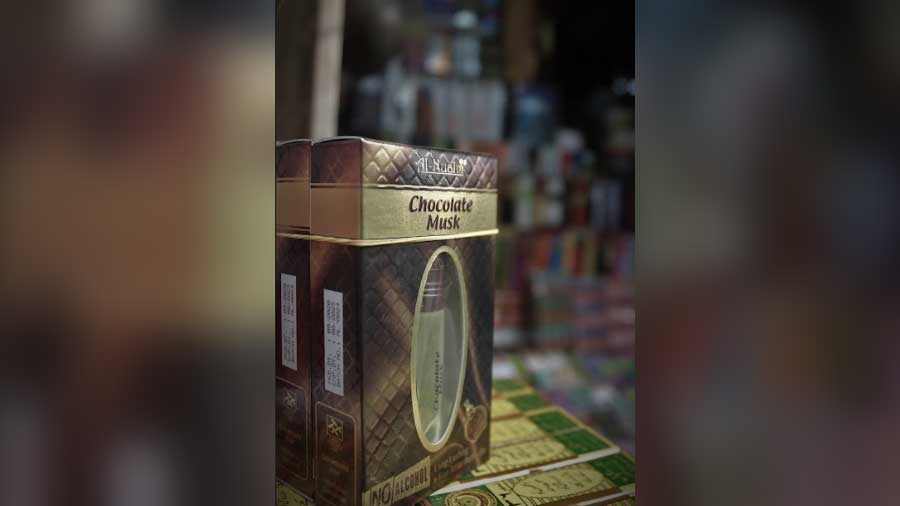 Chocolate musk is one of the latest versions of 'attar' that can be found in Burrabazar
Sourav Nandy
How has the attar market in Burrabazar changed with the shrinking of the attar alleys?
"It's changed considerably. Earlier, people used to come in and pick up an attar before attending a wedding in the evening. Shopping was spontaneous. That's not the case anymore," sighs Iqbal.
Like the other attar sellers, Iqbal argues that the pandemic has brought about a paradigm shift. "It's as if the entire street has gone into mourning. Previously, you'd see people bubbling over, walking shoulder to shoulder with hardly any space between. I'd have at least 30 to 40 people come in for a quick rub and dab of fragrance, but that number had trickled down to three or four after the advent of Covid. Nowadays most people don't seem to venture out of their homes. How can they when they have no money? When there's a crisis of food, a crisis of livelihood, how can you expect people to buy attar?" asks Iqbal.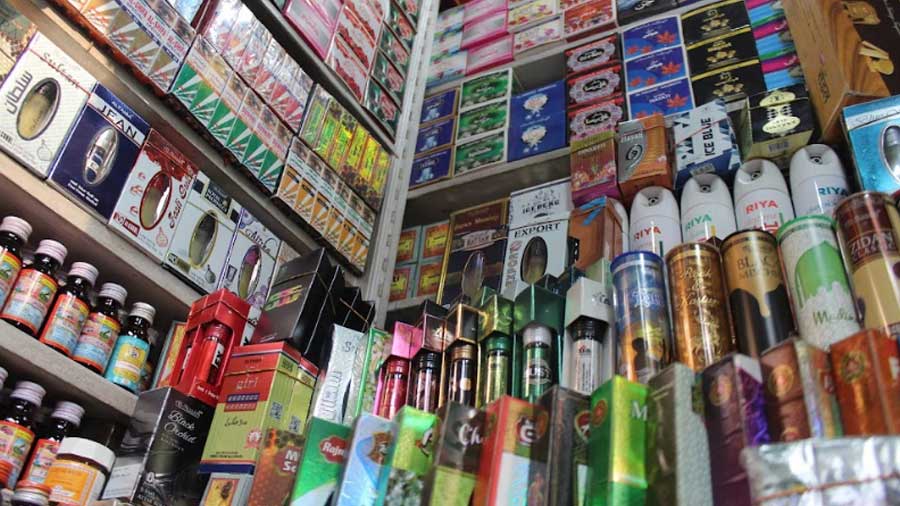 Mohammad Iqbal feels it is unreasonable to expect people to spend money on indulgences like 'attar' when the pandemic has thrown the livelihood of so many into jeopardy
Sourav Nandy
Iqbal says he has had to take a loan of about Rs 4 lakh to keep the shop running despite the losses from the past two years. He is worried about the future: "If the market continues to be like this, and with the government barely doing anything for us, I don't see how much longer our attar business can survive."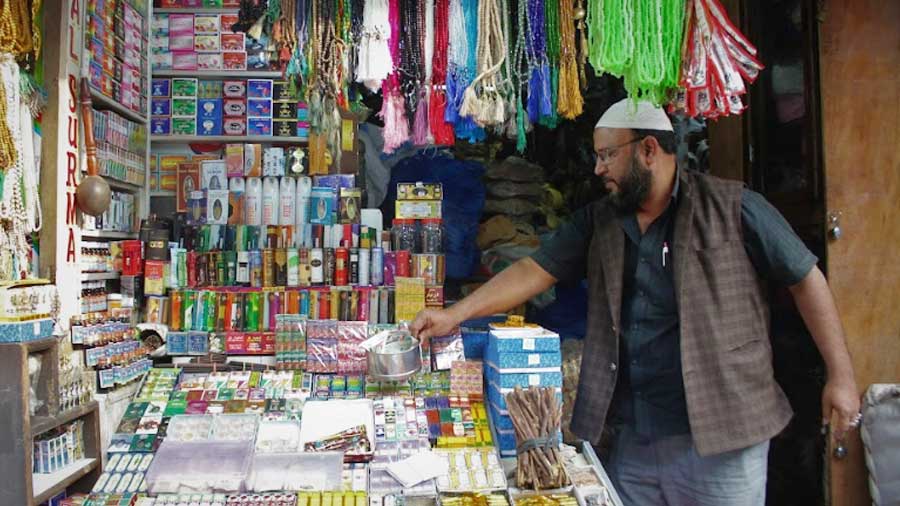 Iqbal is unsure whether the market for 'attar' will ever bounce back from the blows of Covid-19
Sourav Nandy
Covid-19 has plunged Burrazabar's attar alleys into an existential crisis, dampening the demand for aromatic indulgence. With the pandemic compelling people to prioritise utilitarian purchases, attar struggled in a new world of ruthless pragmatism. 
Even a decade ago, the handful of Burrabazar's attar shops that are open now used to take their pride of place among a teeming multitude. Today, they mark the winding down of an era, a slow death of one of the sweetest chapters in the cultural story of Kolkata.