It's World Sushi Day today and in honour of this day that celebrates a global favourite of Japanese cuisine, The Telegraph sat down for a tete-a-tete, as well as a live sushi-making session, with Chef Jerry Bernasol, masterchef, Pan Asian, ITC Sonar Kolkata. He is known for his jugglery of spatulas, flipping of the egg yolk, tossing eggs into his toque and the amazing flambe delights while he works at the teppanyaki grill at the Oriental speciality restaurtant of the star hotel.
Characterised by an intricate combination of presentation and knife skills, teppanyaki cooking has developed into a highly refined and beautiful form of expression in his work. He sat us down for a range of vegetarian as well as non-vegetarian sushi and here's getting you all that we spoke about.
According to you, what would be some elements of good sushi?
The key element to a good sushi is its freshness and high-quality ingredients, especially fish and seafood.
How much training and practice does it take to master the art of sushi making?
It takes years of training and practice to master the art of Sushi. I believe that training never ends in the kitchen, the more we practise the more we enhance our craft with focus and determination.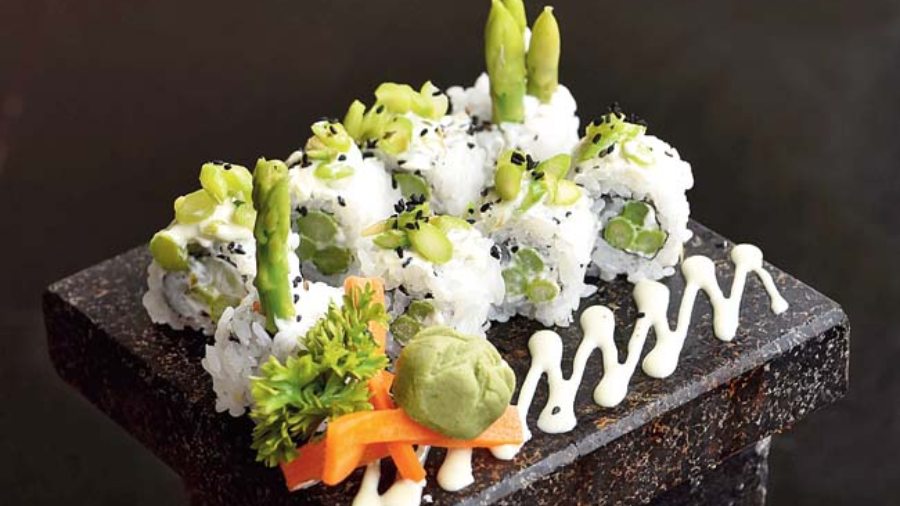 Asparagus Tempura Maki
Please share a little bit about your culinary journey from the start till coming to Pan Asian.
I started my career in 1993 in Manila (Philippines). During my early years as a chef, I worked hard to train as one of the key craftsmen in Japanese cuisine. In a short span of three years, I mastered the art completely, earning a reputation of being a key craftsman in Japanese cuisine.
I have always had a quest for knowledge and in order to develop and grow, I travelled to Cyprus where I joined the Kyoto Tepanyaki Restaurant in 2001. In Cyprus, I invested all my energies in mastering the art of sushi. Within a short period of time I earned a reputation of being one of the best sushi chefs around.
Post that, in 2002, I travelled to Dubai. I feel that there is no end to knowledge and then I joined ITC Sonar, Kolkata in 2008 and contiued to practise my skill in Japanese cuisine and develop new and intresting takes for the craft of sushi and teppanyaki.
Please share tips for making sushi at home?
The right tools are essential, especially a good and sharp knife. Best ingredients make great sushi, so freshness and quality is important. Sushi rice is a key ingredient; use short-grained rice that is starchy and absorbent, and this makes it sticky. Long-grained varieties aren't suitably absorbent, and are too dry and hard. Use a proper rolling mat, a bamboo mat and keep it clean.
Prawn Tempura Maki
What are some of the mistakes that one can make when preparing sushi at home?
Overcooking the sushi rice. The ratio of the sushi vinegar. This is critical. Using the right pressure while hand-rolling the sushi rice for the required texture is very important.
What are some of the sushi dishes at Pan Asian that you'd recommend?
Prepared with passion and emotion, the colourful spread of sushi and its accompaniments is a feast for the stomach as well as the eyes. The sushi at Pan Asian promises to be a memorable treat for the gourmets of Kolkata.
Non-vegetarian sushi can be chosen either as maki (rice and seaweed rolls with fish and/or vegetables) or nigiri (little fingers of marinated rice toppedwith fresh cuts of seafood with a touch of wasabi (Japanese horseradish). Salmon California Roll, Spicy Tuna Roll, Prawn Tempura Maki, Tamago Maki, Maguro Nigiri, Sake Nigiri and Chicken Teriyaki Roll to name a few from our menu.
The vegetarian sushi selection are in the form of maki (rolls) — Asparagus Tempura Maki, Avocado and Cream Cheese Roll, Spicy California Roll and Gunkan to name a few.
What's your take on modern fusion trends in sushi?
Over the years sushi around the world is fast becoming a home-grown delight with many inventive fillings inside the rice rolls. I prefer the authentic style of prepration, which is a simple combination and is unique in taste.
Pictures: B. Halder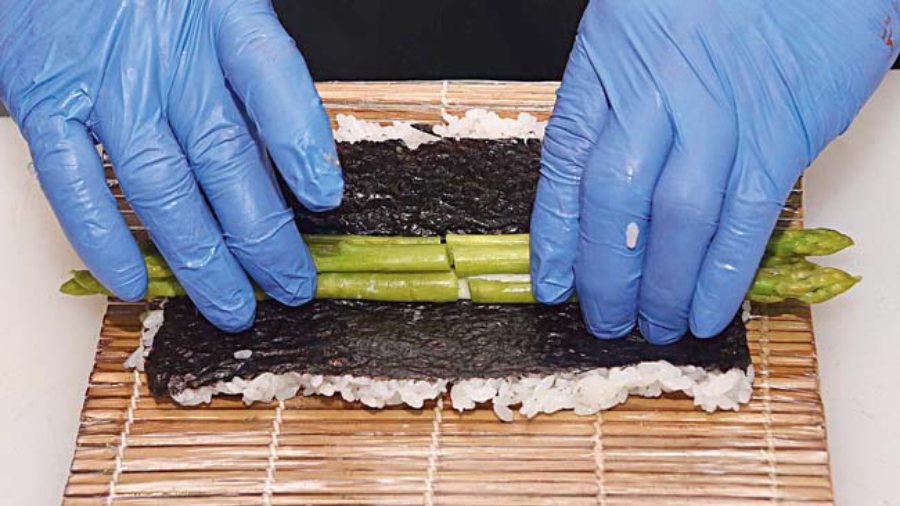 Asparagus Tempura Maki being rolled.
A brief step-by-step guide on how to roll sushi by Chef Jerry:
1. Place the nori seaweed sheet on top of sushi mat.
2. Spread the marinated sushi rice evenly on top of the nori sheet placed on the mat.
3. Turn the nori upside down with rice on the outer layer.
4. Place the filling in the centre and roll.
5. Cut into same size of pieces, serve along with accompaniments.