Nolen Gur tops the list of winter favourites in Bengal. So much so, that it has now brimmed over from traditional sweets such as payesh, pithe, sandesh, rosogolla and other mishti to ice-cream and now, cake.
The season of fruit cakes is on its way out, but there's nothing seasonal about the love for cakes. So, welcome the Nolen Gur cake this Poush Sankranti.
My Kolkata spoke to chef Jayanta Banerjee, head of Culinary and F&B, Techno India Group, and owner of 37 Relish Route on Southern Avenue to find out all about the newest cake on the block.
"Making a Nolen Gur cake is very easy and the process is almost the same as for regular cakes. It's just that we replace the sugar with jaggery and we do not add any essence or artificial colours and flavours. A Nolen Gur cake can be a healthier option to cakes if the maida is replaced by atta and the butter with rice bran oil," said the former executive chef of ITC, Lalit Great Eastern and Hyatt.
How to make a Nolen Gur Cake
Ingredients
Refined flour (maida): 500 grams
Nolen gur (liquid jaggery): 400-500ml
Butter: 500 grams
Eggs: 10
Baking powder: 20 grams
Cashew nuts: 10-12 (optional)
Raisins: 10-12 (optional)
Method
Sieve the refined flour with baking powder.
Add butter and mix well until a smooth texture is achieved.
Add eggs one by one and keep mixing well. (Chef's tip: Fold the eggs in so that the batter traps air and the cake turns out to be fluffy)
When the batter is lump-free and smooth, slowly add the Nolen Gur and mix well
Take a baking pan and grease it well with butter. Pour the batter smoothly and evenly
If you're adding nuts and raisins, add them now
Preheat the oven to 170° Celsius and place the baking pan. Bake for 20-25 minutes
Check the cake with a toothpick. If it comes out clean, the cake is ready. Turn off the oven and leave it in for 5 minutes more
Garnish with some more Nolen Gur from the top
Tips from Chef
Use good quality jaggery for better taste. One can buy good jaggery from Lake Market, Gariahat Market, New Market and other old markets of the city.
While this cake can be made in a pressure cooker and microwave, OTGs are best for baking.
Avoid using tutti-frutti as it gives a synthetic taste that will overpower the aroma of jaggery.
Sieve the flour so that the cake rises more.
A well-baked cake is cracked on top.
Buy from the bakers
If you have no time for baking, you can easily get yourself a delish cake from the best home bakers in the city.
Swati's Boutique Kitchen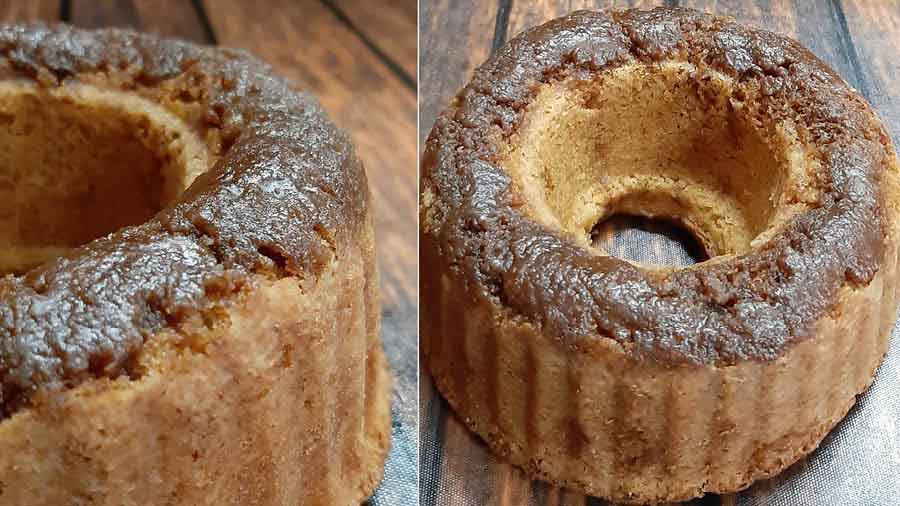 Nolen Gur ring cakes by Swati's Boutique Kitchen
Not only Kolkata, Swati's Boutique Kitchen has been delivering delicious pure Nolen Gur Cakes with baked Nolen Gur topping to several parts of the country. The Nolen Gur ring cakes are made without the use of any artificial flavours or essence. Swati Banerjee believes in keeping the taste of Nolen Gur intact in her cakes.
Price: Rs 550 for 500 grams
Delivery: Both pickup and delivery options available
All orders must be placed at least 48 hours in advance
Contact: Swati Banerjee – 9831248042
Cake-e-Shwari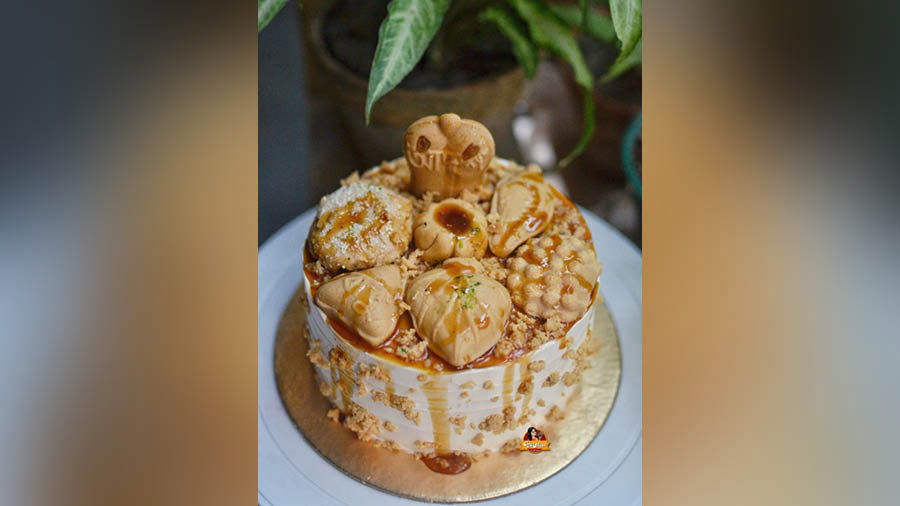 Nolen Guru by Cake-e-Shwari
This home bakery offers a range of delicious Nolen Gur cakes, birthday cakes, cupcakes and cheesecakes. The showstopper is the Nolen Guru birthday cake loaded with fresh Nolen Gur and filled with Nolen Gur Sandesh and Roshopuli. The Nolen Gur Loaf is a regular tea-time cake, while the Nolen Gur Cheesecake is perfect as a dessert.
Price: Rs 1,250 for Nolen Guru (1.5 pound)
Delivery: Home delivery available
All orders must be placed at least 4 to 7 days in advance
Contact: Moumita Gupta – 9804527252
Nanighar
Nanighar offers Nolen Gur cakes made with love by the mothers of the city. This online food delivery platform sources Nolen Gur Cakes from the best mom chefs in town.
Price: Starting from Rs 500
Delivery: Home delivery available
No pre-booking required
Contact: 6289961646 or through Nanighar app
The Bake House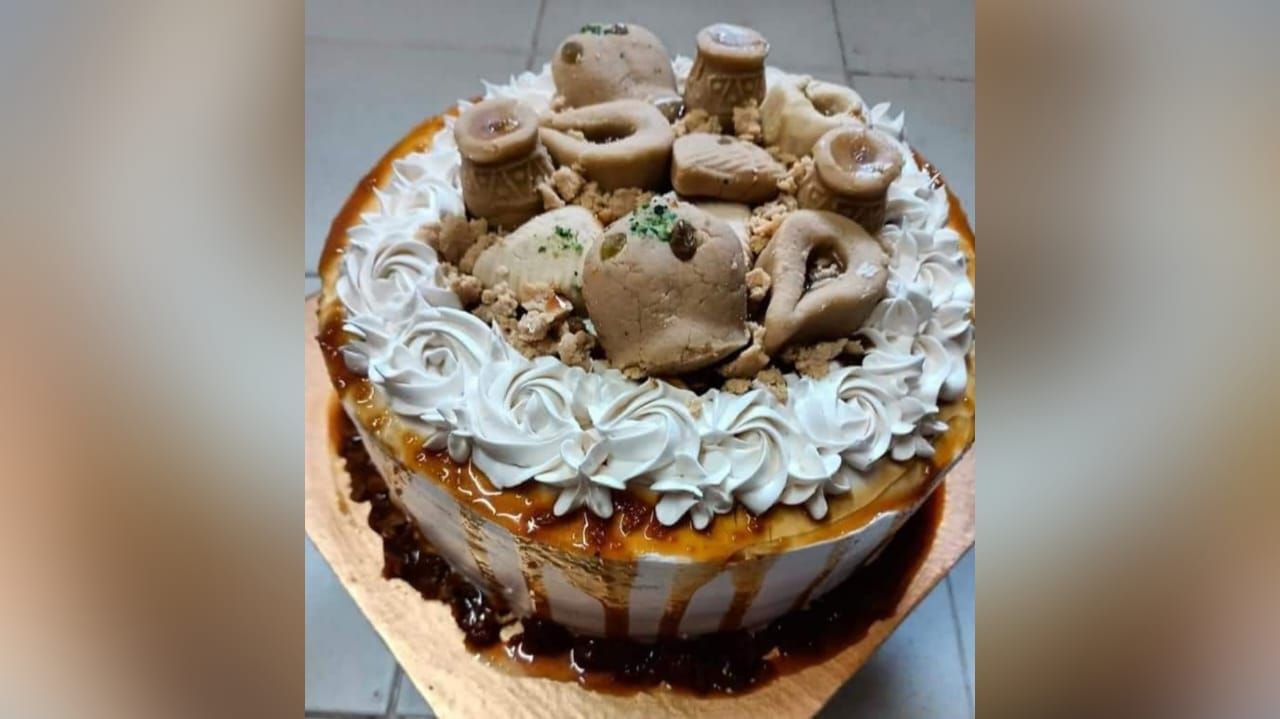 Nolen Gurer Sandesh Cake by The Bake House
The Bake House is selling Nolen Gurer Sandesh Cake and Nolen Gur teatime cakes. Surprise your loved ones with a birthday cake from them or enjoy a soft and moist teatime Nolen Gur cake with your chaa.
Price: Rs 1,300 for Nolen Gurer Sandesh Cake (2 pounds), Rs 400 Nolen Gur Cake (1 pound)
Delivery: Home delivery available
Contact: Laboni Mukherjee – 9830524450