Zyqa— the modern Indian restaurant that's housed at Aauris hotel (4, Robinson Street) is a new place in the heart of the city that will leave you impressed. The 1,900sq ft restaurant with 62 covers wears a very Indian vibe in terms of decor and has a perfect Indian feel to it with a dash of modern, courtesy a custom-made raja-rani wallpaper, golden birds as hanging lights, the furniture and premium crockery-cutlery set. The look and feel of the place also reflect on the menu at Zyqa, which has around 40-50 dishes and some signatures with a fine take on classic Indian food. "We felt the city still needs good Indian food options, something that is deliciously rooted but also appeals to the newer generation. Keeping the growing popularity of modern Indian cuisine in mind, we wanted to offer an Indian restaurant in our hotel because we already have Scarlet and Aura skybar. Hence we came up with Zyqa, pronounced Za-i-ka, that is derived from Arabic native meaning flavour. Through our menu, we have created some signatures and we have given a twist to some iconic dishes," said Dimple Saini, managing director and owner of Aauris.
What: Zyqa
Where: Aauris hotel, 4 Robinson Street
Timings: Noon to midnight
Meal for two: Rs 1,500 (without alcohol) and Rs 2,200 (with alcohol)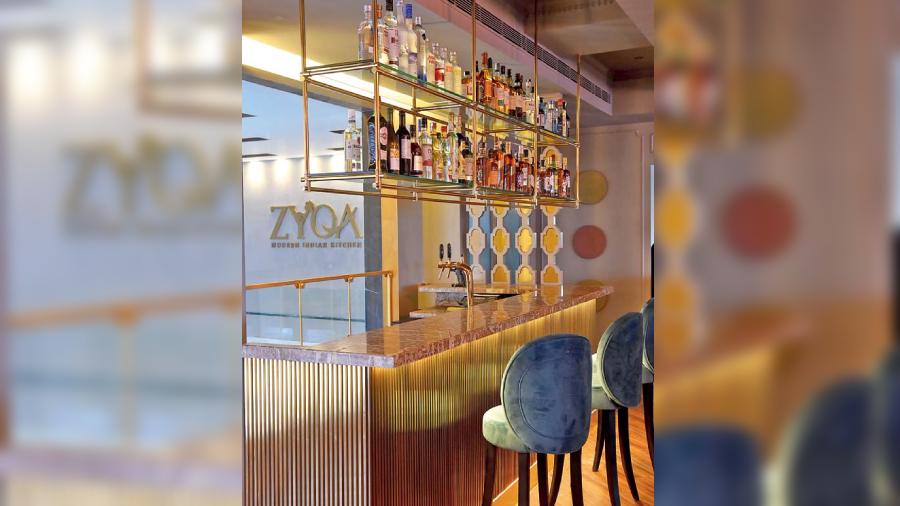 Done by Karishma Mehta, who has also done interiors for Hugo & Finn and Eddy's, Zyqa has a cute little bar done up in a metallic finish that blends perfectly with the royal feel of the place. "We have handcrafted concoctions that are inspired by the vibrant culture of India, yet staying true to the authenticity of craft cocktails," said Dimple.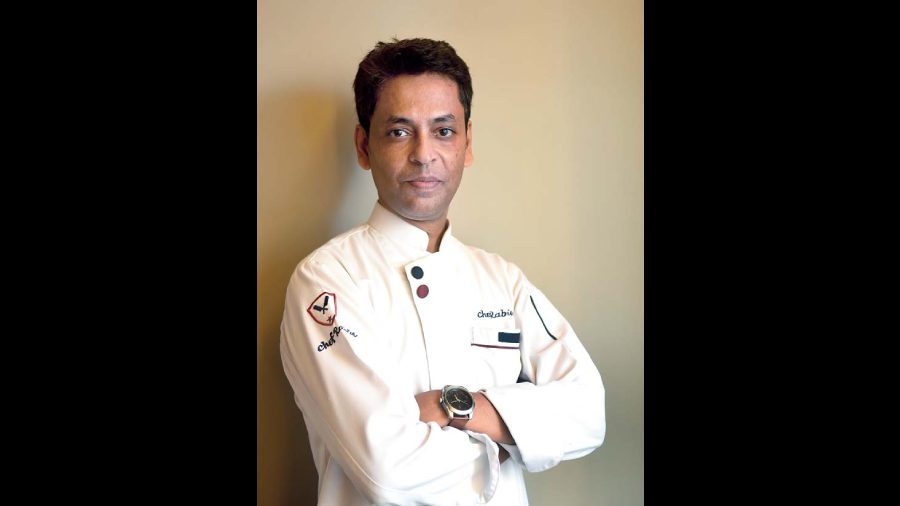 "We have put together a unique fine-dine experience for our guests that focuses on modern Indian gourmet but retains its Indian roots too," said Rabin Dasgupta, executive chef at Aauris.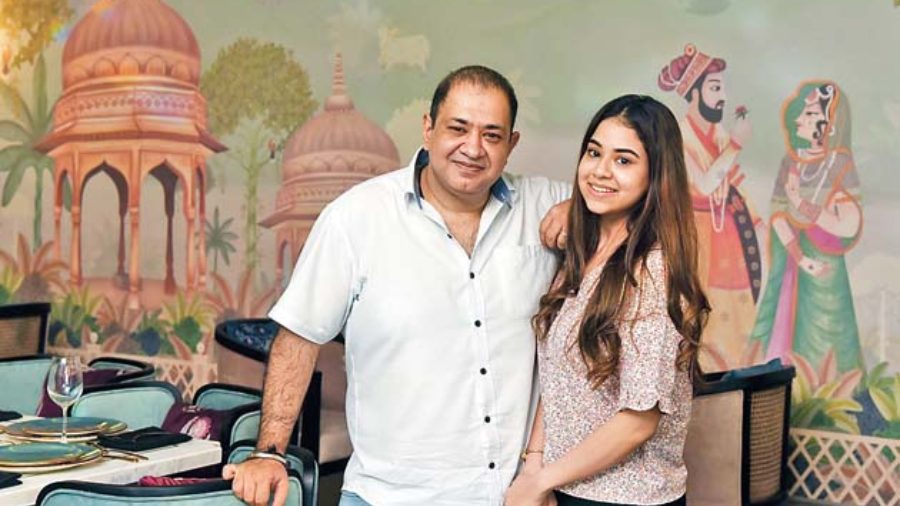 "We at Zyqa have evolved with the art of food and presentation, bringing you Indian flavours from across the country with a contemporary outlook, designed with a distinctive union of tradition, technique and taste," said Dimple, with daughter Mannvi.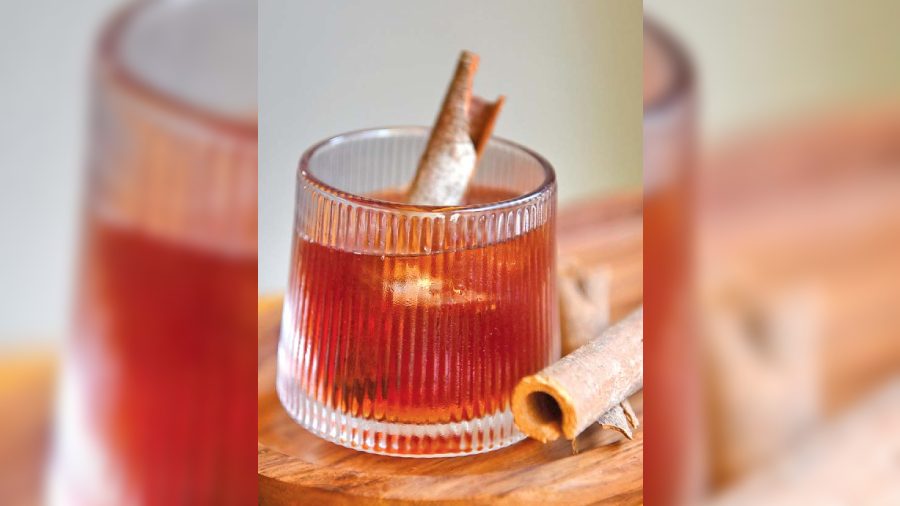 Chai Cinnamon Negroni is a fine concoction of tea-infused gin with a strong dose of cinnamon and vermouth ross campari.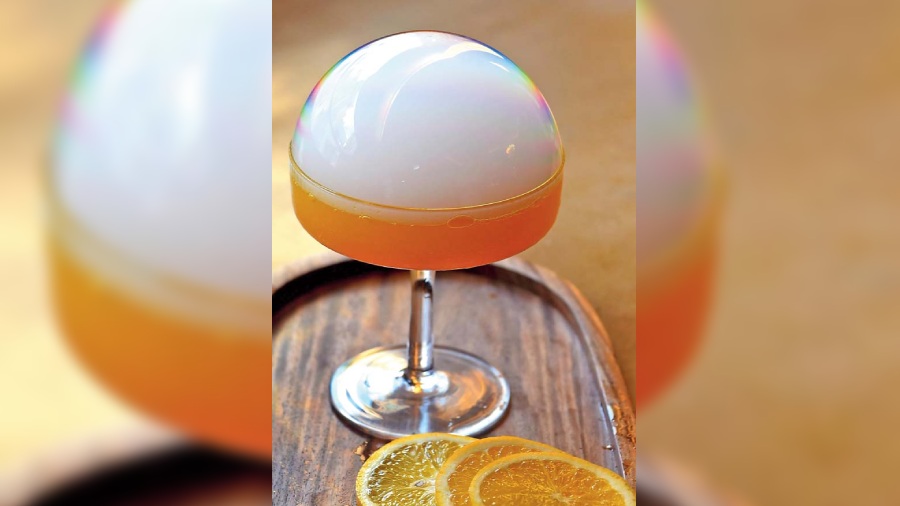 Turmanian Sour has the goodness of earthy turmeric with bourbon whisky as prime ingredients. This cocktail tastes sublime.
The Telegraph Picks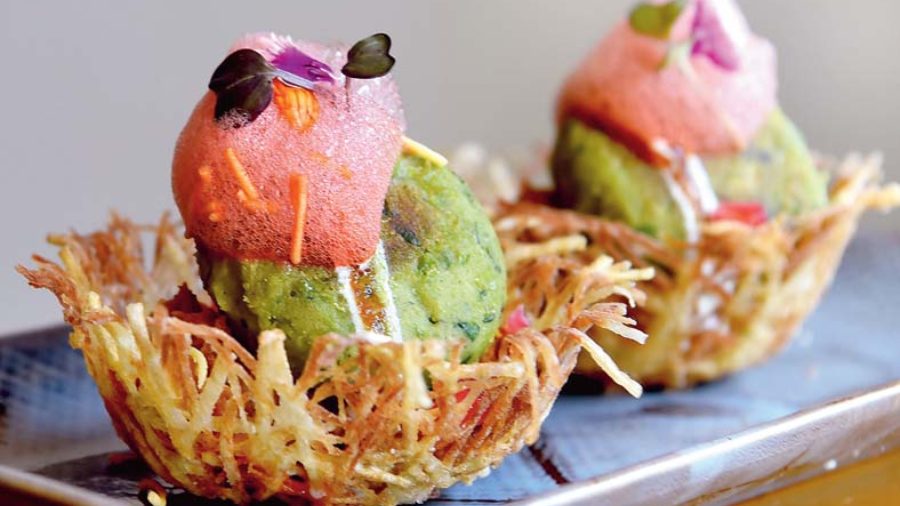 Matar Ragda Patty: Get a taste of street food with a twist of a unique potato sphere (katori) that has peas patty instead of the usual aloo patty and has spicy Ragda that's topped with watermelon foam and pomegranate seeds that add crunchiness.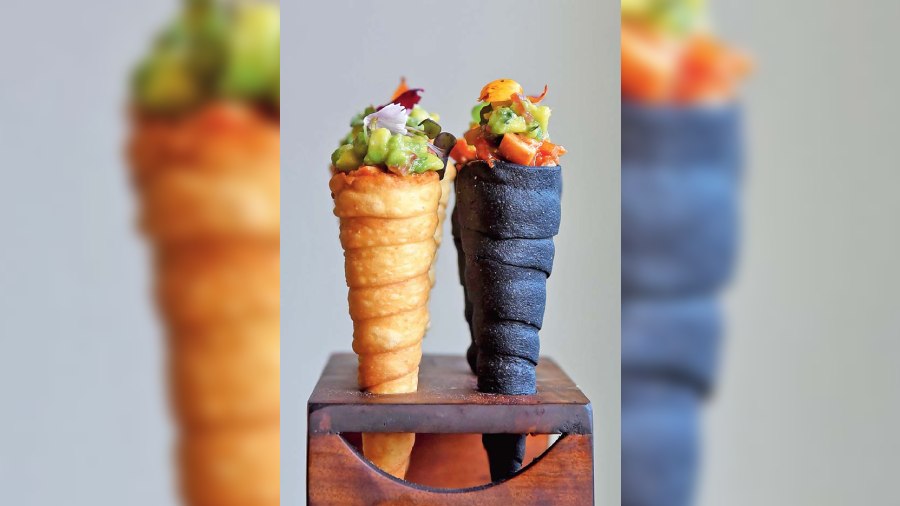 Koshimber Cone: A yummy starter comprising flaky in-house made cone with a stuffing of a Marathi-style chicken and avocado salad. A choice of regular or activated charcoal cone is available.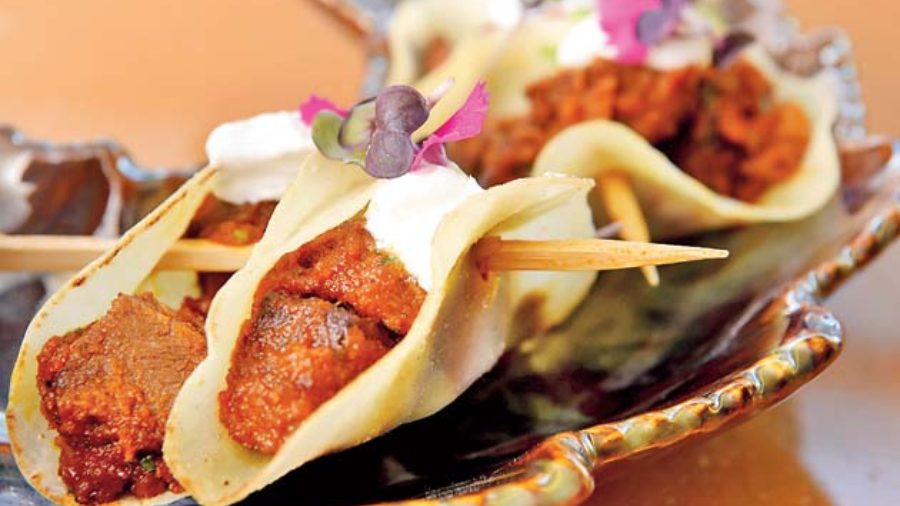 Ghee Roast Mutton Boti: A super-hit on the menu, this dish has aromatic and soft kesari pancake with soft and spicy mutton that will get you drooling.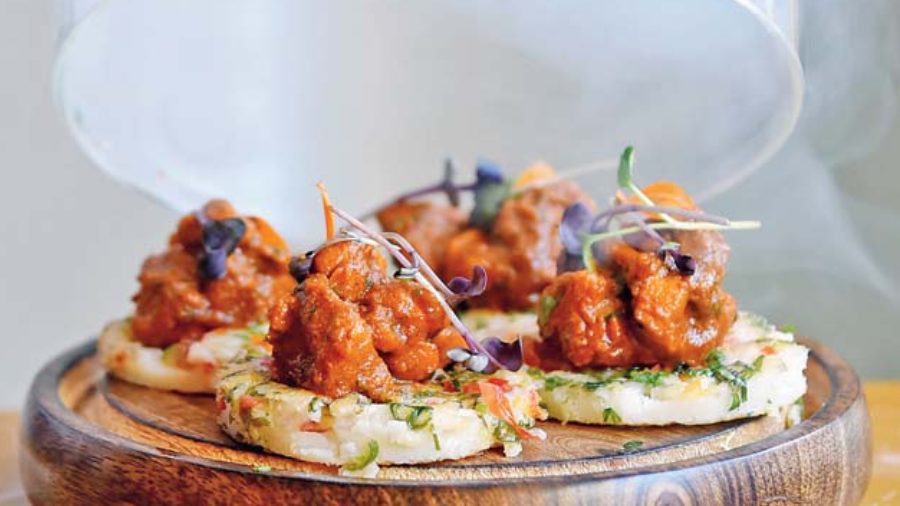 Murgh Uttapam is an interesting combination of the South Indian Chettinad chicken with curry leaves served on a bed of bite-sized smoked uttapam.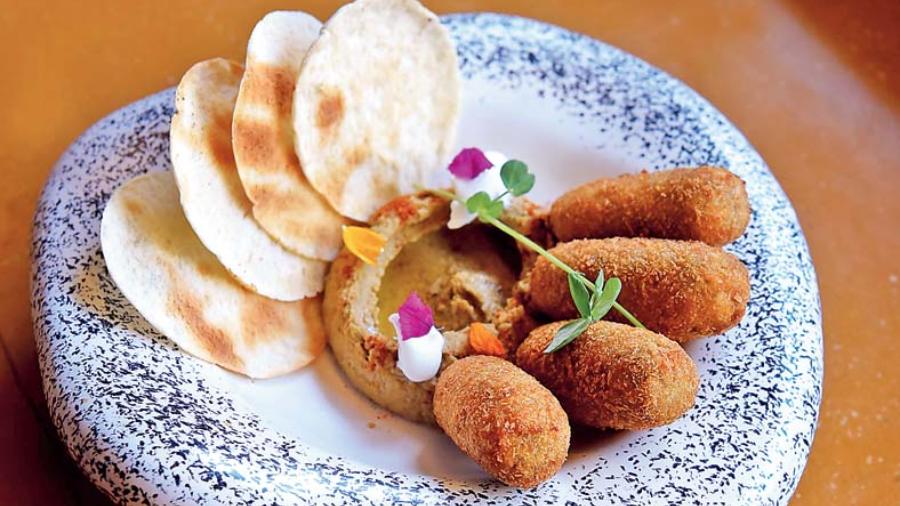 Kurkure Khichdi Kebab comprises bajra khichdi crispy kebabs served with a delicious pindi chana hummus and crispy pita bread.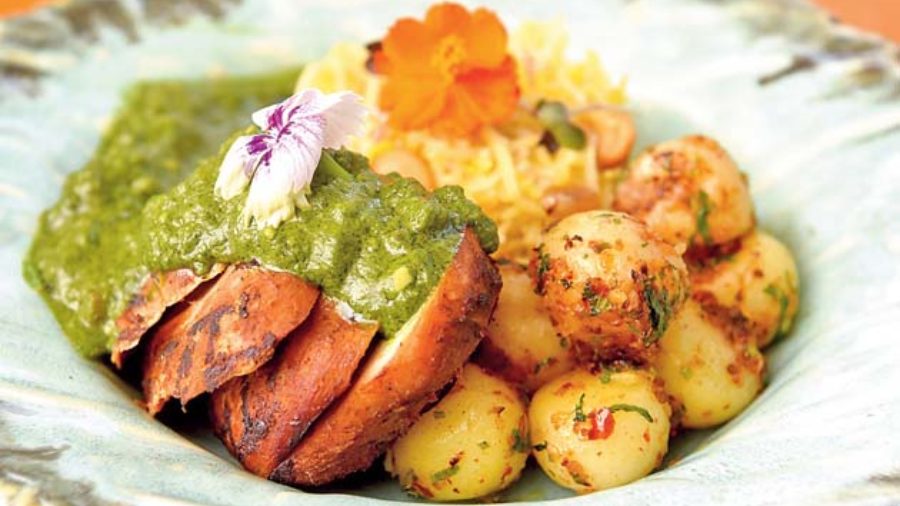 There are many pre-plated dishes on the menu. If you want to eat a balanced diet call for Grilled Miso Chicken served with vermicelli rice and baby potatoes.
Roomali Papad has crispy roomali roti brushed with chilli oil and served with six kinds of dips.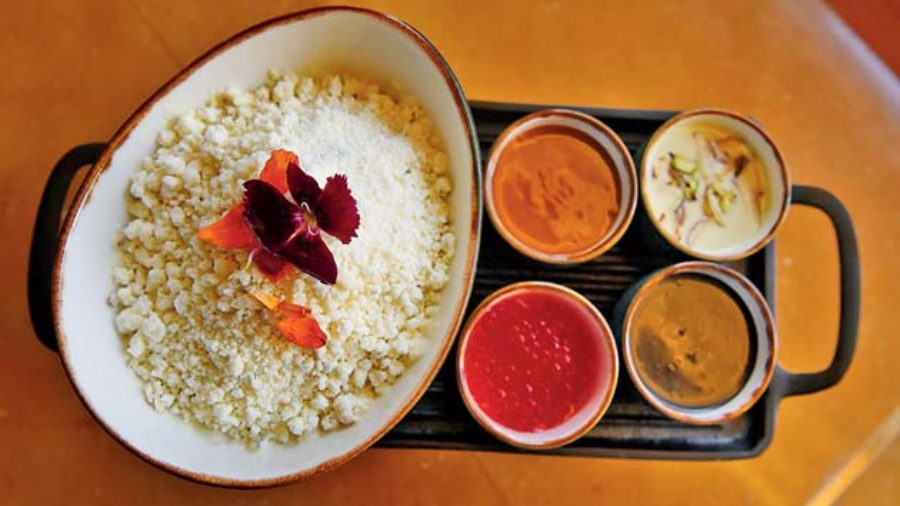 Volcano Shredded Kulfi is a must-try that has deconstructed nitrogen kulfi served with four pairings — caramel, chocolate sauces, rabdi and rose caviar.
Pictures: B. Halder