To celebrate the 97th birthday of Bengal's most beloved actor, Uttam Kumar Memorial Cultural Committee organised Uttam Smaran Sandhya on September 3, featuring various artistes from the industry paying homage to the legendary actor through music and dance. My Kolkata was the digital partner for the event.
The evening commenced with members of the Uttam Kumar Memorial Cultural Committee, Alokananda Roy, and Debasish Kumar, the president of the committee and an MLA, lighting the ceremonial lamp and garlanding the thespian's photograph. Kartick Banerjee was also one of the guests of honour for the evening and was felicitated by Tanmoy Kar, general secretary of the Uttam Kumar Memorial Cultural Committee. This was followed by the felicitation of Roy and Kumar before the evening's musical performances got underway.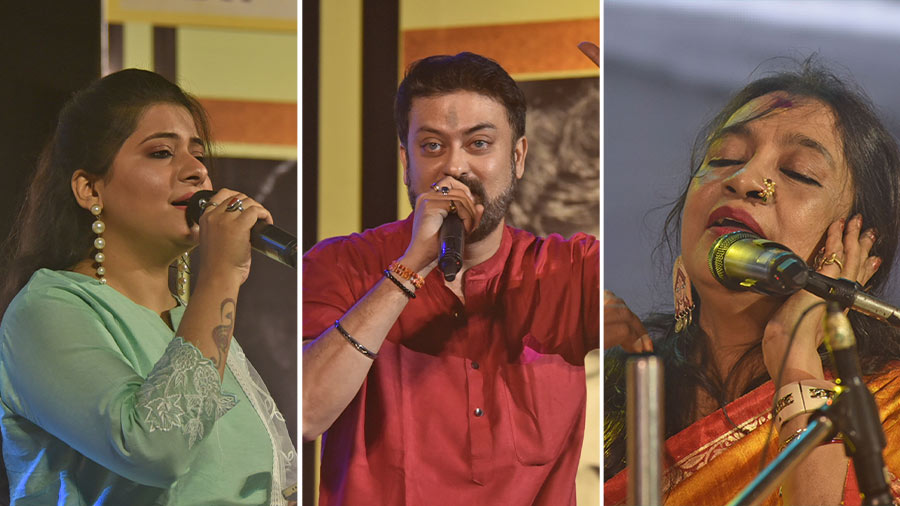 (From left) Chandrika Bhattacharya, Shaheb Chattopadhyay and Swagatalakshmi Dasgupta gave heartfelt performances
An evening of musical magic
The singers performed songs from some of Uttam Kumar's most loved films. The first performer of the evening was Saileyee Dutta Gupta who perfectly rendered Ke Pratham Kachhe Esechhi (Sankhabela) and Ogo Kajal Nayana Harini (Mon Niye). This was followed by Chandrabali Rudra Dutta's rendition of Shaon Raate Jodi from the movie Devdas and Shudhu Bhalobasha Diye Bole Jai from Shonar Khancha. Debi Roychowdhury, Madhuri Dey, and Chandrika Bhattacharya enchanted the audience with favourites such as Ei Boisakhe Dekha Holo Dujonar (Bilambita Loy), Ei Mayabi Tithi (Sonar Harin), Aro Dure Chalo Jai (Chhadmabeshi) and Champa Chameli Golaperi Baage (Antony Firingee).
Swagatalakshmi Dasgupta delivered a soul-stirring rendering of Chole Jete Jete Din from the movie Mon Niye, referring to it as the song of her life while also singing Amar Din Kate Na from Chhadmabeshi. Somdatta Banerjee moved the audience with Ami Je Jalsaghare from Antony Firingee while also perfectly executing Chole Jete Jete Din.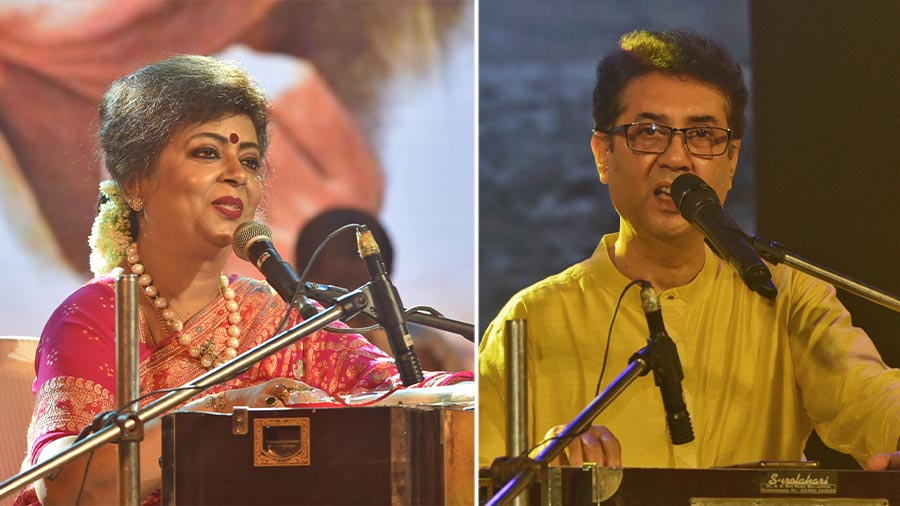 Chandrabali Rudra Dutta and (right) Saikat Mitra perform
Saikat Mitra had the audience crooning along as he sang Shyamal Mitra's famous song from the movie Rajkanya, E Jeno Ajana Ek Path, and the audience sang along enthusiastically as he crooned Amar Swapne Dekha Rajkanya (Sagarika) before ending his performance with Prithibi Bodle Gechhe (Kranti).
Aritra Dasgupta and Durnibar Saha of 'Sa Re Ga Ma Pa' fame kept the audience captivated with songs such as Dole Dodul Dole Jhulana (Deya Neya), Bhola Mon (Bonpalasir Padabali), Kaharba Noy Dadra Bajao (Sanyasi Raja) and Ami Cheye Cheye Dekhi Saradin (Deya Neya) respectively.
Shaheb Chattopadhyay despite being ill gave in to the audience's request for an encore and performed Ei Toh Jibon from Ogo Bodhu Shundori after singing Ka Tabo Kanta (Sanyasi Raja).
The musical exhibition concluded with Trijoy Deb performing Dil Aisa Kisi Ne Mera Toda and Ki Ashai Bandhi Khelaghar, both from Amanush. All the singers were felicitated at the end of their performances.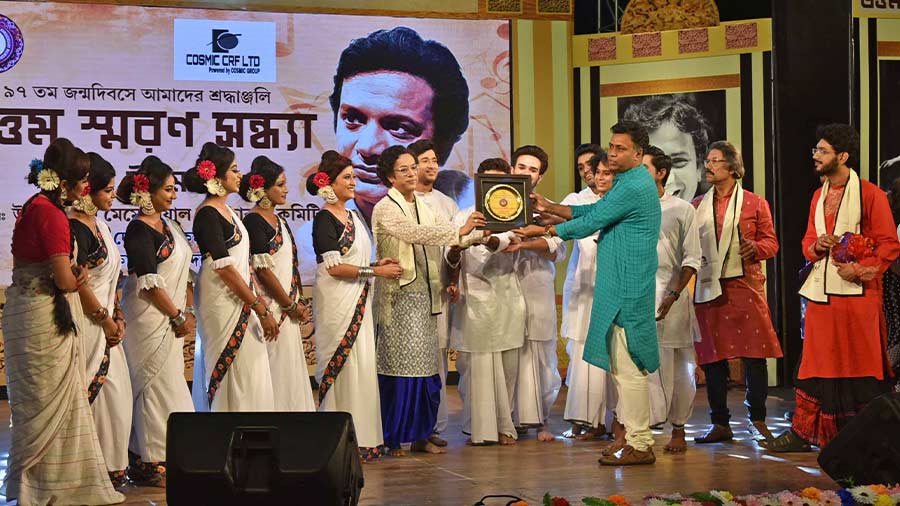 Kohinoor Sen Barat and his dance group 'Shinjan' being felicitated
Carrying the legacy forward
Screening of short clips from various films featuring Uttam Kumar such as Nayak, Stree, Antony Firingee, and others interspersed the evening.
Actress Madhabi Mukherjee in a video message spoke about the actor's kindness that truly made him the greatest. A similar sentiment was echoed by actress Indrani Dutta who was present briefly to pay her respects to the late actor.
Keeping this spirit of Uttam Kumar's selflessness alive, the committee presented Baidyanath Misra who had worked in the editing department in some movies of Uttam Kumar, with a cheque of Rs 10,000.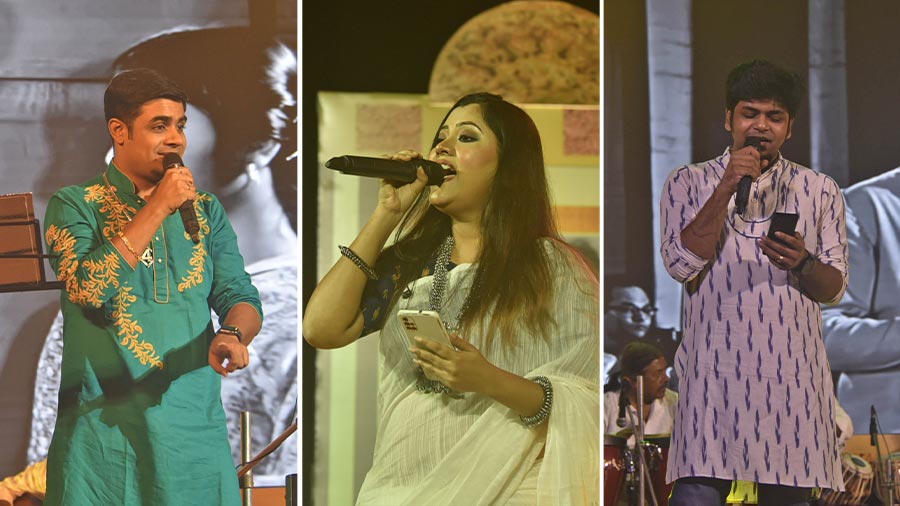 (From left) Aritra Dasgupta, Madhuri Dey and Durnibar Saha held the audience captivated with their rendition
A cake-cutting session to commemorate the actor's birthday was followed by the dance performances of Kohinoor Barat Sen and his dance group, Shinjan. The evening came to a close with an enthralling group dance to popular songs such as Ei Poth Jodi Na Shesh Hoy, Ghum Ghum Chand Jhiimiki Tara, and Nir Chhoto Khoti Nei along with others, in which Sen participated as well.
"We celebrated Mahanyak Uttam Kumar's 97th birth anniversary and we will continue to do so in the future. Even during COVID we never stopped celebrating the actor and his work. The purpose of today's show wasn't just to entertain but to continue doing what he believed in. We are financially helping the technicians who had worked with him in his films and also organising for their medical treatments in collaboration with Peerless Hospital. We also plan to organise free health camps for the technicians and artists who are working at present. We wish to keep honouring the actor through more such social acts and events," signed off Tanmoy Kar, general secretary, Uttam Kumar Memorial Cultural Committee.