The first thing Saurav Ghosal did after clinching India's first singles medal in squash was to climb up the gallery, all the way to the up to spectators' row, to hug his wife.
But that is all the celebration that Saurav allowed himself after the historic win against England's James Willstrop at the Commonwealth Games (CWG) 2022 in Birmingham. For, he had more important goals in mind — winning the mixed doubles matches with partner Dipika Pallikal.
"This victory was really special," Saurav said over the phone from Birmingham on Thursday night, India time. "But I had to stay focussed for the mixed doubles, as Dipika (Pallikal) and I had worked very hard for it. Hopefully, we would do really well and, for that, the celebration would have to wait till August 7," he said.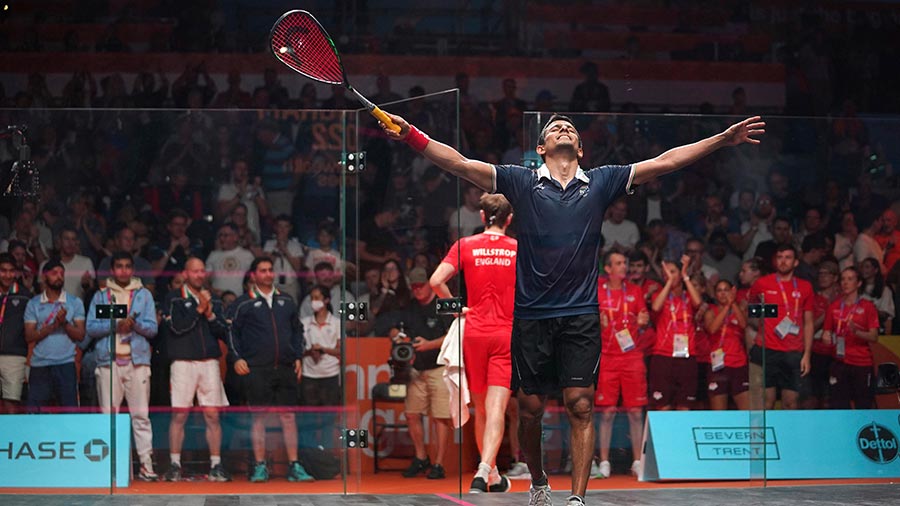 'This victory was really special,' Saurav told My Kolkata over the phone from Birmingham on Thursday night
PTI
The top-seeded pair won the match on Thursday and made it to the mixed doubles quarter finals.
Saurav's family is with him in Birmingham and waiting to celebrate. "We were really happy and excited but we came back to our hotel and went to bed after dinner. There were some important matches ahead for Saurav," said Rajendra Nath Ghoshal, Saurav's father and squash player.
Saurav started playing squash when he was nine and soon showed promise. "He was into cricket as well. Cricketer Arun Lal was my classmate and he would often go to the Calcutta Racket Club. But Saurav chose squash over cricket," Ghosal senior said.
Saurav credits his entry into squash to his father. "I would credit my dad for making me a squash player. He got me into the game and he is the most inspirational person in my life," Saurav said.
Saurav did his schooling at Lakshmipat Singhania Academy, Kolkata, where he studied till Class XI before shifting to National Squash Academy, Chennai.
What does the squash champion do when he is not playing? "I love listening to music and watching films. Now, I am into web and television series. Besides, I consider myself a big foodie and sampling food from different countries is also a hobby of mine," Saurav said.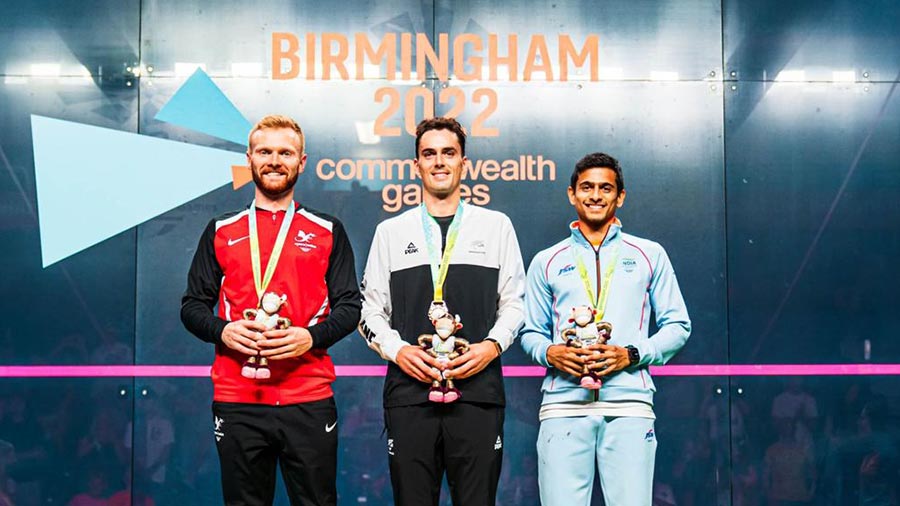 Saurav on the podium
Courtesy: RN Ghosal
To keep fit, Saurav works closely with a nutritionist but does indulge his sweet tooth once in a while. "But that happens only occasionally. Dessert is a cheat meal and is left for special occasions. If I deliver a performance like Wednesday's, then I allow myself to enjoy a sweet dish or two," he said.
Here's hoping Saurav can allow himself a generous helping of dessert after tasting sweet success in the rest of his Commonwealth Games.