Adman, actor and author of a book on Satyajit Ray, Barun Chanda, shared his memories of working with the auteur at an adda at a Salt Lake café on August 19 evening.
"We have been hosting Satyajit Saranye since last year to mark Ray's centenary year. We have showcased the priceless camera Ray used to shoot Jalsaghar at our Salt Lake outlet," said Shilpa Chakraborty, founder-partner, Tribe Café. "Barun Chanda has recently released a book on Ray, so we decided to invite him for a talk."
My Kolkata was in the audience for the session. Here are snippets from what Chanda had to say:
Their first meeting 
Eager to meet Ray and work with him, Chanda had come up with a plan of interviewing the filmmaker. "I went to meet him with a borrowed tape recorder, but the recorder malfunctioned just as the interview was about to begin. Even Ray took a look at the recorder, but could not fix it. Even today, when I read it [the interview], I am perplexed as to how I managed to write the 45-minute interview from memory," the actor said: "Ray was scared I would memorise the entire dialogue of Seemabaddha. He hated the idea of his actors learning the dialogue by rote."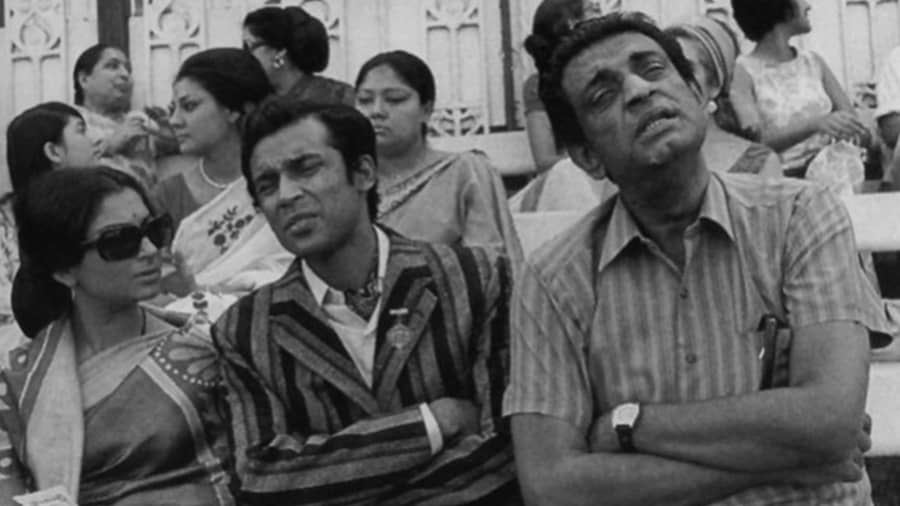 Satyajit Ray explains a scene to Barun Chanda and Sharmila Tagore during the shooting of Seemabaddha at the race course
Seemabaddha
The Seemabaddha days
Chanda said he had probably read the script only once. ''He [Ray] would call me to his house two days before the shoot and say 'Eta tomar porshudiner script. Rinkur [Sharmila Tagore] shonge ei linegulo royechhe. Tumi barite niye jao, ekhon poro na. Porshu shokal belaye ektu chokh buliye niye chole esho (This is your script for day after tomorrow. You have to say these dialogues for a scene with Rinku. Take it home, don't read it now. You can just glance through it before going to the shoot.) When I responded "Amar to mone nao thakte pare (I might not remember)," he would answer "Tate ki ache, amra to rehearse korbo (How does that matter? We will rehearse anyway).''
"Actually, I didn't think about the role. But when I started shooting, I realised it had seeped inside me like water and it was making changes in me," said Chanda. "My mother was very disappointed after seeing the movie. She never found her son in the movie, not even once. I took it as a compliment." Chanda recalled how Ray would sometimes "be nervous, thinking I would be nervous. But I never was".
The legendary director
"Ray was unapproachable on the sets," Chanda said. "He was in a zone of his own. You would hate to disturb him by asking him stupid questions.
Apparently, Soumitra-da [Soumitra Chatterjee] asked him a lot of questions and he answered them. But by and large he was averse to discussing characters. He wanted film-making to be as simple as possible and not complicate it. He never overexplained or spoke a single line on the script."
The king of all interviews
The interview scene in Pratidwandi was written by Ray to striking success, according to Chanda. "I think to this day the interview scene in Pratidwandi is one of the best scenes I have ever seen in any movie. The most remarkable thing about Ray's films are the dialogues, that's what set him apart from other directors. He would cut all embellishments. One tends to over-write dialogues but he would start peeling them off till only the bone and skin remained," he said.
No edit points!
"When Pather Panchali reached Dulal Dutta for the first edit, Dutta had stared at Ray and said 'what to edit, there is no edit point'." Describing Manik-da as an experienced and perceptive director, Chanda said: "By the end of Pather Panchali, he had become a complete editor. There was not much to do except cut and join."
Ray the artist
It is not unknown that Ray sketched characters and costumes of his movies in his notebook.
Chanda narrated an incredible episode from the shoot of Pather Panchali. "When the film was being shot in Boral, initially there were huge crowds as people gathered to see the shooting. Then people got bored and lost interest. Towards the end of the movie, Ray wanted a particular man he had seen in the crowd towards the beginning of the shot. But the man had not come to the shooting for some days. Ray tried to describe the man's appearance but when that didn't work, he sketched the man from memory and immediately the villagers recognised him and brought him over."
Ray as a music director
An entire chapter in Chanda's book, Satyajit Ray: The Man Who Knew Too Much is devoted to the musical genius that was Ray.
"I cannot cease to marvel at the lines, Dekho re, nayan mele, jogoter bahar from Goopy Gayen Bagha Bayen. The simplicity of the words and the simplicity of the tune appeal to this day. The synergy of words and music is very rare.
Again, Dori dhore maro taan, raja hobe khan khan against dictatorship, no one has written such lines in the world," Chanda said. "Babu [Sandip Ray] recalled that Ray seldom whistled and when he did, everyone knew he was composing a new tune. He would finalise the tune through whistles and then on the piano. The piano was also self-taught."