More than eight films and 22 schools. Iskule Bioscope, an annual Bengali film festival for schoolchildren, places movies at the heart of the learning experience. 
Hosted jointly by The Sauce Brand Communications and Bichitra Pathshala, this year's Iskule Bioscope was inaugurated at Indus Valley World School on July 14. As part of the festival, the organisers will continue to host screenings at various schools till August 14.
Students of Indus Valley World watched the documentary Ladakh Chale Rickshawala by Indrani Chakraborty at the inaugural session of the sixth edition of Iskule Bioscope.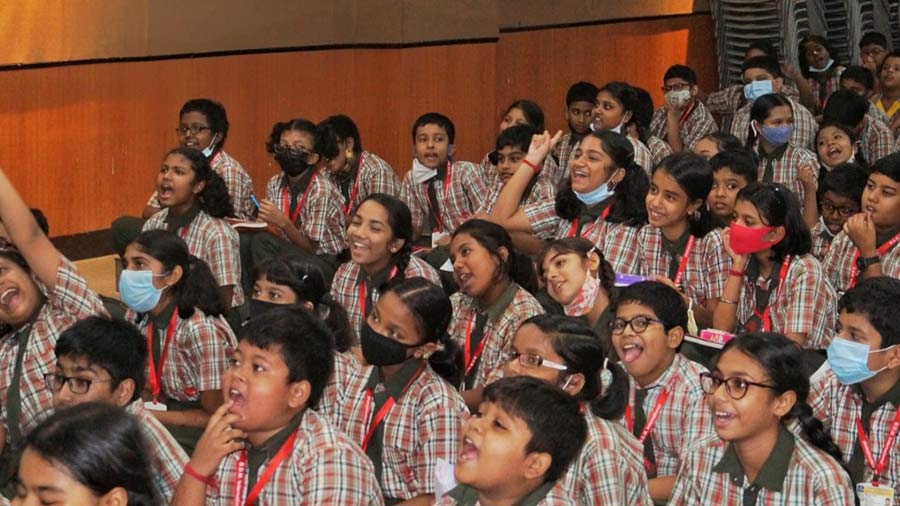 Students of Indus Valley World Valley at the post-screening quiz contest.
Soumyajit Dey/My Kolkata
"Cinema is a powerful educational tool. Introducing our students to good cinema will not only help them grow interest in Bengali language and literature, but also help them to cultivate an interest in the arts. The students will get a very unique opportunity to interact with the director of the film and the chief editor. It was the first-ever experience of watching a documentary for most of our students," said Amita Prasad, director, Indus Valley World School.
Every edition of Iskule Bioscope has a theme. This year's festival is based on the theme of adventure. Adventures of Jojo, Phatik Chand, Goopy Bagha Phire Elo, Sabuj Dwiper Raja, Chanchu, Ladakh Chale Rickshawala, Charaiveti and Patalghar are some of the movies that have been selected for screening. 
The beginning and thereafter
Back in 2016, The Sauce Brand Communications director (strategy and planning) Kaushik Chakraborty saw a young Bengali girl refusing to watch a Bengali movie because "her friends at school would make fun of her". The incident prompted him to present Bengali movies to schoolchildren, especially those who study at English-medium schools. 
'"That little girl's reaction really shocked me. I thought it was time we did something to change the perception of youngsters about Bengali cinema. That's how the idea for Iskule Bioscope was first conceived," said Chakraborty.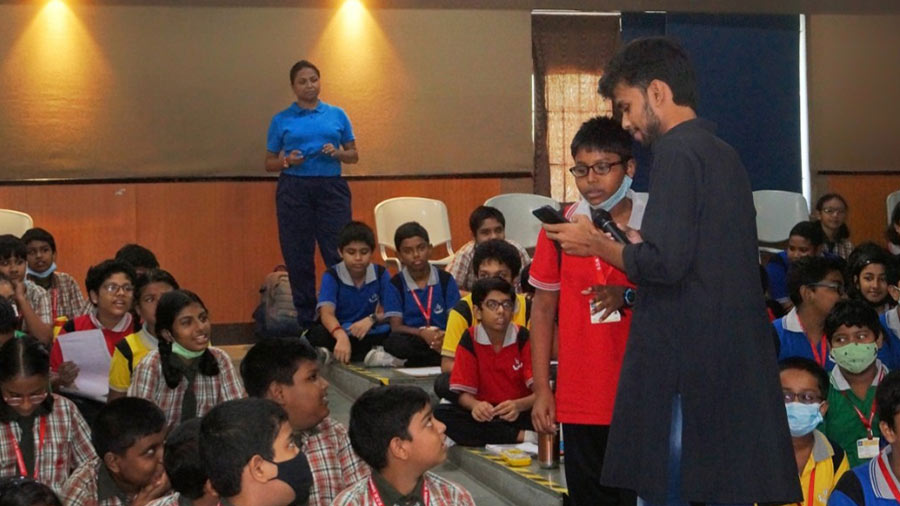 Students of BD Memorial International School take part in the interactive session.
Soumyajit Dey/My Kolkata
Elaborating on the festival, Subha Das Mollick of Bichitra Pathshala said every movie screened at the festival was presented in interesting ways. "After the screening, each participant is asked about the movie and then given activities. The purpose is to rekindle their interest in the Bengali language, Bengali literature and Bengali culture as well as to develop their emotions and creativity.''
"We contact schools in May every year, requesting them to participate in the festival. All they need to do is fill out an online form. Students of Class III and upwards can become part of this initiative. However, it's for schools to decide which classes they would like to involve in the festival,'' she said.
Student feedback
Screenings for the 2022 festival have been held in educational institutions like BD Memorial International School, Indus Valley World School, Lakshmipat Singhania Academy, Loreto School Elliot Road, Balia Nafar Chandra School and Seth Surajmal Jalan Balika Vidyalaya.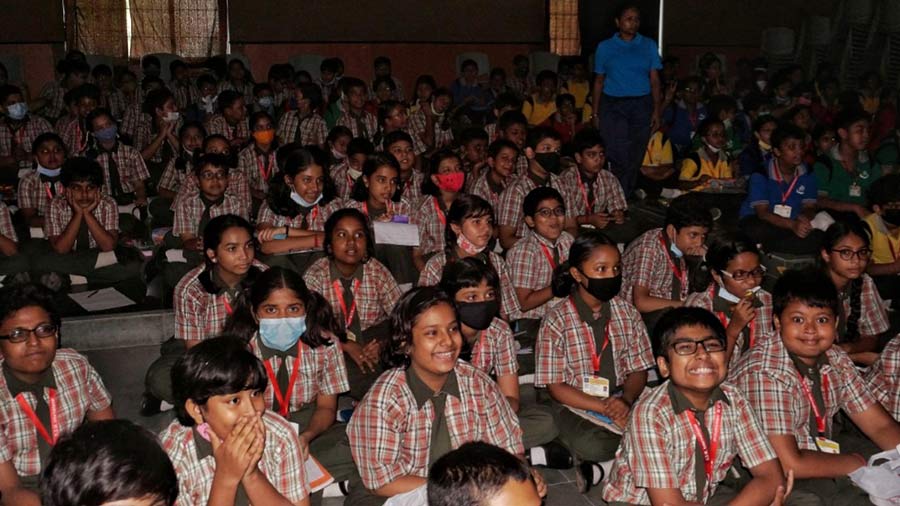 Students wait for the screening of a film at school.
Soumyajit Dey/My Kolkata
Much excited with post-screening activities and interactions, Bavrabi Dutta, a student of Class VII at Lakshmipat Singhania Academy, said they enjoyed the quiz contest held after the screening on July 19. "We really enjoyed the movie — Adventures of Jojo. The story was about a young boy who visited the Barpahari National Park with his uncle and ended up saving its famous resident tiger, Chengis, with the help of a new friend. The quiz section was delightful. We also had a lot of fun drawing the apparel we would wear and the things we would carry on a jungle safari."
Sreeja Ray, a student of Class VIII at Indus Valley World School, said, "We really enjoyed the documentary titled Ladakh Chale Rikshawala. It taught us to dream big and work hard to realise it. It also showed us the importance of running through hardships with a smile. I would love to watch such inspiring stories in visual format.''