A lovely collection of incidents and first-hand interactions with ordinary people from the author's life, A Jar of Pebbles by Krishna Mohan Tata was released on September 23 at Oxford Bookstore. At the launch, the author was also in conversation with bookstagrammer and creator of the online page, Kolkata Bookworm, Khushi Rungta.
While Tata, who was as cheery as ever, was explaining where he got the concept for his book, Khushi was asking him challenging questions and requesting a deeper look into the pages. He highlighted the motivation behind the book by saying, "We have a tendency to overlook the ordinary, which is a term that is used loosely to describe anything and everything that is not extraordinary." He contends that the mundane might in fact instruct us in important lessons about how to live our lives. Because the every day is where we learn and where we find the answers to our questions, it is impossible to disregard it in any way.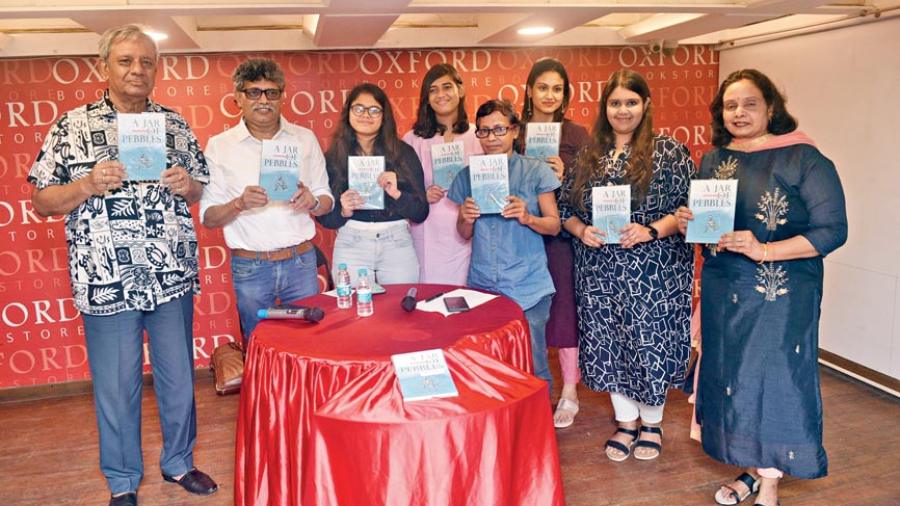 The book launch event was insightful and everybody particpated in the conversation.
The audience was captivated and actively participated in the conversation with the author. He encouraged discussions about experiences from the participants that were in some way connected to the ideas presented in his book. He went on to remark that the language in the book is easy to understand and approachable because, much like the pebbles in the jar, it is derived from everyday events.
Before he established and directed the Gitanjali Awards, he worked in business, and he has never thought of himself as a writer. He has always been a businessman. He claimed that the only thing he did to keep track of his encounters with people from a variety of backgrounds was to use a simple notebook. There were parts of his life story that he shared with us that had us laugh out loud, while other parts brought tears to our eyes. Because of this, he made it clear that the Jar of Pebbles did not represent anything extraordinary but rather the more fundamental pleasures that we all desire for.
Pictures: Rashbehari Das