In the world of Calcutta's Bangla bands, Mohiner Ghoraguli has iconic status. A path-breaker and genre bender that sprang to life in the turbulent 70s under the aegis of Gautam Chatterjee, aka Monida, their songs are spoken of in a tone that is at once loving, affectionate and reverential even by young musicians of today.
Who can ever forget 'Kotha Diya' and 'Hay Bhalobashi'. Or for that matter 'Amar Dokkhin Khola Janalay' and later year songs like 'Prithibi' and 'Telephone'.  
As the story goes, When Mohiner Ghoraguli fell short of the Rs 7,000 that was needed to cut their first EP in 1977 (Shongbigno Pakhikul O Kolkata Bishayak), they had to borrow Rs 2,000 from a "kabuliwala". When the EP was finally out, Monida would make it a point to mention "foreign funding" as one of the key resources that made it happen.
All that and more are part of Bangla Band lore of Kolkata.
'Bhalobashi Picasso Bunoyel Daante
Beatles Dylan ar Beethoven shunte
Rabishankar ar Ali Akbar shune
Bhalo lage bhore kuashay ghore phirte'  
 Cut to 2021. One of the founder members of the original Mohin, Tapas "Bapi" Das, who has been leading a band of youngsters for decades, is now set to perform; and who knows, they may even relive some of those old stories.  
Calling themselves Mohin Ekhon O Bodhura, they have been dutifully observing September 12 as their foundation day. This year, they have taken the plunge to perform a live gig to unveil selections from a new EP that has been in the works for sometime. At TopCat CCU, they are slated to perform at least two of their new songs, in addition to age-old Mohin anthems, all the while adhering to Covid norms, Bapida tells TTOnline, sounding grim and responsible. His voice lightens up though during the conversation about the good ol' days. Excerpts.          
My Kolkata: The last one and-a-half years have been challenging for all. Yet, Mohin Ekhon O Bondhura is coming out with a new EP.  
Tapas 'Bapi' Das: Yes, tell me about it. For performing artistes, it is always difficult as we are dependent on concerts, live performances. But the pandemic has put paid to that. You, being a music lover, critic and writer, can well understand that there is always something special when we perform in front of an audience. There's the applause, at times there's hooting too (smiles)! Spontaneity is the key... And sometimes, we even get standing ovations. All this keep us going. These days, our band members seem to be driving each other, providing an impetus to each other. I guess, somewhere deep down, we believe things will get better and the good times are not far away. 
Bapida, tell us about the new songs you will be performing on September 12.
We are releasing two new songs. One deals with the condition of street children. It calls upon people to share their dreams. The second song is about returning to one's roots. It is a tribute to where you think you belong. It is called, 'Bhiter Taane'.
'Doing a live show at this point of time, given the circumstances, is a bold move. When did you decide to take the plunge?
We observe and celebrate September 12 is our foundation day. Last year we released our album, Bon Paakhi, (Wild Bird) digitally. But our band members didn't think much of the experience. We were all quite depressed at the lack of connect with real people in real time. It was then that we decided that we will launch our next album via a live show come what may. It was never easy. And now, given where we are, it is even more difficult. But we were determined to execute this project while adhering to all the rules and regulations that are in place because of the ongoing pandemic.
Bon Pakhi by Moheen Ekhon O Bandhura
You were a part of an iconic group of musicians which holds a very special place in our musical heritage. How do you look back to the days of Mohiner Ghoraguli with the late Gautam Chatterjee, aka Monida?
Well, in spite of the odds we faced, I recall those days of the 1970s with fondness, the kind espoused by, say, 'Those were the days my friend, we thought they'd never end'. Today, I feel fortunate as I was one of the founder members of Mohiner Ghoraguli and was able to share a very close relationship with Monida. You know, Monida was a versatile musician. It was in his genes. I learnt a lot from him. My socio-political awareness was because of him. 'It's been a hard day's night,' sang the famous foursome we all love. That kind of describes how I remember those days. We had long hair and tried to be seen wearing faded jeans. But we were alien to our neighbours and to our audience. We were the recipients of typical middle-class snigger, always being judged for what were not. What all us, 'Mohin's horses', always believed in was that an artiste must always remain sensitive to his/her surroundings. We must stand up for something, and have the nerve not to swim with the tide. In the last 45 years, I have seen how the times have changed. But I still love to swim against the tide, and this is the greatest lesson I have learnt from Monida in the close to two decades I spent with him.
Moheen Ekhon O Bondhura belt out the classic, Bhalobashi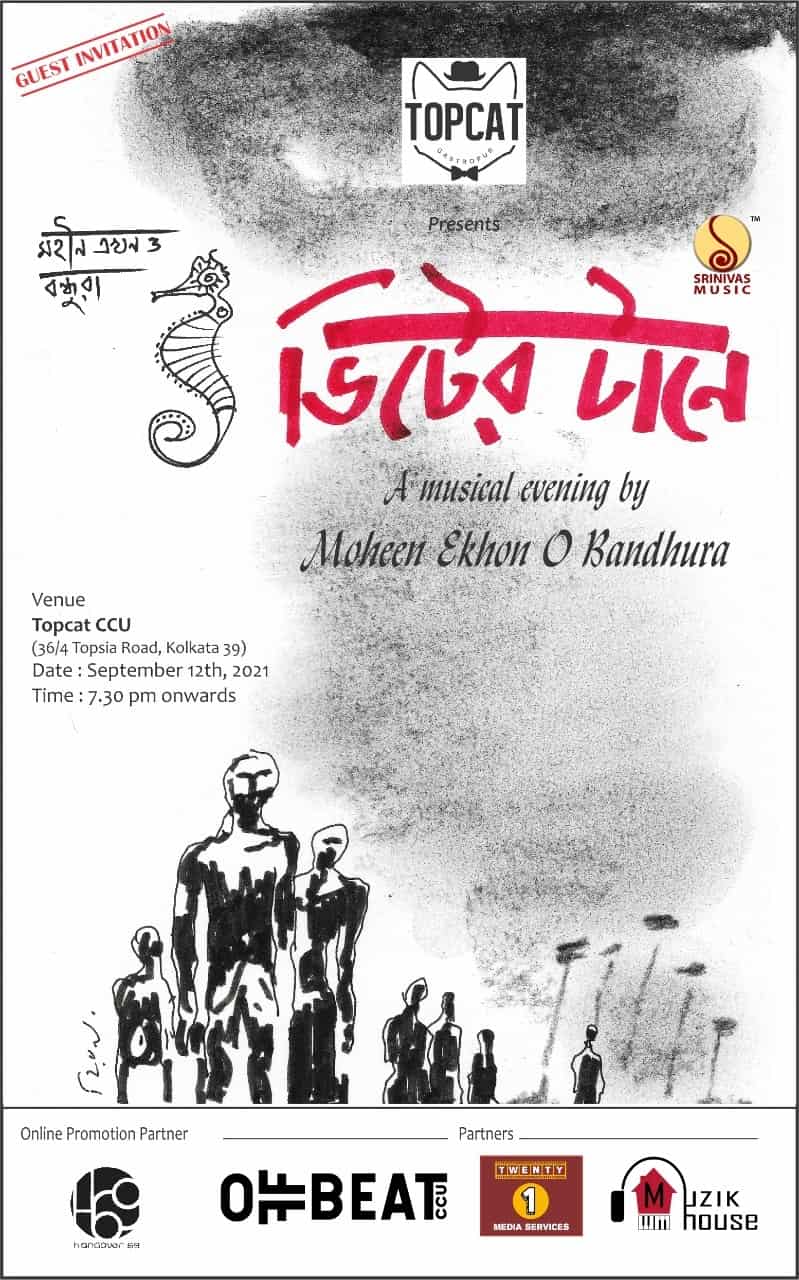 Today, everyone is roaming around with earphones, listening to music or something. Yet musicians who create the music that the world is listening to are worst off. It's as though they don't exist. How do you reconcile this?
This is very humiliating for artists. It is also the cause of depression among many of us. I have come to terms with it. I am resigned to the fact that I live in a third world country where evaluation, and ultimately appreciation, for a band like Mohiner Ghoraguli came decades after we broke up. I am at a stage where I don't expect anything. But I worry about the young musicians of today.
Best wishes for the show, Bapida!
Thank you.