The third edition of Learn Togetherness, a Kolkata Centre for Creativity initiative, curated by interdisciplinary artist Sujoy Prasad Chatterjee, opened up to a hearty reception at the cultural center near EM Bypass, recently. With the theme being "What is in our gait? The Performative and Queer", this edition aims to initiate a dialogue on "the aspect of the performative (if any) in the LGBTIQKA++ community".
The inaugural ceremony witnessed a hard-hitting performance delivered by contemporary dancer, Sangram Mukhopadhyay, challenging the norms of binary that the society lives in unfortunately while mostly staying dismissive of the beings who are non-binary. Mukhopadhyay's choreography piece was followed by a freewheeling discussion "Why do we need the boxes?". Moderated by Sujoy, the conversation saw very interesting perspectives come out of panelists, including activist Bappaditya Mukhopadhyay, adman Kanchan Datta, actor Solanki Roy and poet-scholar Abhirop Mukhopadhyay. The discussion touched upon some very crucial points, with Bappaditya steering the discussion ahead with his important observation on why we need boxes at all — are they required to create "a stand, a community and human rights"? Solanki shared how she has often been disappointed by the judgemental ones in the tinsel town who do not approve of her having a "mind". Abhirop struck a chord with the audience as he read out an emotional monologue of a lesbian woman wherein she talks about her gender fluidity and her disappointment from the society. Kanchan Datta highlighted the need for battling the boxes society creates for us and also shared from his own experience how he has helped break the glass ceiling by transforming orthodox workplaces and bringing in the vivid light of the wide spectrum of diverse gender identities.
Author Sreemoyee Piu Kundu, activist Ruchi Gupta, stylist-designer Neel Saha and visual artist, Siddharth Shivkumar graced the occasion.
"I am happy that the conversations were real and this entire festival should be able to disrupt a diaspora to create dialogues," said Sujoy Prasad Chatterjee.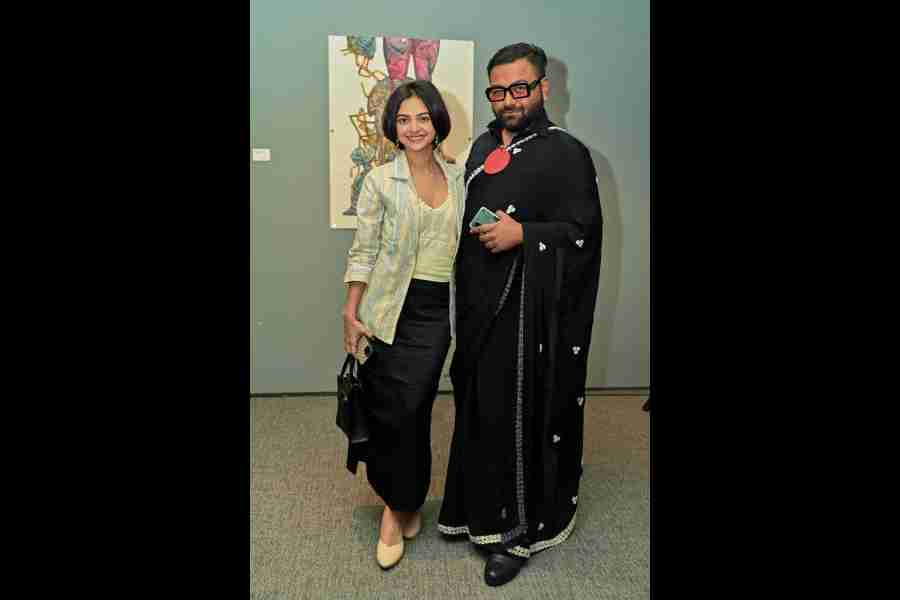 Solanki Roy and Neel Saha pose for a photograph