The rich scientific and cultural linkages between India and France have been showcased at an exhibition titled 'Science Beyond Borders: connecting the dots between India and France' at the Birla Academy of Art and Culture. The show is being hosted by Alliance française du Bengale, in collaboration with the French Institute in India and the Consulate General of France in Calcutta.
The exhibition, designed and put together by Studio Oddworks, is part of the fourth edition of Bonjour India 2022. The display is open to all till July 29.
The exhibition was inaugurated on July 9 in the presence of Didier Raboisson, attaché for scientific and academic cooperation, Embassy of France in India; Nicolas Facino, director, Alliance Française du Bengale; and chief guests Partha Ghose, former professor at the SN Bose National Centre for Basic Sciences, Kolkata, and distinguished fellow, Tagore Centre for Natural Sciences and Philosophy; Bimal Roy, professor of Indian Statistical Institute and chairman of National Statistical Institute. 
"In its fourth year, Bonjour India celebrates 75 years of India's Independence and 75 years of the establishment of Indo-French diplomatic relations. Today, we invite you to our journey through this exhibition that will take you all into this extraordinary past and the stories of the exchanges in the top minds of our two countries through narratives, texts, interviews, photographs, objects, audio-visual material and archival resources. This exhibition and the history of shared relationship is about people. It promotes scientific temperament and the value of collaborative research," Facino said.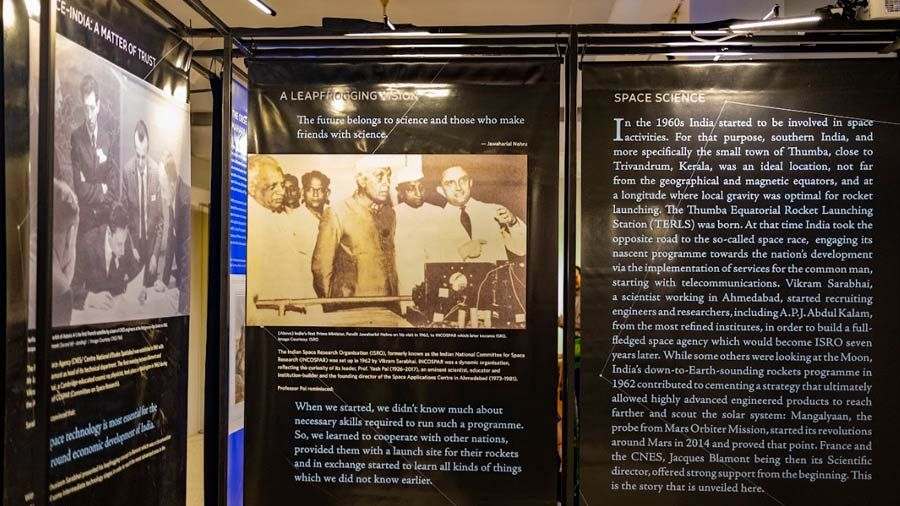 Panels on aviation, astronomy, space research, mathematics, medicine show the bi-lateral cooperation between India and France
The displays highlight how Indo-French scientific strategies contributed to the world. From JRD TATA, the first licensed Indian pilot who was trained in France, to Vikram Sarabhai and his French partnerships in space research, all form core components of the informative panels. The thoughtfully curated show includes aviation, astronomy, space research, mathematics, medicine and contemporary bi-lateral ties.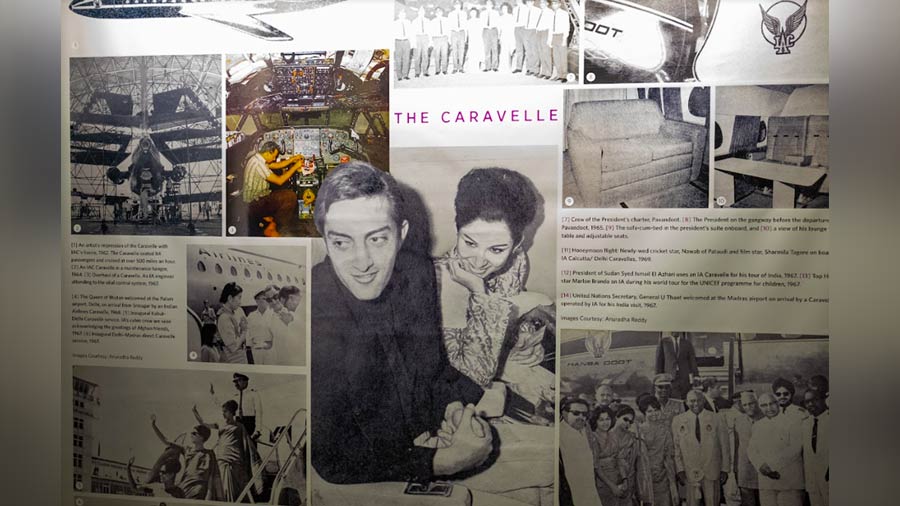 The French Caravelle was one of the first planes to enter the aviation industry. Actress Sharmila Tagore and cricketer Mansoor Ali Khan Pataudi took their honeymoon flight in this model of plane
"The Science Beyond Borders is a part of a longer project — The History of Science Project— which was initiated about a year and a half ago. This project tried to look into institutional and individual linkages between India and France not just through organised governmental initiatives but at a civic level. Historically speaking, there were Jesuit missions that carried documents between India and France, where scholars unknown to each other found, read and benefitted from the scholarship that came from another part of the world. That's what is quite stunning and surprising," said Oroon Das, director, Oddworks Studio.
Das also spoke about knowledge across borders and across the definition of nationhood. "There are scholars, science attaches who are working with the French in India and who took it upon themselves to document and collate the information in as interesting and story-like a manner as was possible within the time [or this exhibition]. The exhibition itself was collated and designed in about four to five months. It is a travelling exhibition. We are in our fourth city and we go onto Bombay from here," Das said.
Science is constantly influenced by dynamic evolution in technology. One such technological input is Big Data. The exhibition has also curated a panel discussion on 'Data for Life, Data for Science' on July 12 at 3pm. The panelists include Tanusri Saha-Dasgupta, director, SN Bose National Centre for Basic Sciences; Sujay Santa, chief executive officer, Ikure; Suman Chakraborty, professor, IIT Kharagpur; and Madhurima Pattanayak, science writer and journalist.