Victoria Memorial Hall once again came alive with the indomitable spirit of literature lovers and literati from across the country and the world at Tata Steel Kolkata Literary Meet in association with The Telegraph. Held from January 21 to 26 and at various locations, the festival brought the best in fiction, non-fiction, poetry, theatre and more to the Kolkata audience who relished each session.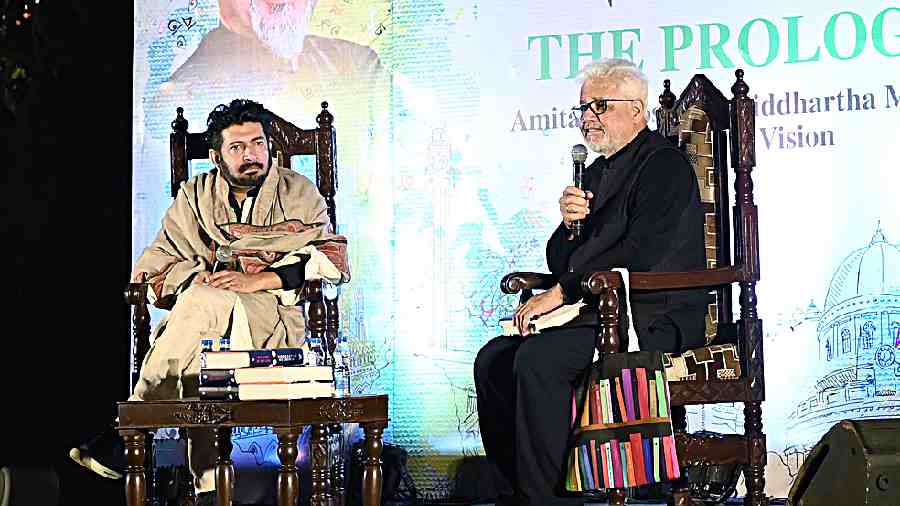 The newly reimagined Alipore Museum was a serene set-up for the lit meet's prologue that saw authors Siddhartha Mukherjee making a debut at the festival. Mukherjee, assistant professor of medicine at Columbia University, a cancer physician and researcher and author of The Emperor of All Maladies: A Biography of Cancer, winner of the 2011 Pulitzer Prize in general non-fiction, engaged in dialogue on 2020s Vision with Amitav Ghosh. The duo threw light on the anti-vaccine movements in the US, the downside of globalisation and more.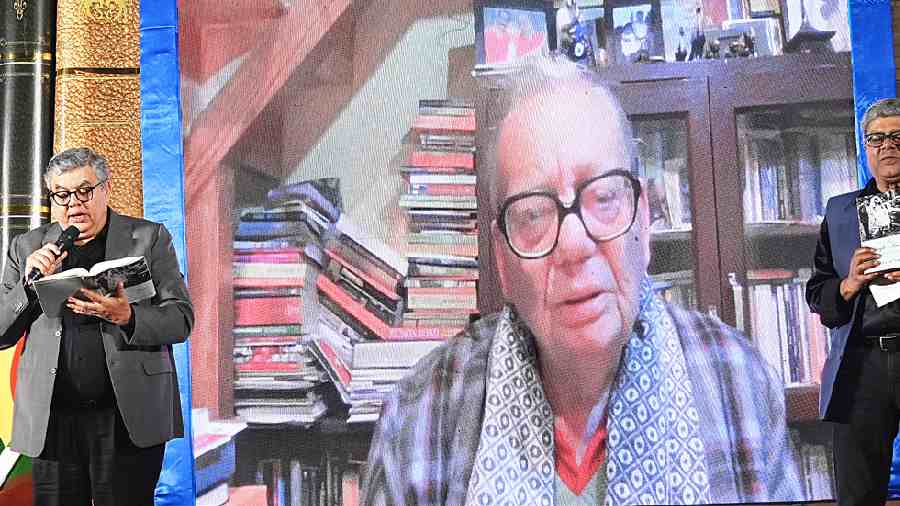 Barry O'Brien was joined by Raju Raman to discuss his book The Anglo-Indians: A Portrait of a Community. As SV Raman promptly mentioned at the commencement of the session, the book might look to be thick, but it is an easy read with a conversational style of prose and is full of anecdotes. Ruskin Bond, the renowned Anglo-Indian author, also joined the session virtually, making the festival fulfilling. At the session, O'Brien revealed that he had received a handwritten note from Bond, who had sent it after reading the book. O'Brien said it was a "personal Pulitzer" to him. The engaging session saw Ruskin Bond share many of his experiences growing up as an Anglo-Indian, especially at the time of India's Independence and Partition.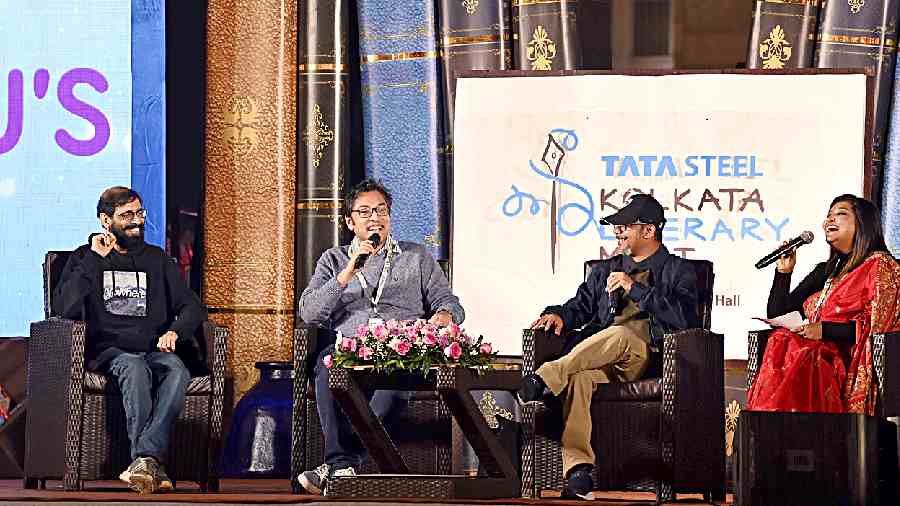 Music, masti and more defined the session Bechey Thakar Gaan — Lockdowney Lekha. It saw Chandril Bhattacharya, Srijato and Anupam Roy discuss the compositions triggered by lockdown with RJ Riya.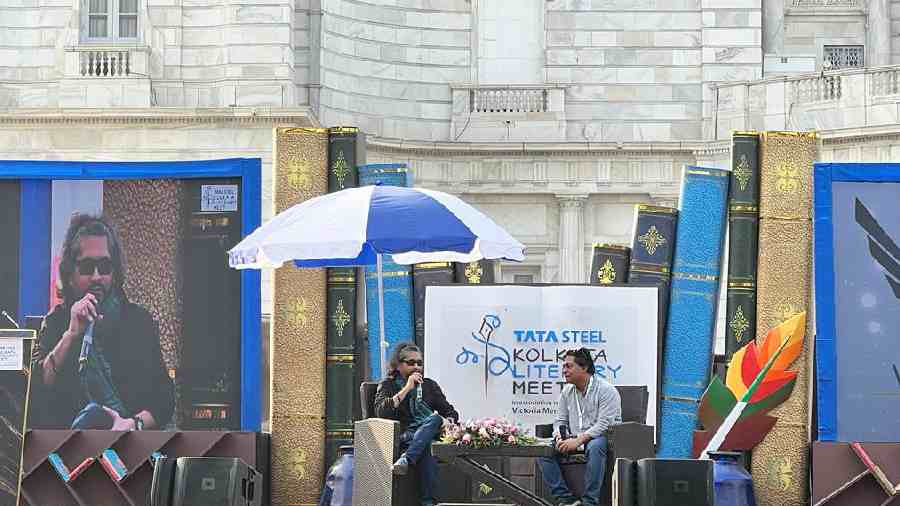 Rupam Islam with Arka Das.
Rupam Islam took to the stage to speak on his fiction writing ventures with Arka Das. The two discussed the singer-songwriter's journey as a fiction writer and particularly, his character Brahmathakur. The character can be seen in the books Anamika Bole Dakte Pari Ki Tomai? and Brahma Thakur Plus Two, each of these containing two stories. The fifth instalment of the series is up for release.
Islam, who is primarily known as one of the most pioneering and influential figures in Bengali rock, spoke at length on his turn as a fiction writer. He revealed his first instances of being a fiction writer when he was in school and had written a series on a fellow classmate. As a teacher, while taking dictation classes with his students, he connected the sentences he gave them to write and formed short stories. Among other things, he also spoke of his literary inspiration, "There is no end to finding inspirations. An ant walking through the grass here can also be an inspiration… everything is my inspiration."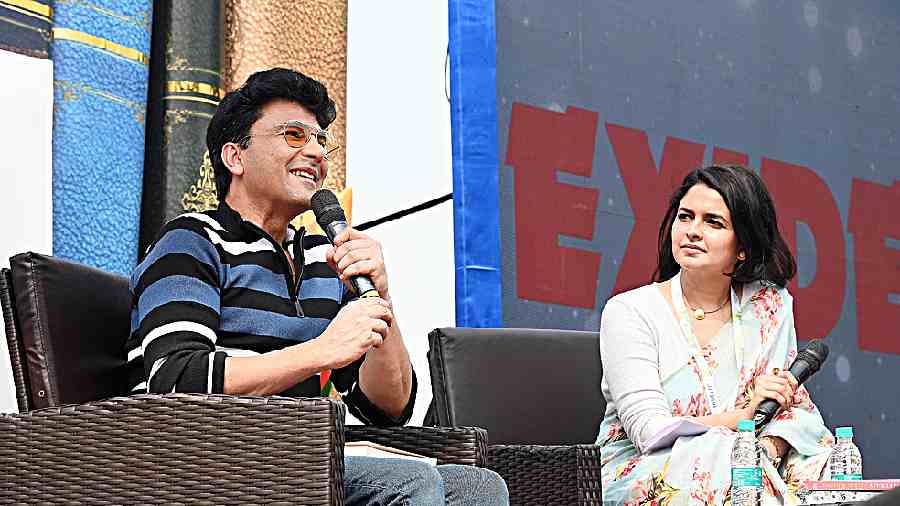 Chef Vikas Khanna was in the city to launch his book Imaginary Rain, which has already been adapted for the screen and will feature actor-activist Shabana Azmi. With this book, the Michelin Star chef turned 40 books old and at a packed session he won hearts with his candour andheartwarming stories. The chef-turned-filmmaker who is enjoying the art of storytelling on the written and visual platform, said, "Stories have the potential to bring a revolution and I want to tell more stories that are real and inspirational." The chef and restauranteur also talked about his grandmother, staying true to one's roots and more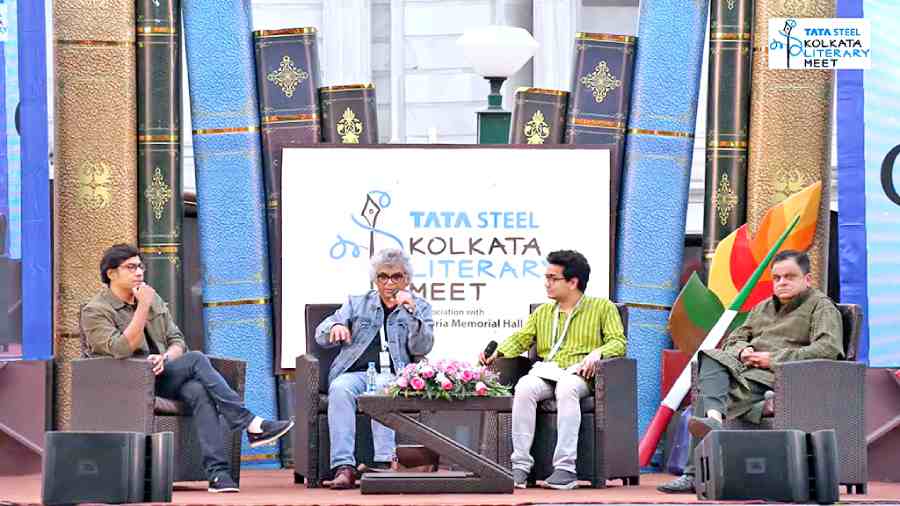 Bengali theatre has had a rich cultural history with numerous proponents over the years. On Day 4 of the Kolkata Literary Meet, theatre greats Suman Mukhopadhyay, Koushik Sen and Bratya Basu took the stage to discuss the history, progress and future of theatre at the session Mancher Itihas, Mancher Bhobishyot. The enlightening session was moderated by Agnijit Sen, popularly also known as RJ Agni. Suman Mukhopadhyay began the session as its first speaker, talking about how there has been no Centre of Excellence when it comes to theatre. He said he regrets not being able to create that space and mentioned the lack of such a centre is probably because theatre is hardly seen as a discipline but more like something that will keep happening naturally, regardless of cultivation. Bratya Basu began by tracing the advent of the Internet, social media and movies and how theatre has both embraced and yet resisted the changes. "Theatre is no more a carnival like Bakhtin had said, but has become an event," he added, saying the audience is now more invested in individual performances than theatre as a whole. Koushik Sen, who was called an optimist, said, indeed he is so because as he has seen his fellow speakers stage productions from time to time, he believes in how theatre has a way of coming back despite resistance and constraints.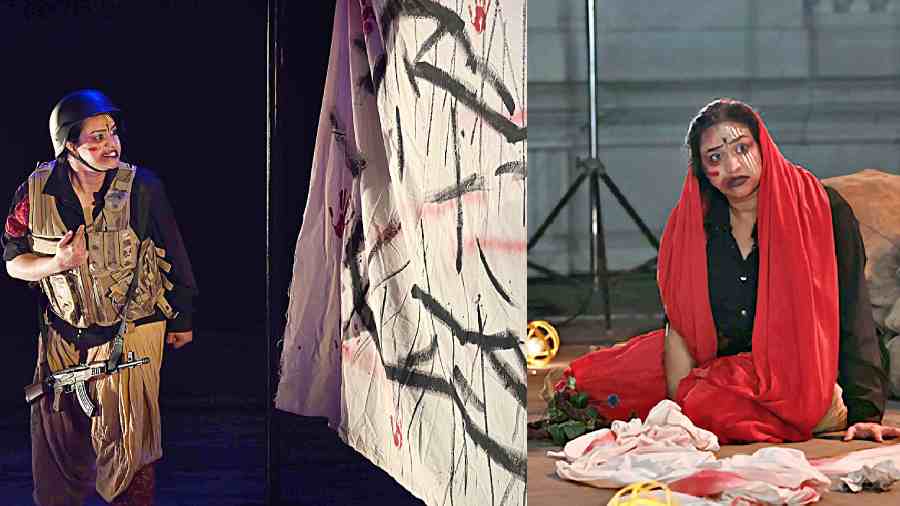 The festival had a few performances as well and among them included Shikhandi. Performed by Sudipta Majumdar, written by Sudipta Bhowmik and designed, and directed by Suman Mukhopadhyay, the stage act was a visual treat.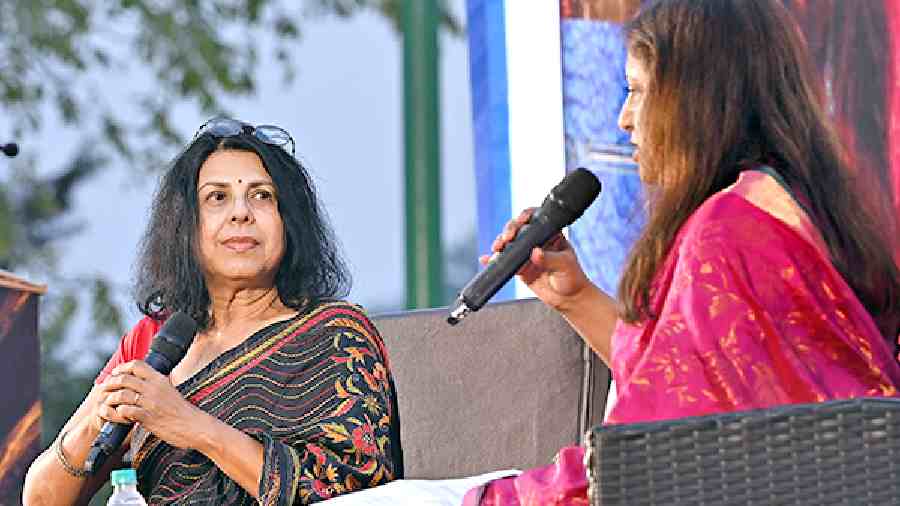 Indian-American author Chitra Banerjee Divakaruni took the stage on the third day of the literary extravaganza. The Palace of Illusions author was in conversation with Ankhi Mukherjee, an English and world Literature professor at Oxford University, regarding her latest release, Independence. Divakaruni held a captivating session, throwing light on the reasons behind Independence, the characterisation in her new book, her choice of female characters, the emphasis on Bengal and its culture in the book and much more.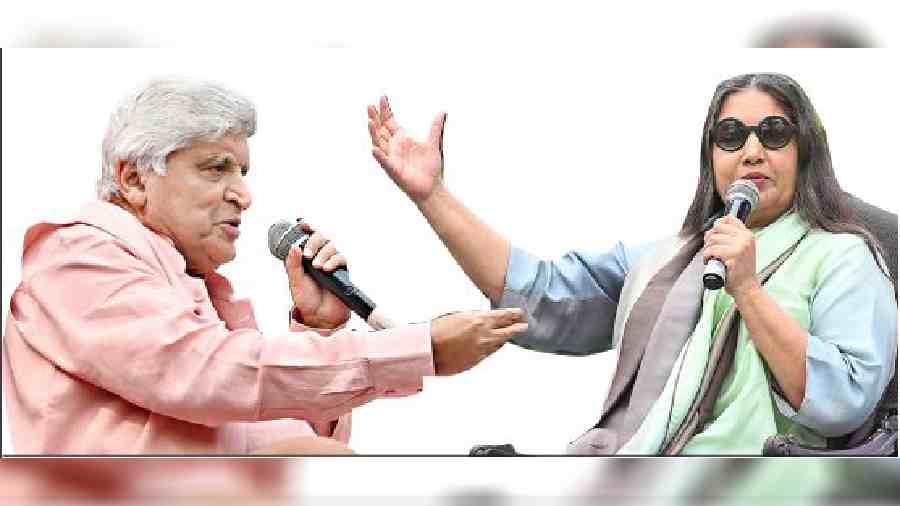 Festival favourites Javed Akhtar and Shabana Azmi once again held poetry lovers captive with their friendly banter and poetry.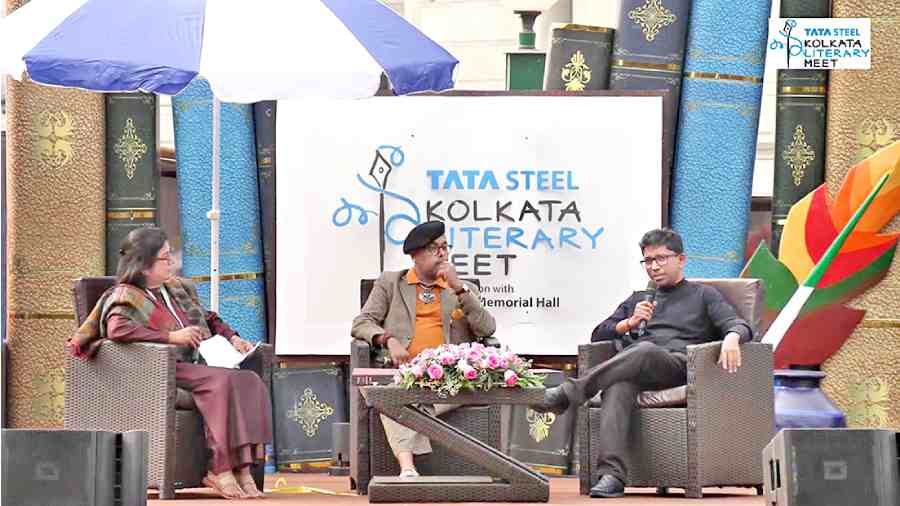 Artist Paresh Maity and architect Abin Chaudhuri spoke at the session Infinite Light, named after Maity's latest book of the same name, with Darshan Shah. The engrossing segment explored art and architecture, their intersection and commonality as well as their differences and their position in today's world, in terms of monetary funds, teaching and more. On whether modern architecture is more removed from art than ancient architecture, Chaudhuri said, "Somehow architecture has been conceived as being visual. But, it also has to be experiential. It has an X-axis, a Y-axis, a Z-axis and also, time. The context of the designs depends very much upon space mechanics and physics and is owed to the idea of context and temperature…. I think it is more about context than about ancient and modern. A place can be celebrated through its design process and there can be no modern or ancient about that. It is a very blurred line that we do not define."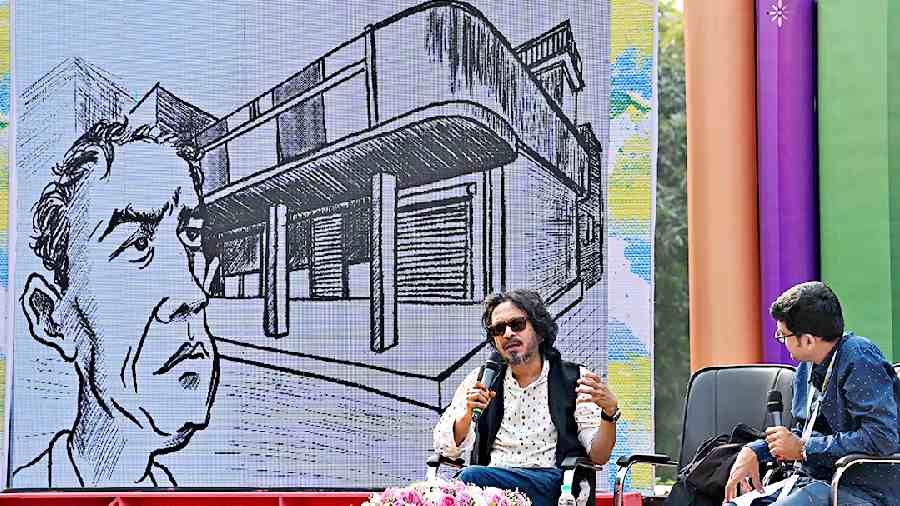 Satyajit Ray's legacy is undoubtedly one of the greatest, in terms of art and literature. Although Ray is famed as a writer and a filmmaker, his art often goes undermined. However, during novelist and artist Sarnath Banerjee and Pinaki De's conversation, Sketching Ray, Ray's vast oeuvre of paintings found centerstage.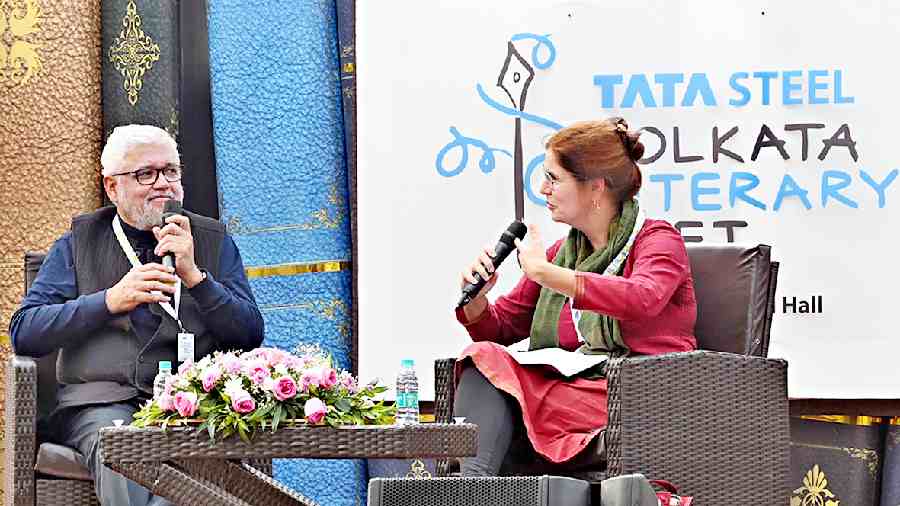 The land sinking in Joshimath is perhaps India's rudest wake-up call to the disasters that manmade infrastructure can and is causing to the mountains. Author Amitav Ghosh referred to the incident, in conversation with Annu Jalais, an environmental anthropologist, on Day 5 of the festival.
"On the one hand you have the catastrophe of climate change already unfolding. On top of that, you have patterns of human intervention that are compounding the disaster," said Ghosh. The two had taken to the stage to discuss Amitav Ghosh's Jungle Nama, The Nutmeg's Curse and The Living Mountain in one of the most profound sessions of the Meet titled, "Pandemic, Parables and Prophecies". Ghosh expressed fear for the future and mentioned it is all going in a "very very bad direction in every possible way" when Jalais asked about the paradox between global movements where nature is increasingly part of people's lives and the "vested capital interests that are ultimately genocidal".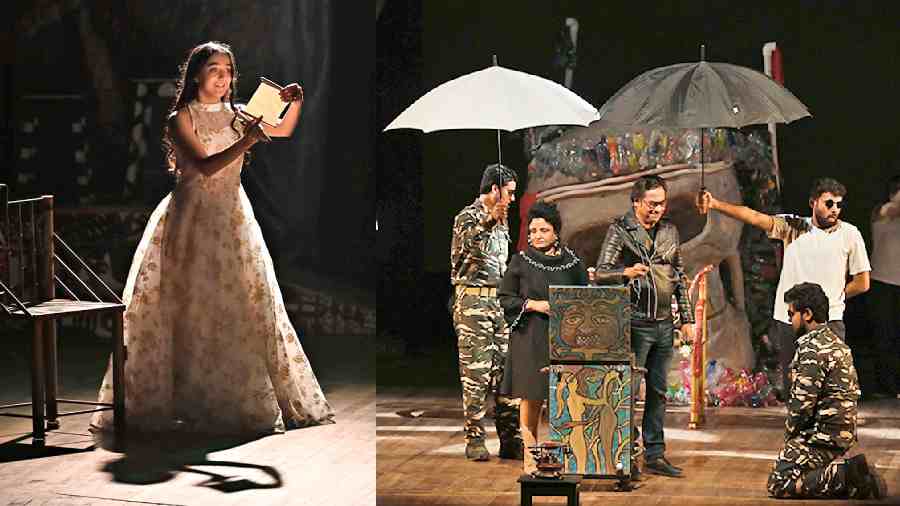 Presented by Swapnasandhani and directed by prolific director Koushik Sen, Hamlet showcased the power of theatre and the acumen of some stellar performers on the stage including Riddhi Sen and Surangana Bandyopadhyay.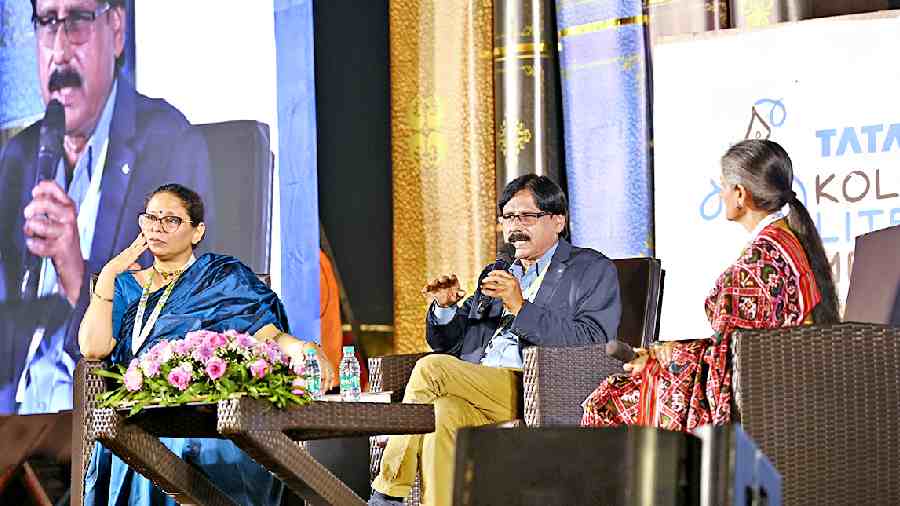 The JCB Prize Special session saw JCB Prize for Literature 2022 winner Khalid Jawed speaking on his book The Paradise of Food, with translator Baran Farooqi and Mita Kapur. Famed for his multi-layered prose, Jawed spoke on how he explores the deep recesses of the human psyche and base human feelings, in his books. He said, "The work of a genuine writer is never to just reflect what is in front of them. A real literary piece will always be existential."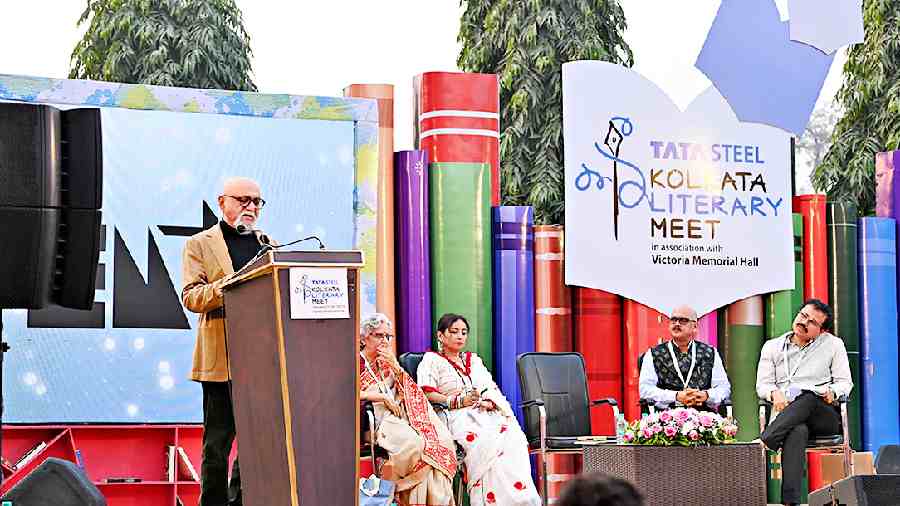 This poetry session saw Pritish Nandy, Divya Dutta, Mritunjay K. Singh, Yatish Kumar and Sudha Arora add romanticism to the air with their poetry. While Dutta read a poem written during the lockdown, Arora enamoured everyone with her popular poem Rahogi Tum Wahi. Hindi Sahitya Ka Sheher Kalkatta followed the poetry sessions and discussed how Bengal acted as a fertile land for Hindi writers.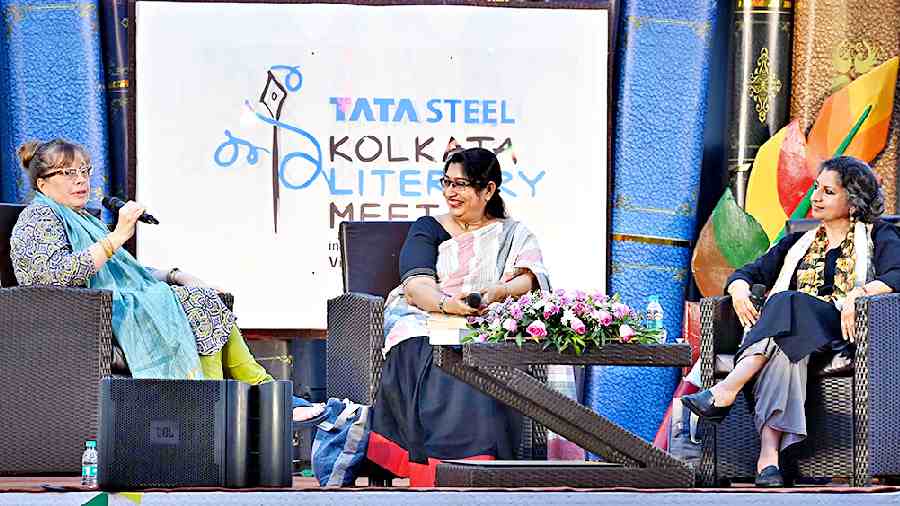 The 2022 International Booker Prize winners Geetanjali Shree and translator Daisy Rockwell joined Professor Debnita Chakravarti to discuss their book, Tomb of Sand. The discussion began with Shree mentioning why she was initially against the translation of the word reth (present in the original Hindi title, Reth Samadhi) as 'tomb'. "I insisted, for some time, that the term does not do justice to what I'm trying to say. But one of the strongest arguments they had was that you know, there's a certain sort of prejudice about literature coming out of the East. And if they have a word like 'samadhi' in the title people are going to think it is on Eastern meditation and so on, and they didn't want that to happen with the book."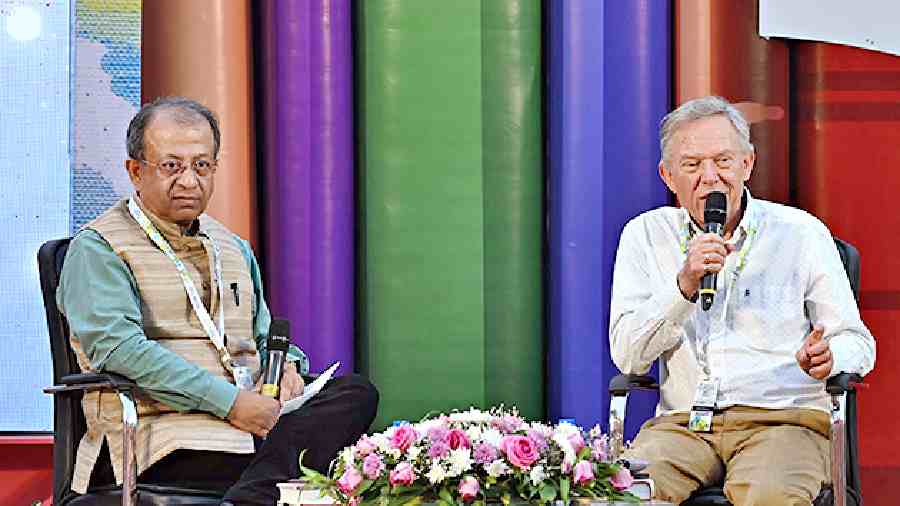 Renowned archaeologist Richard Blurton and Jayanta Sengupta, curator and director of Victoria Memorial, Hall discussed the former's latest book, India: A History in Objects. Sengupta described the book as "an introductory text for history classrooms… because it sort of grapples with most of the important historical transitions, the most important social and historical processes and so on."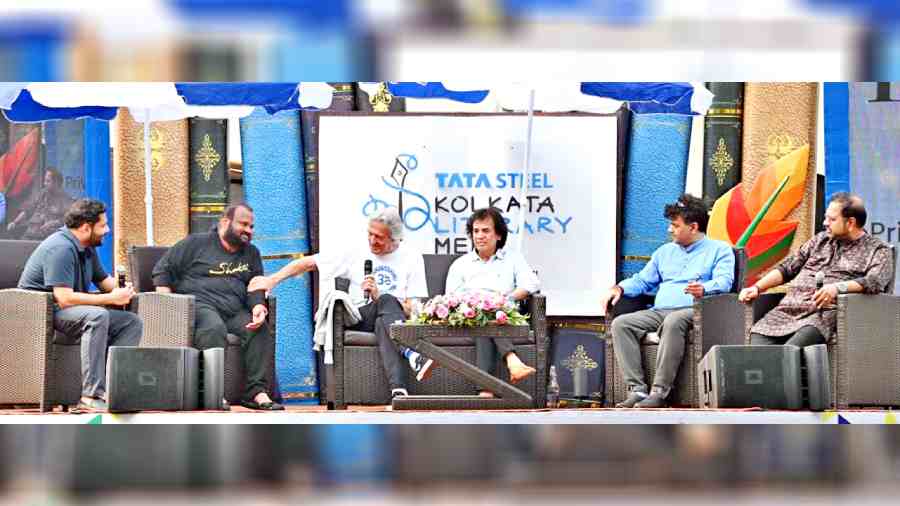 The legendary Remember Shakti comprising John McLaughlin, Zakir Hussain, Shankar Mahadevan, V. Selvaganesh and Ganesh Rajagopalan came together to talk on the iconic Indo-fusion band Shakti commemorating 50 years and the experience as they take on an anniversary tour.