Devi Jagaddhatri arrives at the very end of Bengal's festival calendar. The warrior goddess is worshipped on Shukla Navami tithi of the month of Kartik, wrapping up two months of festivities that begin with Vishwakarma Puja in mid-September.
The mention of Jagaddhatri in various sacred Hindu texts is significant and she is everywhere described as a new embodiment of woman power, crushing all evil for the sake of settling peace and prosperity. No wonder that her reference as a reincarnation of Devi Durga and Kali matches her warrior image — mounted on a lion, holding weapons in her four hands and a snake around her.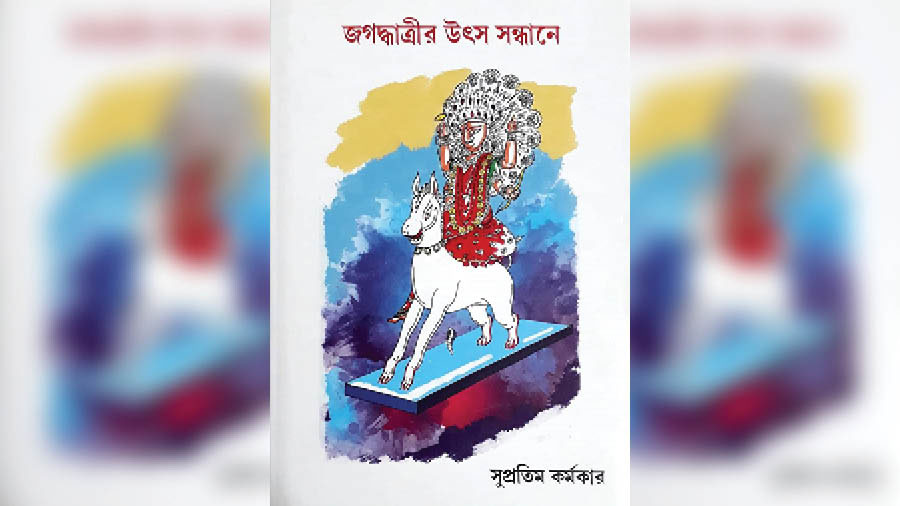 The cover of the book written by Supratim Karmakar
Sister Nivedita had in two iconic speeches — one on February 13, 1899, and the other on March 29, 1899, delivered at Calcutta's Albert Hall and the courtyard of Kalighat Kali temple, respectively — explained in detail how Durga, Kali and Jagaddhatri blend into one to signify the power of womanhood in the Hindu community. Her speeches, edited by none other than Swami Vivekananda, are the first known instances of open public meeting and discussion on Jagaddhatri in Calcutta or in Bengal.
Hindu mythology says that Mahishasura had taken on elephant form in the course of his battle with Durga. This form of Mahishasur is called Karindrasura or Mahagajasura, the elephant demon. The goddess cut its head with her chakra. Thus, we see an amputated elephant head under the feet of the lion on which the Devi mounts. She is Mahashaktimoyee and wife of Shiva, who dons the sign of Jagatpalini Jagatdhatri meaning the protector and sentinel of the world who comes to establish peace and prosperity.
The cult of worshipping Jagaddhatri in Bengal is old but is unfortunately not well-scripted in written history. The oral history of this festival in Bengal is loaded with legend and folklore.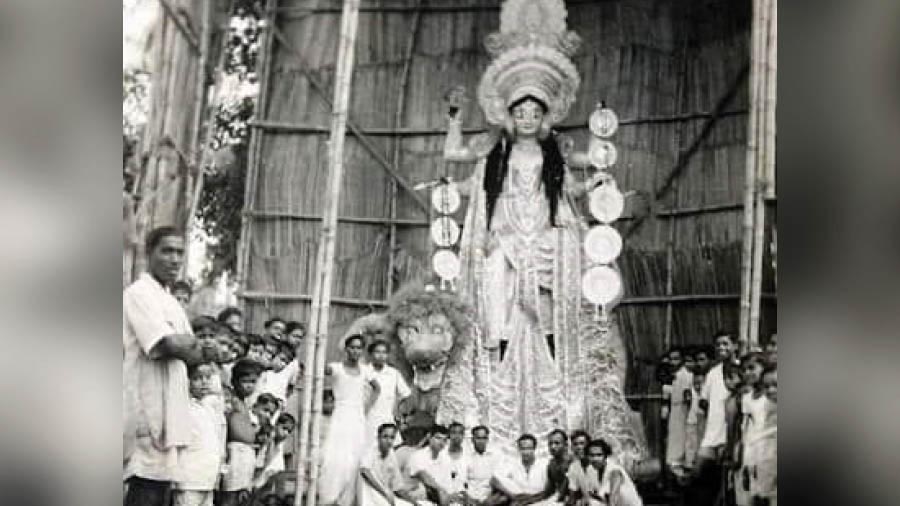 The Kaporerpatty puja in 1970
From the collections of Supratim Karmakar
One such legend goes that the king of Nadia, Raja Krishnachandra, was once jailed by Nawab of Bengal Siraj-ud-Daula and he was released on the day of Vijaya Dashami, by when Durga Puja was over. A shattered Krishnachandra, for the sake of overcoming the pain of missing Durga Puja, started Jagaddhatri Puja in the Krishnanagar royal palace from that year.
Citizen historian Debasis Mukhopadhyay points out that the Jagaddhatri Puja was started by Krishnachandra in Krishnanagar in 1762 and Siraj was vanquished and killed by the East India Company in 1757. So, the story does not stand historically.
Many think that it was Mir Quasim, the nawab of Bengal, who jailed Krishnachandra in 1762 but there is no solid testimonial to prove that Jagaddhatri Puja started for this.
Mukhopadhyay is of the opinion that, as a devoted Hindu and also one very close to British officials, Krishnachandra started Durga Puja in 1757 and also started conducting Kali Puja on the night of Deepavali. So, his intention of introducing Jagaddhatri Puja from 1762 had a purely religious motive to protect Hindu interests in Bengal, which was still officially under a Muslim ruler named Mir Quasim, whose authority was clouded by the power of East India Company.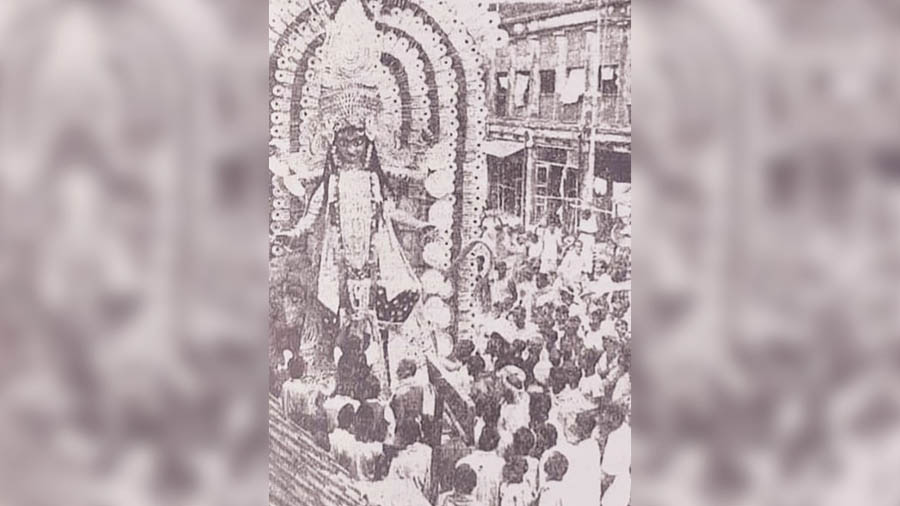 Malopara idol of Krishnanagar, 1958
From the collections of Supratim Karmakar
Though Krishnanagar was the first town in Bengal to see large-scale Jagaddhatri Puja, it was the nearby French colony of Chandernagore where the celebrations took a giant shape, thanks to its importance as a commercial hub and its easy connectivity with Calcutta and other parts of Bengal. Mukhopadhyay explained that the railway connectivity of Chandernagore to Calcutta since 1854 was a reason that made the town famous for Jagaddhatri Puja.
The popular belief is that Jagaddhatri Puja was started in Chandernagore by Indra Narayan Chowdhury, dewan to the French East India Company of Chandernagore and a close friend of Raja Krishnachandra. It is believed that he was inspired and impressed by the puja in the royal palace of Krishnachandra and started Jagaddhatri Puja in his own home in Chandernagore. This is again a distortion of history because Indra Narayan died in 1756 and Krishnachandra started the puja in 1762. Mukhopadhyay points out that there is a clear difference between the idol of the Krishnanagar royal family and the idol worshipped in the Indra Narayan Chowdhury family.
Legend has it that the rice traders of Chandernagore used to be very busy during Durga Puja and were never in a position to enjoy the festival. It was on their request, Indra Narayan started Jagaddhatri Puja.
After the death of Indra Narayan in 1756, the puja was taken over by the common people of Chaulpotti area and it is now the oldest-surviving community Jagaddhatri puja of Bengal. The puja is still dedicated to the Chowdhury family.
Another story goes that once a group of traders travelling from Krishnanagr got stuck at Chandernagore because of heavy rain and could not return home to attend the festival. They promptly decided to conduct Jagaddhatri Puja in Chandernagore with support from the Chowdhury family.
The Jagaddhatri idol of Krishnanagar royal family in 1880
From the collections of Supratim Karmakar
It is important to note that in 1790, a group of 12 friends were denied entry to a family Durga Puja at a rich man's mansion in Hooghly's Guptipara. The friends, as a token of protest, organised a Jagaddhatri Puja the same year and started calling it a puja of baroyaar or friends. Thus, the word baroari puja was coined in Bengal. It is wrongly believed that community puja was started from Guptipara, it was actually started from Chaulpotti of Chandernagore.
The first well-researched book on Jagaddhatri Puja in Bengal has been published recently. Written by Supratim Karmakar, Jagadhatrir Utshyo Sandhyane concludes that it was Krishnachandra who granted permission to untouchables and downtrodden people like Bagdis, Das and Malaus, who were considered marginal by orthodox Hindu social leaders, to worship Jagaddhatri. So, in that sense, Jagaddhatri Puja of Bengal played a pivotal role against untouchability. It is sad that this glorious side of Krishnachandra is never discussed.
In his book, Karmakar clearly established the fact that the legend of Indra Narayan Chowdhury and introduction of Jagaddhatri Puja in Chandernagore is a myth as there is no written testimonial on this. Rather Dataram Sur's puja at his daughter's place from 1763 is much more believable.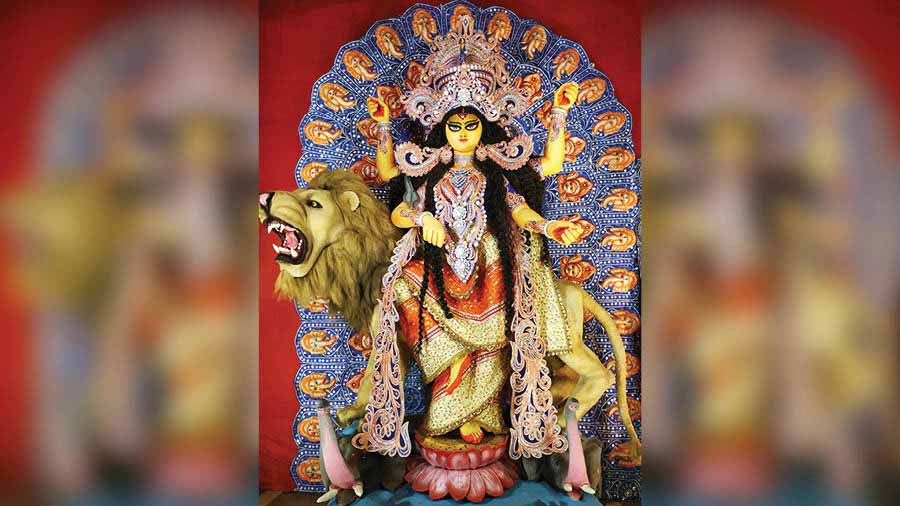 The goddess, apart from holding various weapons in her four hands, also holds a snake around her
Digvijay Singh
Apart from Krishnanagar and Chandernagore, Bhadreswar also has a rich heritage of Jagaddhatri Puja. It was started by Dataram Sur, a dewan of Raja Krishna Chandra. He started this puja in 1763 at his widow daughter's place named Gourhati. This puja is now known as Tetultala pujo of Bhadreshwar.
It is surprising that Jagaddhatri Puja as a community festival was never popular in Kolkata.
Even the new-era rich trading families of Kolkata in the mid or late 18th century did not show much interest in celebrating this puja. One reason for such an exception may be the lack of scope of inviting European guests and officials in puja as it was commonly done during Durga Puja. Moreover, after large-scale expenses on Durga Puja and Deepavali, there was little enthusiasm left to organise another big festival. However, there are a few rich families in Kolkata who showed devotion in organising puja in their house from the mid of the 18th century.
The 250-year-old Chorbagan's Moitra family, 130-year-old family puja of the Deys at Thanthania, 135-year-old Dey family puja in Bowbazar, 243-year-old Chhatu Babu Latu Babu's family puja on Beadon Street, 167-year-old Bose family puja at Beliaghata are examples of Kolkata's rich heritage of Jagaddhatri Puja.
The puja in the Durga Charan Mitra family, members claim, was started in 1752. If that is true, then Kolkata's Jagaddhatri Puja heritage would be older than that of Krishnanagar and Chandernagore.
In Bengal, the extravaganza of Jagaddhatri Puja cannot be compared with that associated with Durga Puja or Kali Puja but there is no denial that it's heritage and history is equally rich and, in Bengali minds, Jagaddhatri is nothing but the embodiment of a wealthy, prosperous and healthy land of Bengal — Sujalang Suphalang Sashya Shyamalan in Bankim Chandra Chattopadhyay's words. In Anandamath, the same novel of which the song Vande Mataram is a part, Chattopadhyay equated Jagaddhatri with a safe and healthy nation. His character Mahendra in the novel was shown as a Kali idol to realise the present precarious state of the nation and Durga as the call of arms to liberate the land. However, before all this, he was shown the idol of Jagatdhatri to understand how beautiful the land was before it was chained by invaders.
This underlines the place of Jagaddhatri in Bengal's religious nationalism.