Sometimes, the sheer beauty of something gives you goosebumps. Seeing Anamika Khanna's creations up close has often had that effect on me. So when I sat on the front row at her FDCI India Couture Week finale show at Taj Palace in Delhi on Sunday night, seeing her new couture collection unfolding on the ramp, the feeling of being overwhelmed wasn't very new. What was new, however, was the jaw-dropping effect it had. For, the collection shook me out of the state of slumber that I, as an observer of Indian fashion over the years, had been in, being led to expect a certain way a couture collection would unfold. Anamika turned every expectation on its head... and how!
"The definition of couture for me has changed, the definition of couture all over the world has changed. In India we might be limiting it or defining it with bridal wear and occasion wear only but that's not what it is to me any more. It is more about… not just personal but something more than that… it is a one-off, it is things specially done, it is hand-made, but then it is not necessarily restricted to anything," Anamika tells me after the show, when I dial her the next day for a decode of the collection, trying to understand what exactly was going on in her mind while presenting couture in a grunge sort of way.
On Sunday night, the circular stage with tall red structures on it, and mellow lighting, almost had the vibe of a place of worship. And worship is what Anamika had in mind for her collection that was to an extent inspired by the costumes of Indian Gods and Goddesses, the apsaras to be specific. The show started off with a sequence in red, and moved on to the next one in ivory... then came blacks, more ivory, a hint of emerald somewhere, a dash of denim-blue.... There were jackets of different kinds, long capes, drapes, tops, skirts, loose trousers.... There was pearl detailing, lots of it, crochet work, lace, extensive hand-embroidery, florals, a dash of gold shimmer, some prints, a whole lot of tribal influences.... There was a play of shapes — a beautiful blend of the fitted and the fluid. And then there was the shredding and the ripping! Almost every piece in the collection had been beautifully constructed and then shredded, ripped off, torn....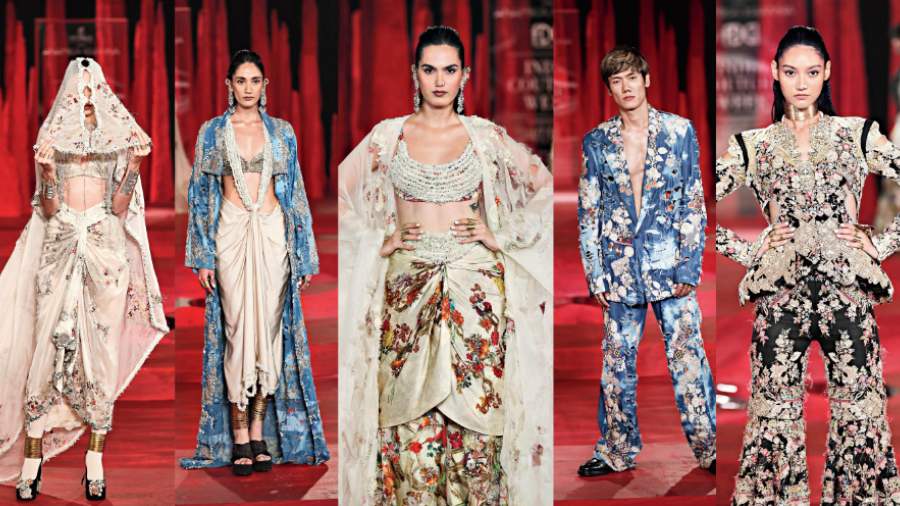 "You know when you redefine yourself, when you redefine your life, when you redefine your fashion, when you redefine everything, you let go of the past… and you rediscover. How do you let go of the past? When you shred something, when you throw away something, when you let it go… when you throw away a piece of paper you shred it and throw it away… and then you rediscover… that was one feeling," explains Anamika. "The second feeling is the emotion that came out of this extreme respect for what we have in India as our heritage. Each one of us has something in our grandmother's wardrobe that is shredded, that is torn, that is ripping… and we preserve it, right? We preserve it but sometimes we don't have the courage that something is shredded and you pull it out and wear it… and be okay about it. You know, that sense that something might be in any state, something might be in way that it is… but if it is okay for me it is okay for me, it doesn't matter. Also the courage that when something is so precious, when you spend so much energy and then you let it go... so these are the emotions that I have been feeling while designing this collection," she adds.
Anamika has named her collection 'An Experiment', but she needn't have had to point that out. The collection screams experimentation in each and every piece, yet with flashes of all the Anamika Khanna signatures. When we ask her about the experimentation with shapes, Anamika says, "In the whole collection if you see the shapes, for both men and women, firstly it's very India... you know, the costumes worn by the Gods and Goddesses, like really fitted silhouettes, blouses, the drapes and stuff like that, we derived a lot from there. Then the power that both the men and women exuded... everyone was exuding a sense of power but that sense of power also came with sensitivity, so a combination of both themes. When you saw the men with power shoulders... but also fluid shapes... so it's like you are powerful but you are also flexible, fluid...."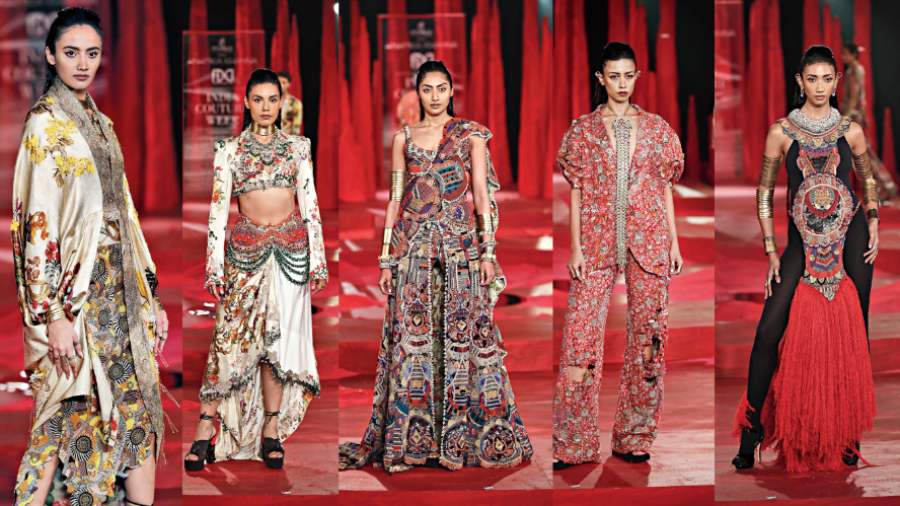 It is this sensitivity that she talks of that led her to her choice of showstopper for the show — actor Rajkummar Rao. A very unusual choice for a showstopper indeed but one that worked so well. "We both have immense respect for each other's work. And this time I wanted somebody who was sensitive. You know, as an actor Rajkummar is brilliant and sensitive, and when an actor is sensitive and brilliant you know he is a sensitive human being. And we just started talking and then this collection came up and he understood... he understood the feelings I was having, he understood the emotions behind it... he could relate. And I was like every time it doesn't have to be the typical showstopper doing the same thing; I need someone who goes beyond and I found that there and I felt that you know what, this is it! And he was amazing... I told him I am shredding your suit, he said shred it, I said I am putting a necklace on you, he said put it... he was so cool... he was having fun... not a single alteration, not a word, nothing... he just went with it and I loved that. You know, as a human being he is amazing, which is what I realised afterwards.... His wife (Patralekha) has worn my clothes.... A lot of people asked me why such an unconventional choice, I think in hindsight it was a perfect choice, couldn't have been better," says Anamika.
Not just Rajkummar, all the men in the show, and of course the women too, were bejewelled, with stacks of golden bangles on their wrists, golden nosepins, and heavy necklaces by Birdhichand Ghanshyamdas Jewellers.
The response to the show has been "insane" says the designer. "You know, to have people like Rohit Bal, Varun (Bahl), Gaurav (Gupta), Tarun (Tahiliani), JJ (Valaya) acknowledge what you do, it means a lot... you know, when it comes from your own fraternity. A lot of people were shocked but they understood that whole emotion, the worship that we were doing in this collection. I am glad that they could understand because it was a very bold collection. We were turning everything upside down... couture in India is supposed to be a certain way.... So sometimes we were looking at other collections and thinking hope were are doing the right thing (laughs)! But I think I got the courage to say that I am going to go with what I feel. Also, you know, someone had to put it out there... someone had to push the envelope... someone had to say it's okay to do this also..."
Pictures: Sandip Das