Fatal fall culprit in XLRI tragedy
Police said his death was due to a sudden fall and prima facie there was no evidence of foul play, but the probe is on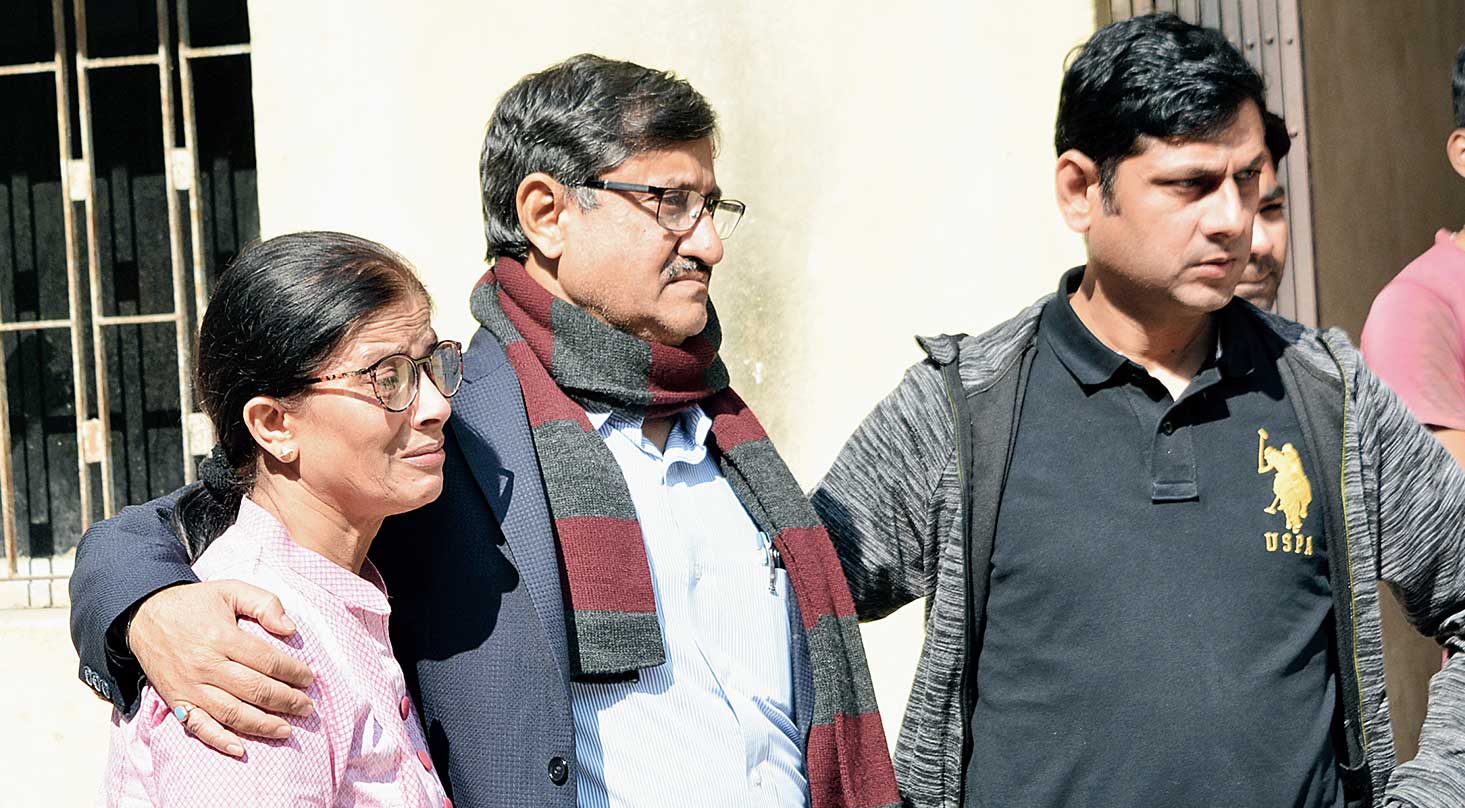 Shashwat's bereaved father AK Dixit consoles his wife Anuradha outside MGM Medical College mortuary in Dimna, Jamshedpur, on Saturday.
(Bhola Prasad)
---
Jamshedpur
|
Published 19.01.19, 06:18 PM
|
---
Shocked beyond words, parents of 26-year-old Shashwat Dixit, the XLRI student whose body was found lying near the girls' hostel on campus early on Friday, took away his body on Saturday afternoon to Varanasi for last rites after an autopsy at MGM Medical College mortuary.
Police said his death was due to a sudden fall and prima facie there was no evidence of foul play. But, probe is on.
Shashwat's father A.K. Dixit, a retired banker, and mother Anuradha, who rushed from Mumbai late on Friday night, stayed calm from the Tata Main Hospital morgue to the MGM mortuary, but broke down when they started for Varanasi, taking the body in an ambulance. Shashwat's younger sister (name withheld at her father's request) was also seen sobbing.
"My son was destined to live for only this long. It is all God's will," the father, a retired Union Bank of India general manager, told the media in a choked voice at MGM mortuary, declining to say more.
Originally from Kanpur, the Dixits now stay at Mumbai. Shashwat's father, who retired from UBI a year ago, was consoled by many officials from the bank's Jamshedpur branch at the mortuary. Many XLRI students had come to the mortuary to bid goodbye to their friend, a second-year HR management student.
DSP (composite control room) Sudhir Kumar, who accompanied the bereaved Dixits from Tata Main Hospital onwards, claimed evidence of CCTV footage and a lady security guard of the XLRI ruled out foul play. "Shashwat came close to girls' hostel Mother Teresa Residency, and as he entered a small hall outside the hostel, he suddenly lost balance and fell with his face on the ground. The security staff screamed and ran out of the hall to inform others. He was rushed to Tata Main Hospital where he was declared brought dead," the DSP said.
He added Shashwat had had a few drinks during dinner the night before (Thursday) with three of his friends at a city eatery.
They were trying to find out why Shashwat was coming toward the girls' hostel so early (5.50am on Friday), the DSP said. "Shashwat was barefoot as he had left behind his slippers at one of his classmates' room," the DSP said. "We want to check if his fatal fall was due to liquor or something else. Cyber police are scanning Shashwat's phone and laptop. His laptop was with one of the girl students at her hostel room."
Shashwat would stay at room 11 on the ground floor of St Thomas Hostel, 50m from Mother Teresa Residency. He was a late sleeper and an early riser, the DSP said. "There was no blanket in his room. He had only one quilt despite the chill now," said the police officer who inspected the youth's room and talked to his friends.
Head of forensic science department Lalan Chaudhury who held the autopsy said they would submit the report only to the police within a week. "The viscera has been preserved," he said, indicating its test would show if Shashwat had ingested poison.