XLRI marks library day with alumni authors
Tech upgrades introduced, timing extended for B-School night owls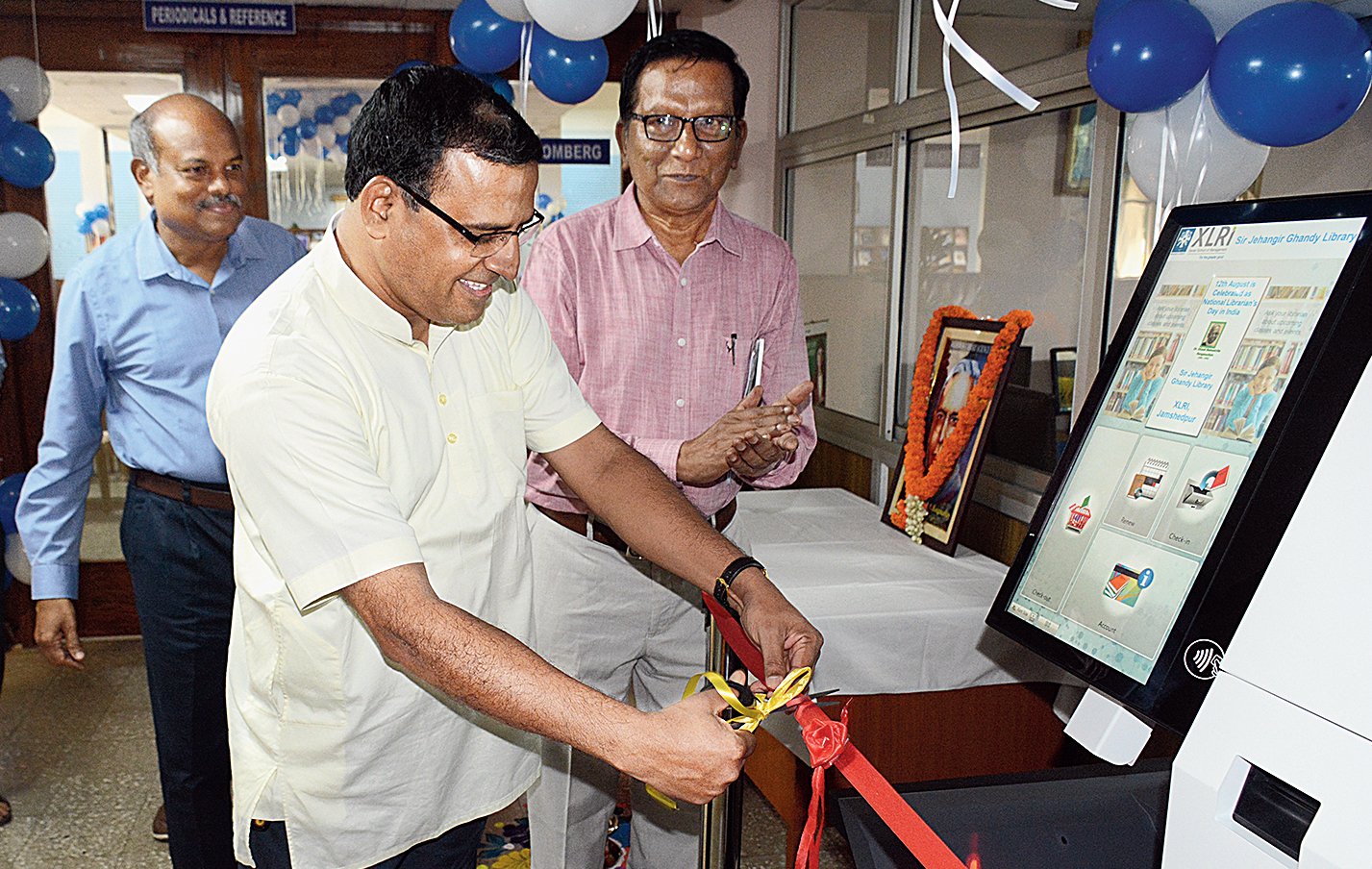 ---
---
How about stepping inside your college library and finding a whole wall of shelves stacked with books written by alumni? Inspiring, isn't it?
On National Librarian's Day, Monday, the Jehangir Ghandy Library in XLRI gifted students a corner of books written by students and faculty.
Father Francis Peter, chairperson of the Centre for Research and Training in Education Leadership in XLRI, inaugurated the upgraded services along with Pranabesh Ray, who chairs XLRI Alumni Relations, and D.T. Edwin, library head.
This apart, the library got more new features designed to help the busy management students.
Father Jerome Cutinha, dean, administration and finance, XLRI inaugurated the high-tech Liberty and Biliotheca aids for the library.
Bibliotheca, a self-check software with a smartscreen, will enable students to check their records —books they have taken, issue and return dates, and fines if any. Liberty, a hi-tech library management system for students, will help them log in with a password to check the books currently available in their library, on which row and which shelf. Through Liberty, students can also pre-book texts.
From now on, the XLRI library will be open for 22 hours, from 8am to 6am (the next day), as a lot of students are night owls. So far, the timings were 8am to 10pm.
This apart, 'I Love my Librarian award' was constituted for the first time to motivate librarians on campus.
The occasion also witnessed the launch of XLRI IRINS (Indian Research Information Network System), a dedicated portal of books, journals and papers published by XLRI faculty members. This system is linked to the Inflibnet (Information Library Network) of the HRD ministry.
Speaking on the books written by XLRI alumni, Ray pointed out the diversity of subjects — marketing and finance, fiction, Indian cinema — and said more books would be added to the shelf in times to come.
Father Francis Peter said: "Somebody once said don't read good books, life is too short, so read the best. Reading has made me what I am. "The habit of reading is dying, the library is that one place that makes you read," Father Peter said.
Edwin, on the other hand, spoke of the history of National Librarian's Day, to remember mathematician and librarian S.R. Ranganathan (1892-1972) who spearheaded the development of libraries in India. His birth date is known as August 12, 1892, but he himself wrote his birth date as "09 August 1892" in his book, The Five Laws of Library Science.
"One of the five laws of library science by Ranganathan is saving the reader's time. Most of our initiatives are based around it," said Edwin.
Entrepreneurship
XLRI also held a news meet on Monday on National Entrepreneurship Awards instituted by the ministry of skill development and entrepreneurship. XLRI is one of the 12 partners for the awards in Bihar, Jharkhand and Andaman and Nicobar Islands. Entrepreneurs in various categories up to 40 years of age can apply to www.neas.gov.in. This year there are 45 award categories.