XLRI student starts bike rental, plans app
XLRI student offers pocket-friendly commute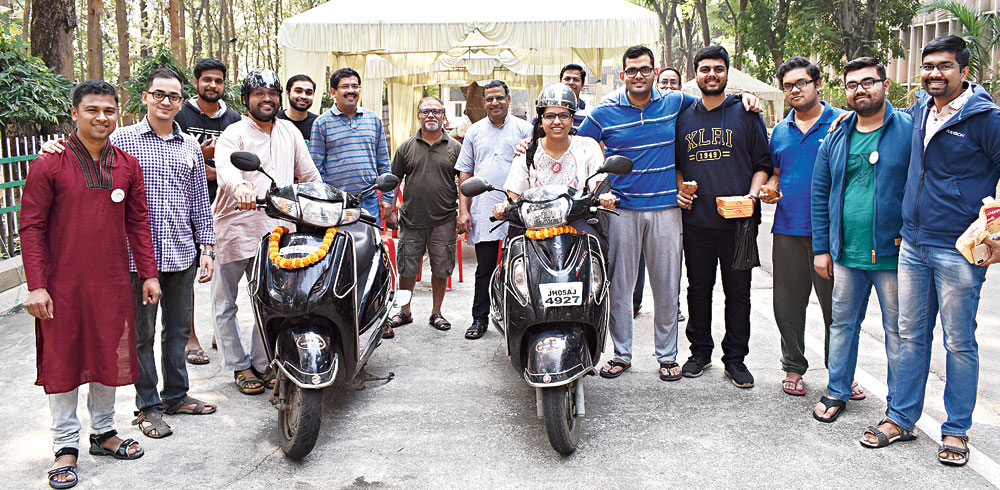 Smart ride: Bhavin Shah (in maroon) with his scooters for hire on XLRI campus in Jamshedpur.
Telegraph picture
---
Jamshedpur
|
Published 26.11.18, 06:17 PM
|
---
Do you have to whiz around the city for work but don't have a bike, don't want to take out your car or rent a costly app cab?
Simply rent a bike, says Baroda boy Bhavin Shah, 26, and a first-year management student at XLRI. He's walked the talk, starting his rental company Wrong Side this month with two second-hand scooters and has major plans to develop this business with a bike app by August 2019.
"I've started my bike rental firm as a campus venture but am also working with three interns from NIT (Akash Chandra Jha, Sourav Kumar Pathal and Harwinder Kaur) for developing a bike app to take this to a new level," Bhavin, who won a gold medal in mechanical engineering from MS University Baroda in 2014 and worked in L&T for three years before joining XLRI, said.
Getting his toes wet on campus, he said he earned Rs 19,000 in 17 days of his venture. His fellow XLRI students contact him on WhatsApp when they need the vehicle, he hands over the keys and charges Rs 5 per km and Rs 50 per hour.
"Say for a three-hour slot and 10km, you pay me Rs 200," he said, adding he already recovered one-fifth of his investment (scooters, GPS tracker).
"In tier II and tier III cities, bike rentals are a great way to be on the go," Bhavin said. "Public transport leaves gaps, maintaining a car or a bike can be costly for many."
He added his own experience helped him understand the need for this rental firm.
"You get Ola (app cab) in Jamshedpur but not early in the morning or after 10.30pm. So, when I needed to go to the station for an early morning train to Howrah to catch a flight from Calcutta, I faced a big problem. Booking an auto is unpredictable and waking up friends for a ride is selfish because we management students are so sleep-deprived anyway," he said. "I thought, if a bike rental works for me, it will work for others too."
He hopes the bike app works. "If all goes well, we'll have bikes parked at specific sites, say petrol pumps, and once a user books a bike on our app, he'll have access to the keys in the boot of the vehicle, which will unlock with wi-fi sensors," he said. Almost sci-fi? "Not really, our team (of NIT students) is working on it."
Why name the business Wrong Side? "B-school students hardly get time to sleep. And here I am, starting a business. That's why Wrong Side."