Woman who was sold for marriage rescued by Garhwa police
STATE DIGEST: Two persons, including the woman's cousin, arrested; village prays for Soren Senior; telemedicine facility for Covid treatment; 42 discharged from hospitals; and wall collapse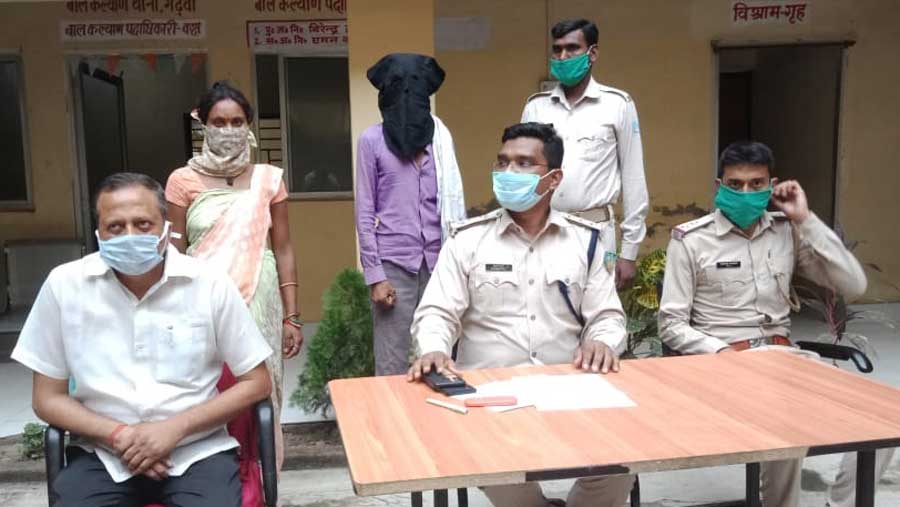 Garhwa subdivisional police officer Brahman Tuti with the alleged traffickers.
Telegraph picture
---
Published 27.08.20, 12:19 AM
|
---
Garhwa police have rescued a 30-year-old woman and her two children who were allegedly being sold for marriage in Muskura in Uttar Pradesh's Hamirpur. Two persons, including a woman, have been arrested, the police said. 
According to the FIR, the 30-year-old woman and her eight-year-old daughter and 10-year-old son from Jarhi village in Dandai police station area were sold by her cousin for Rs 30,000. "The police raided the home of Mahesh Vishwakarma at Mahuabandh in the Ajanar police station area in Mahoba district, Uttar Pradesh, after a tip-off," Garhwa subdivisional police officer Brahman Tuti said. They arrested the two of three accused, Tuti said.
On a complaint by the woman's husband, the police had lodged an FIR against three persons, including cousin Mamta Devi, under Sections 363/370(A) and 371 of the Indian Penal Code on August 22. Jharkhand chief minister Hemant Soren had reportedly learnt of the matter and asked the police to take quick action in the case.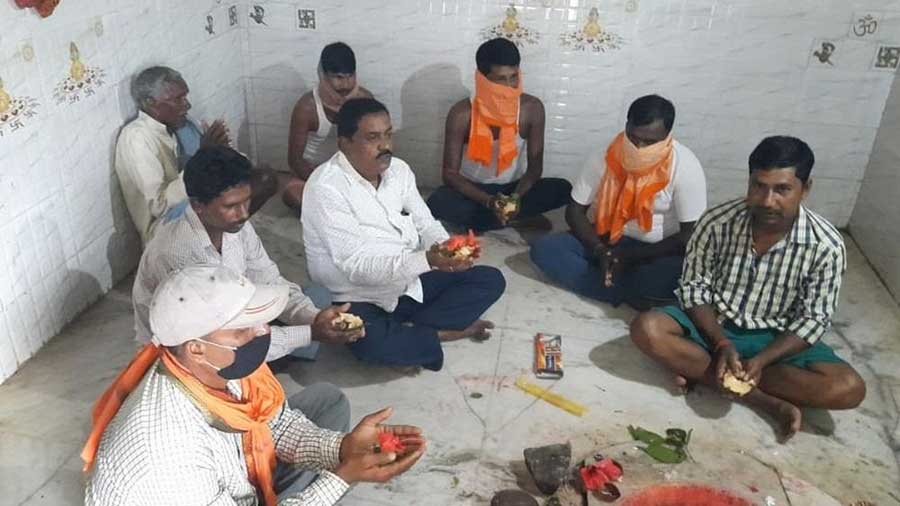 Nemra prays for its Baba
Nemra, a village in Gola block situated 25km from Ramgarh district headquarters, is not unknown to the people of Jharkhand. It is the native village of chief minister Hemant Soren. However, it is better known as the place where his father, former chief minister Shibu Soren, started his political career. Relatives and other villagers have begun praying for their Baba, as they call Shibu, after the news of his illness due to which he was shifted to a Delhi hospital.
Shibu,76, tested positive for Covid-19 and was admitted to Ranchi's Medanta.
"We want him to recover soon and continue guiding this state for better development," said Kasinath Bedia, a retired government teacher and a friend.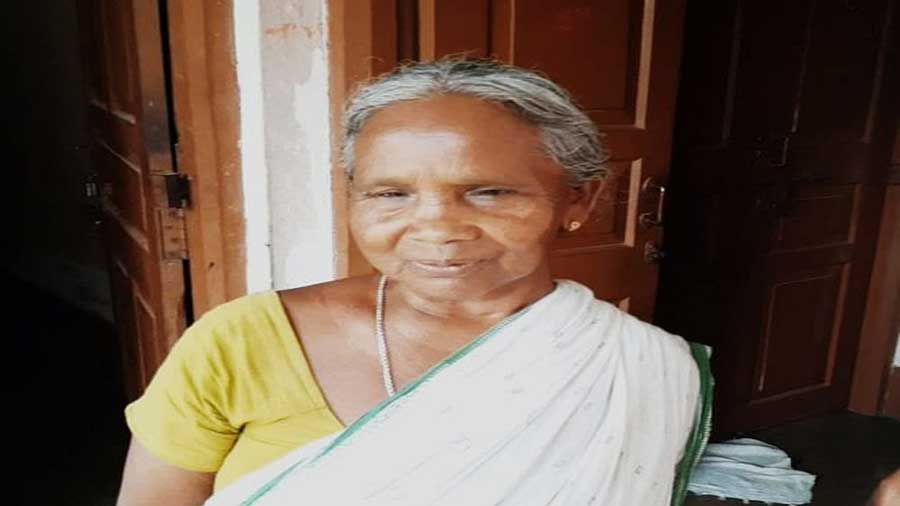 Shibu's cousin Rekha Soren said they all are worried about his health. "Baba fighter hain aur jeetkar aayenge (Baba is a fighter and he will return victorious)," she said. "We all are waiting for his visit here again."
"Shibu came here in May when his sister-in-law passed away," said the villagers.
"Shibu is the pride of Nemra, apart from being an important personality in Indian politics. Baba's fight against the mahajani pratha (moneylenders) for the people's rights is inspiring," the villagers added.
Child killed in mud wall collapse
An 11-year-old Dalit boy died in a mud wall collapse at Bakhari village in Kouriya panchayat in Palamau on Wednesday.
P.P. Thakur, the panchayat mukhiya, said: "The collapse happened this morning during torrential rain."
The child was playing at the time of the accident.
Thakur said the boy was taken to the medical college and hospital in Daltonganj but was declared dead on arrival.
"A nine-year-old girl was also injured, and is undergoing treatment at the hospital," Thakur said.
Telemedicine facility for Covid treatment
The Dhanbad administration has established a studio at the town's circuit house to offer telemedicine facility to patients at various Covid-19 treatment centres in the district.
Time slots have been allocated to the patients for consultation through videoconferencing. The patients of the railway zonal training institute at Bhuli, Nirsa Polytechnic and Cath Lab will be provided advice from 10am to noon, while those at Nirsa Polytechnic, Tata Central Hospital, the dedicated Covid-19 centre at the central hospital and the regional hospital at Bhuli can seek medical attention from noon to 2pm. Patients at Sadar hospital, Dhanbad, and Nirsa Polytechnic can contact the doctors between 2.15pm and 4.15pm while those at the regional hospital at Bhuli and Sadar hospital have been allotted the 4.15pm-6.15 pm slot. 
Dhanbad deputy commissioner Uma Shankar Singh said the doctors at the studio will follow up with patients within two-three days of the initial consultation. "At least 120 patients will be provided the telemedicine facility everyday," said Singh.
42 discharged from hospitals
Forty-two patients were discharged on Wednesday from various Covid-19 treatment facilities in Dhanbad after testing. Nineteen patients were discharged from the Sadar hospital-based dedicated Covid-19 health centre; 13 from the BCCL regional hospital at Bhuli; seven from the dedicated Covid-19 hospital at Jagjivan Nagar; and three from the dedicated Covid-19 health centre at PMCH cath lab.
All those discharged will have to remain in home quarantine for the next 14 days.
Dhanbad MLA meets DC
Dhanbad MLA Raj Sinha on Wednesday met deputy commissioner Uma Shankar Singh and discussed with him the issue of non-functional surveillance cameras installed a couple of years ago. 
Sinha also raised the issue of traffic congestion and emphasised the need for the construction of another railway subway near the Gaya Bridge. He highlighted the need for a weeks-long drive against vehicles with tinted glasses.