Woman arrested for possession of fake currency notes at Chaibasa
Police recovered Rs 30,500 in fake currency from the house of 35-year-old Malaya Hembram, wife of former BJP MLA Putkal Hembram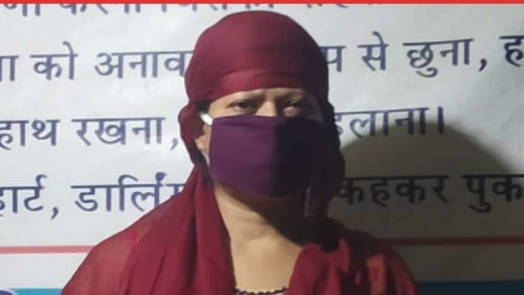 Malaya Hembram in Chaibasa Muffasil thana.
Telegraph picture
---
Jamshedpur
|
Published 13.10.20, 08:12 PM
|
---
Police booked a 35-year-old woman on Tuesday after they recovered fake currency notes amounting to Rs 30,500 from her house in West Singhbhum, about 65km from Jamshedpur.
The arrested woman, identified as Malaya Hembram, wife of former BJP MLA Putkal Hembram, is a resident of Gaushala Road in Chaibasa Muffasil area.
Malaya prodcued a Rs 2000 note to pay for shopping at a cloth shop on Monday evening.  The shopkeeper, a woman named Jayanti Devgam, refused to accept the note as it appeared to be fake.
On getting refused, the accused got furious and started quarrelling with the shopkeeper, attracting several people to gather at the scene. The quarrel aggravated, leading to a fight.  Meanwhile, someone informed the cops, leading a police party to reach the spot.
Officials searched Malaya's bag and found another Rs 2,000 denomination, similar to the one she tried to pay the shopkeeper with. She was taken into custody soon after.
A joint team of Chaibasa Muffasil thana and Chaibasa Mahila thana raided Malaya's house later at night and recovered 13 more Rs 2,000 notes and a Rs 500 note. On inspecting, and getting verified by bank employees, the police found all the currency notes to be fake.
OC, Chaibasa Muffasil thana, Ashutosh Kumar said preliminary investigations suggest Malaya Hembram is part an unknown gang of fake currency racketeers.
"The accused hails from Assam, where here parents still live. She moved to Jharkhand afte her marriage to Putkal Hembram, a former BJP MLA from Chaibasa.  It is possible that she came in contact with some fake currency racket while visiting her parents in Assam.  We are trying to find out the source from where she obtained the fake currencies," Kumar told The Telegraph Online.
The OC also said that Malaya has been sent to Chaibasa Divisional Jail on the charge of running a racket of fake currency notes. She will soon be taken into police remand and questioned.
"Once we get her in police remand, we will not only try to find out the source of the fake currency notes, but also detect whether she succeeded in transacting with some of those in the market.  We will also dig into details about the single fake Rs 500 note," Kumar said.
The OC further informed that during the search at Malaya's home, police found several papers related to bank transactions. He said those papers are being verified by functionaries of the local branch to find out whether she managed to slip some of the fake currency in the bank too.