Witchcraft: Elderly set on fire, five held
The woman sustains over 40 per cent burn injury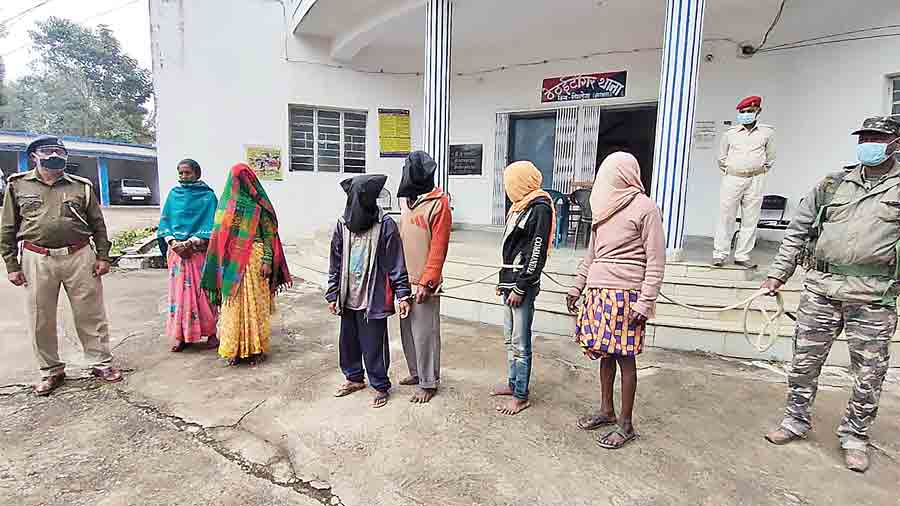 ---
Jamshedpur
|
Published 14.01.22, 12:11 AM
|
---
Close on the heel of lynching and burning of youth in Simdega, an attempt was made to burn an elderly woman on allegation of witchcraft in the same district on Wednesday late night.
The woman identified at Jhario Devi, 60, had sustained over 40 per cent burn injury was shifted from Simdega Sadar Hospital for better treatment to RIMS in Ranchi on Thursday morning.
According to police sources, Jhario Devi along with her husband Karmu Badaik had gone to attend a sraddha (ritual held after death) ceremony of the wife of Florence Dungdung who had died a few days ago at Kudpani Dipatoli under Tentaitangar police station area, around 150 km from capital Ranchi on Wednesday night around 9 pm.
During the ceremony, Florence Dungdung accused Jhario Devi of practising witchcraft and blamed her for the death of her wife at around 10 pm.
Several family members of Florence Dungdung joined him in assaulting the elderly woman and later they sprinkled kerosene oil on straw and light it and threw the woman on the straw causing her to sustain a burn injury.
Fortunately, fellow villagers somehow reached the spot and doused the flame and took her to the Simdega Sadar Hospital for treatment and informed the police. The local police station reached the spot and based on the complaint lodged by the victim and her husband caught hold of the prime accused Florence Dungdung on Thursday morning and four other members who were hiding in the forest.
Simdega superintendent of police Shams Tabrez speaking to The Telegraph, informed that all the named accused in the FIR have been nabbed within 24 hours of the incident.  
"All the six persons named in the FIR have been arrested under attempt to murder and sections of Prevention of Witch practices Act. We are also interrogating the prime accused to identify the person who had created the false superstition in their mind that the elderly woman practised witchcraft and would be nabbing him too. The woman has been shifted to Ranchi hospital for better treatment as we do not have a proper burn care unit at the Simdega Sadar Hospital," said Shams Tabrez.
Those who have been arrested include Florence Dungdung, Sylvius Dungdung, Ravi Soreng, Jyoti Soren, Hemant Tete and Amit Tete.
According to the National Crime Records Bureau data for 2019, Jharkhand was ranked third in witch-hunting cases and recorded 15 murders related to the crime. Chhattisgarh with 22 witch-hunting deaths tops the list.
Barely a week ago, a youth was beaten and lynched by burning near his house in Simdega on charges of illegal tree felling and harassing villagers in the name of Maoists.