Witch-hunt whiff behind death of elderly woman in Jamtara
STATE DIGEST: NSUI protest against fuel price hike; acre of sal trees axed in Hazaribagh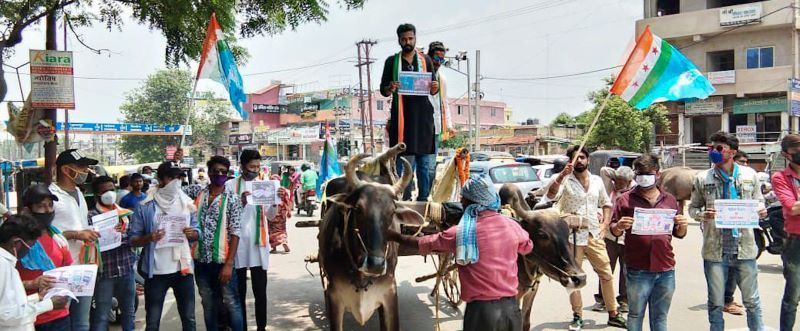 Protests were held at Birsa Chowk in Ranchi on Wednesday with a bullock cart led by Inderjit Singh
Manob Chowdhury
---
Published 01.07.20, 10:10 PM
|
---
A woman in her 60s, was found dead after being crushed by a stone near the boundary wall of Krishi Vigyan Kendra in Ben village in Jamtara, Ranchi on Wednesday.
She went missing since Tuesday afternoon when she went out of her house.
Her son, Santosh Mahto alleged that extended family members, on suspicion of her practising witchcraft, killed his mother.
Officer in-charge of Jamtara police station Manoj Kumar said that the matter is under investigation.
Mahto, in his FIR named eight persons, six men and two women.
 "An extended family member Paresh Mahto, after suffering paralysis sometime back, has accused my mother as the reason behind his illness, for practising black magic which led to his sufferings," said the FIR.
"His family members even threatened to kill my mother," it said, adding that they were also not on good terms with the accused because of a tiff over a chunk of agricultural land in the village.
"The incident appears to be the case of murder but reasons are under probe. All the accused are absconding but we are trying to trace them," said Kumar.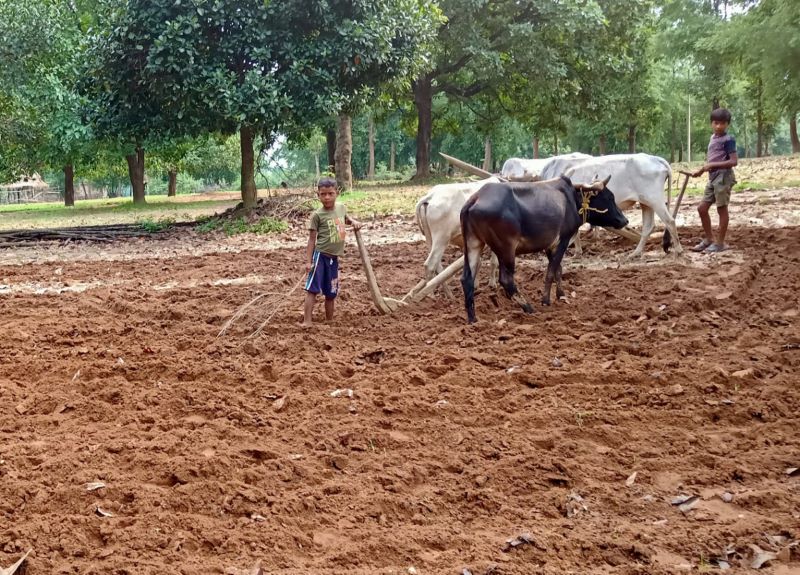 Acre of sal trees axed in Hazaribagh

The forest department on Wednesday lodged an FIR against five villagers for the felling an acre of sal trees to create agricultural land in Hazaribagh.
The five people have been identified as Suraj Dev Manjhi, Radheshyam Manjhi, Gobind Manjhi, Deglal Manjhi and Mahto Manjhi,

The department had received a complaint regarding the illegal occupancy of an acre of forestland in Kharika village of Tatijharia block.
Forest officer Shailesh Pandey visited the spot to find the tree stubs, and learnt that sal trees were found in large numbers on the land, but that local villagers had axed all of them.
NSUI protest against fuel price hike
Protests were held at Birsa Chowk in Ranchi on Wednesday with a bullock cart led by Inderjit Singh, state vice president of Jharkhand Congress student organization NSUI, at a time when protests by the National Students' Union of India are going on across the country.
Protestors raised slogans against the central government over rising fuel prices.
Singh said that the country is going through a Covid induced economic crisis but the Centre is profiteering.
"When people find it difficult to get bread for two days, the increase in the price of petrol and diesel is the failure of the central government. By increasing the prices of petrol diesel, this government is robbing the entire country," he said, adding that inflation has hit the public hard.
"The economic condition of the countrymen is changing from bad to worse," said Singh, reminding the prime minister of his pre-election promises of the price of petrol and diesel to be between 30 to 35 rupees.
"At present, the price of crude oil is also very low, so the fuel should be priced according to your earlier promises," he said.
NSUI through demanded the withdrawal of the fuel price hike and excise duty.