Why Khunti was Arjun Munda's toughest poll so far
Ex-CM scrapes past Congress nominee by 1445 votes on pathalgadi turf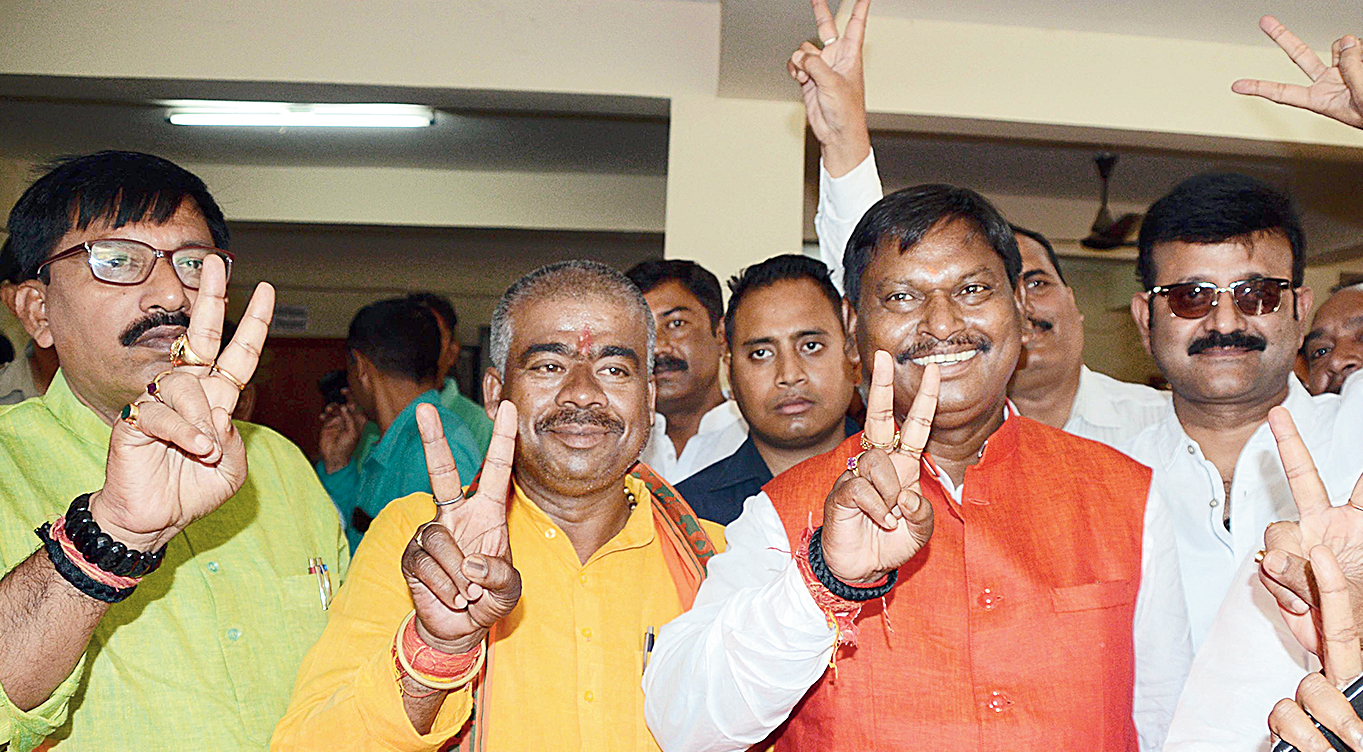 Arjun Munda (in red jacket) flashes the victory sign at state BJP headquarters in Ranchi on Friday.
(Manob Chowdhary)
---
Ranchi
|
Published 24.05.19, 10:42 PM
|
---
Former Jharkhand chief minister Arjun Munda was able to snatch victory from the jaws of defeat in Khunti, a seat which the state BJP leadership had written off as a lost case from start.
Munda managed to defeat Congress nominee Kalicharan Munda by only 1,445 votes in an election that turned out to be a cliff hanger. "Dedication of party workers and support of former BJP MP Karia Munda played a major role in my victory. Now that the election is over it is time to look forward," said a relieved Munda, who had been keeping a low profile ever since his shock defeat in the 2014 assembly elections.
As a leader close to him admitted, Munda will probably think of this election for a long time, trying to figure out why it was so tight for him when the entire country was in the midst of a Modi wave.
"He feels relieved now. But he must be thinking why Khunti was so tough for him. The victory margin looks like he contested local body elections. He is a tribal leader popular across all sections of society. In his electoral career, Khunti was the toughest battle," said the confidante.
Munda was initially reluctant to contest from Khunti after the party's central leadership indicated its choice. For, Khunti has been a laboratory of sorts of tribal agitations, beginning with the violent pathalgadi movement, an ancient tribal custom of erecting stone slabs in memory of forefathers, that soon took on a secessionist turn.
There were agitations too against the state government's proposed amendments to age-old land laws, the CNT, SPT acts.
"Our chief concern was that in the last five years some vested interests had turned Khunti into a hostile territory of the BJP. A section of the tribals were misled. In such a situation Arjun Munda was the best option and he won," said state BJP general secretary Deepak Prakash.
State BJP spokesperson Pratul Nath Shahdeo claimed Christian missioners were actively campaigning against the BJP. "We came to know that tribals would be tutored during Sunday prayers. Hence, we had approached the Election Commission of India to demand video recording of Sunday prayers," he said.
BJP workers also reached out to non-tribal and non-Christian voters of the constituency, but a a senior leader who had campaigned in Khunti, said that in rural areas voters were aggressively against the BJP on the issue of Pathalgadi.
"We did not gets votes as per our expectation in Khunti, Torpa, Kolebira and Simdega assembly segments. We got non-tribals' votes from Tamar and Kharsawan segments. These helped us make up for the losses. The rest was accomplished by postal ballots," said the leader.
Former BJP MP Karia Munda said he expected Arjun Munda to win at least by a margin of 30,000 votes. "Some people within the party backstabbed the candidate. A negative campaign was also launched against him in the beginning. Voters polarised on the caste lines," he said.