Why a new road is not helping Bagbera in Jharkhand
Railway and government spar over crucial bridge in Jamshedpur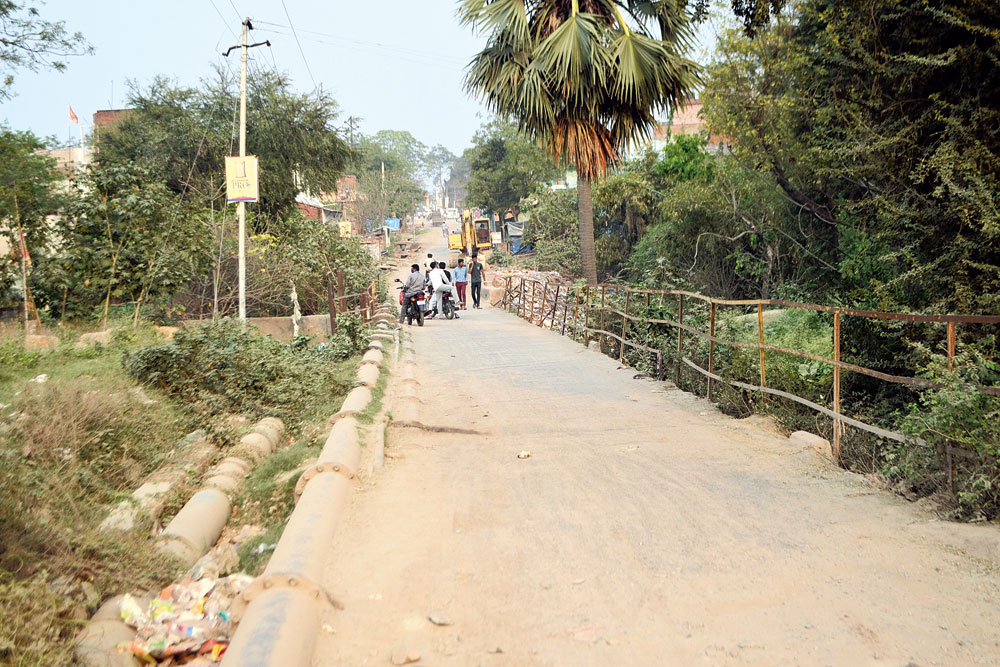 The dilapidated bridge at Baroda Ghat in Jamshedpur on Tuesday.
(Animesh Sengupta)
---
Jamshedpur
|
Published 12.03.19, 06:00 PM
|
---
The government and railways have locked horns over a road in Bagbera where a small bridge is to be constructed over a network of underground pipes to complete the project that will ease traffic in what is a congested locality.
The railways would not allow the state road construction department to build the bridge even though Rs 11 crore has already been spent on the road. But unless the bridge is built the new road is useless.
The executive engineer of the road department, N. Sahay, said the road was important, but the bridge, to come up in the middle, was equally important. "We will go ahead with the bridge… we need to find another way to construct it at Baroda Ghat," he told The Telegraph.
Starting from Baroda Ghat along river Kharkai in Bagbera, the 2.5km road connects to Station Square. The bridge is to be built in between.
The road used to be in very poor shape inconveniencing commuters and residents of Baroda Ghat no end. There was a three-metre-wide bridge over a nullah. But it had worn out and turned into a mishap-prone zone.
It was to make people's lives better that the road department started building a 12-metre-wide road and a 12-metre-wide bridge over the old one. Three pipelines belonging to the railways pass below the old bridge. These run from the Kharkai river to Tatanagar station and a railway filtration plant at Kitadih.
Assistant engineer (AEN)-1, Tatanagar, Sanjay Kumar, admitted they had reservations about the bridge coming up over the pipelines.
"We have given a no-objection certificate to the road construction department for building the road which falls under railway jurisdiction. But it is not proper on the part of the department to construct a bridge by covering the railway pipelines with soil. It is not acceptable," Kumar said.
The senior railway officer explained that the pipes carried water from the Kharkai river which was needed for Tatanagar station and the 4,000 residential quarters beside the washing ward.
"The department wants to construct the bridge by covering the pipes with soil at a height of 5 meters. If by chance the pipeline develops a snag, how will we mend it? The railway station and the residential quarters will have to go without water then," Kumar pointed out.
He said the road construction department would have to arrange for the pipes to be re-laid overhead. But the department was unwilling to do that.
Explaining the reason behind the 5-metre height increase, a senior road department official said the Baroda Ghat-Station Square Road was at a low elevation, and the bridge would often get submerged during monsoon. Hence, the level of road had to be increased by 5 meters.