When Sohrai met Thangka
First tribal & folk painting meet at Netarhat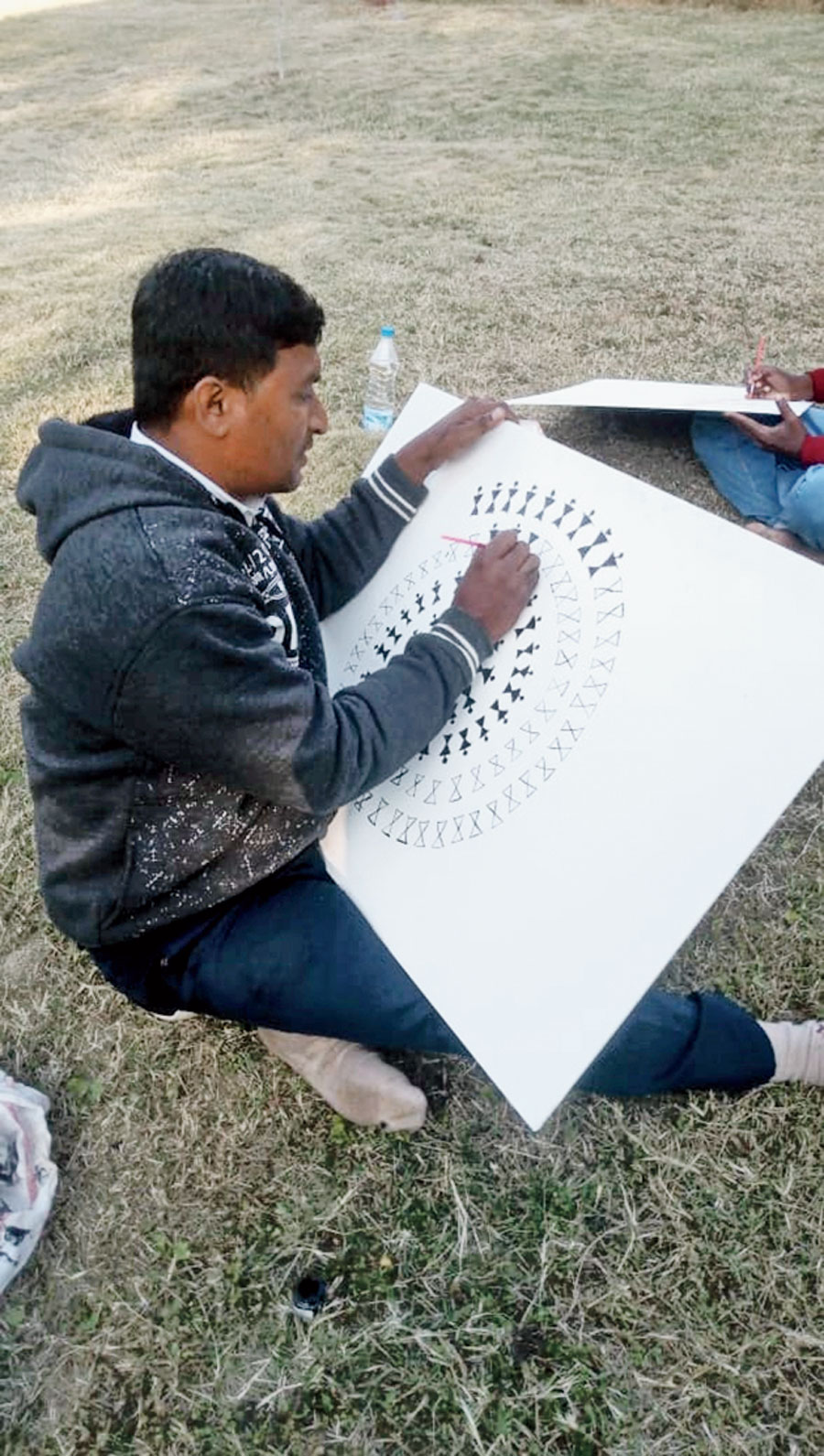 Sanjay Sutar from Maharashtra works on Warli painting at the national tribal and folk art workshop at Netarhat in Latehar district on Tuesday
Telegraph pictures
---
Ranchi
|
Published 11.02.20, 07:31 PM
|
---
If Sohrai, the harvest paintings of Jharkhand, is seen on outer walls of houses, Pithora of Gujarat is displayed on inner walls, Bengal's Alpana is drawn on floors and mythological paintings of Kerala are drawn on walls.
The binding point? All of these Indian art forms came together at the national workshop on tribal and folk paintings, the first of its kind in the state that opened in the sylvan surroundings of Netarhat in Latehar district on Monday.
The six-day workshop is being attended by 72 tribal and folk artists from across the country. Organised by Dr Ram Dayal Munda Tribal Welfare Research Institute of Ranchi, popularly known as Tribal Research Institute (TRI), in collaboration with the state tourism directorate and Jharkhand Tourism Development Corporation, the workshop provides a platform to these artists to showcase the art forms of their respective states.
"It also facilitates an opportunity to interact between the participating folk and tribal artists from across the country," TRI director Ranendra Kumar told The Telegraph over the phone from Netarhat. "It is a rare sight to find an artist from Ladakh meeting another from Kerala." The collection of paintings of contemporary artists can be seen at various art galleries but folk and tribal artists need platforms like these to display their art, he further said.
"This workshop wants to bring out the innovative aspects and creativity of artists through depiction of tribal aesthetics, ethos, oral history, mythology and folk tales on canvas," Kumar said.
A brochure of the workshop said paintings were first seen when people lived in caves.
To mark the start of the workshop, Asharam Meghawal, a senior painter from Rajasthan, drew a sketch on a canvas at the colonial Chalet House. Jharkhand artists painting Sohrai, Jadupatia and Pyatkar art forms have been invited to participate in the camp. So have Madhubani painters from Bihar and Patachitra artists of Bengal, mural artists from Kerala, Gond artists from Madhya Pradesh and Warli artists of Maharashtra are also working at the workshop along with Kalamkari artists from Andhra Pradesh and Telangana, Pithora artists from Gujarat and Thangka artists from Ladakh, miniature painters from the Mysore and Kangra schools.
CM Hemant Soren is likely to be present at the concluding event on February 15.