What's on the rural haat playlist? Asur songs
Tribal group tries to save language deemed endangered by UNESCO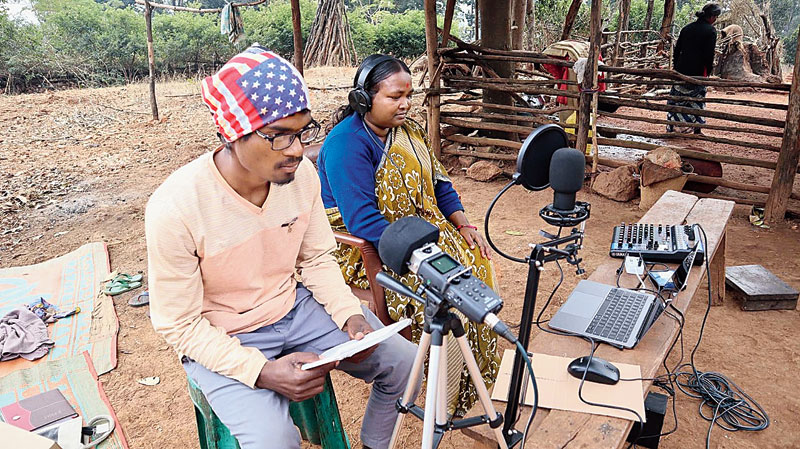 Vivekanand Asur and Sushma Asur record for Asur Radio in Latehar district.
Telegraph picture
---
Ranchi
|
Published 16.02.20, 06:46 PM
|
---
A village market at Dumbarpat near Netarhat in Latehar on Saturday saw something pretty unusual. A group of five went around the market with a soundbox and a microphone, playing what they called Asur Radio.
A team comprising Sushma Asur, Manita Asur, Ajay Asur, Vivekanand Asur and Roshni Asur have started playing infotainment capsules in Asur language since a month to keep the tribal language alive.
"We can't afford radio broadcasting that involves huge cost and legal clearances, so we started reaching out to our people this way," Sushma, at the forefront of the Asur Radio venture, told The Telegraph. "We go around village haats in Chainpur and Bishunpur blocks, Latehar, and play our medley of music, messages and local news."
Ancient metallurgists who used to make iron since centuries, the Asur tribe now has a population of just 10,000. They live mainly in Latehar and Gumla and speak Asur that is not taught in any school.
Their language figures in the Unesco list of definitely endangered languages. India has 191 languages in the Unesco list in four categories, vulnerable, definitely endangered, severely endangered and critically endangered.
"We want to save our language," Sushma said when asked why they started this venture. "The best way to do so is by attracting people towards it. So we have devised a signature tune, a song in Asur language that starts with Dahan dahan turrrrrr...a shout out for singing and dancing."
She added that they record every week in a jungle and transfer the contents in a pendrive to broadcast them through sound boxes in haats. "Our very first broadcasting of Asur Radio began on January 19 this year at Koteya haat in Chainpur," she said. "We've prepared five episodes so far."
"We get help from the Jharkhandi Bhasha Sahitya Sanskriti Akhara, a Ranchi-based cultural outfit. We got financial help from Pyara Kerketta Foundation and some well-wishers," Sushma added.
Ashwini Kumar Pankaj, a writer and social activist associated with the Akhara, said the money helped this group buy recording instruments and sound systems. Retired school principal Chait Toppo and college professor Mahesh Augustine Kujur, both in Latehar, as well as Pankaj, helped in the making of the contents. Ranchi-based Ranjit Oraon who did a course at FTII, Pune, gave technical help.