Weather fluctuation makes Dalma elephants return home early
Foresters on alert, jumbos are usually back to sanctuary from Bengal in February-March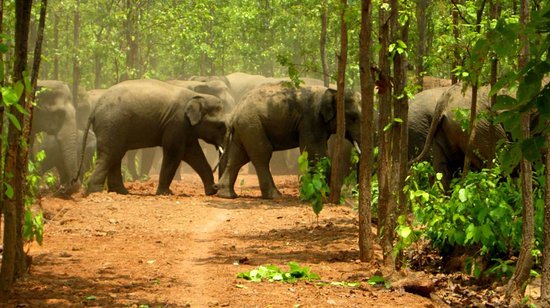 Elephants inside Dalma wildlife sanctuary.
File Picture
---
Jamshedpur
|
Published 06.12.21, 07:49 PM
|
---
Fluctuation in weather conditions is making elephants take the exit route from Bengal and head to Dalma, their home.
Elephants have started moving back to Dalma Wildlife Sanctuary after catching the migratory corridor to the jungles of West Midnapore and Bankura in neighbouring Bengal in late September. Some of the pachyderms have already moved inside the sprawling 192 sq km Dalma sanctuary, 30 km from Jamshedpur, and are positioned in the foothills. 
Dalma range officer (West) Dinesh Chandra said elephants are leaving the Bengal jungles and heading to Dalma home. "The weather is sometimes hot and sometimes cold. We think this fluctuation in weather conditions has made the jumbos exit Bengal much early this time. The elephants usually return to Dalma in February-March," he added.
According to Chandra, elephants make movements based on their mood swings. "But we believe the fluctuations in weather as the main reason for them to head home early," he said.
A Dalma forester said some of the elephants have already slipped into the sanctuary and are presently scattered downhill. "The elephants will start climbing to Dalma top once the temperature goes up. The elephants will move to the top hill in February-March," he explained and added that the temperature inside the sanctuary is presently 11 degree C.
"Some of the elephants must have come back for food. There is sufficient food and water in the sanctuary. The jumbos may again head to Bengal after satiating their hunger here. But fluctuation in weather conditions is believed to be the main reason behind their early homecoming," the forester added.
Dalma authorities have alerted the villagers living along the migratory corridors and also requested to not tease the elephants. Fire crackers have already been distributed among the villagers. "Elephants usually don't attack humans unless provoked. We are working towards preventing man-animal conflict," the forester said on condition of anonymity. Trackers (village youths recruited as daily wagers to keep watch on movement of elephants and other animals) have also been alerted.
The jumbos migrate to Bengal via two designated corridors – one from Jhunjka, leading to Nutandih, and the other from Burudih, passing through Narsingpur, Dalapani, Suklara and Aamdapahari. They amble back to Dalma home by catching the same route.
Dalma elephants had also returned home early back in 2014.
Tiger census put on hold in Dalma
Tiger census, which is underway inside Dalma wildlife sanctuary, has been put on hold for the last two days owing to cyclone Jawad. Census (also of other wild animals) is taking place across the country, said Dalma range officer (West) Dinesh Chandra. The Eastern and Western ranges of the sanctuary have been divided into two zones for the exercise. Tiger was last spotted at Dalma in 2016.