We're hand in hand for peace
Joined by hundreds, DC &SSP lead civil rally against intolerance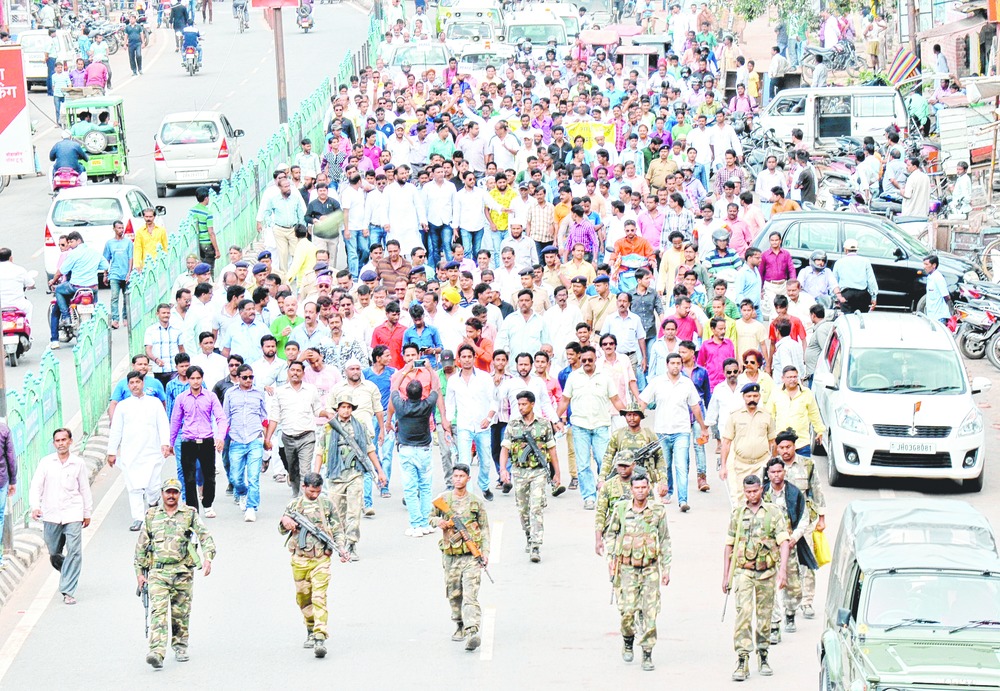 ---
Published 28.09.15, 12:00 AM
|
---
Ranchi displayed its indomitable spirit to march for peace on Sunday and preserve its pluralistic culture that came under threat when unknown hoodlums allegedly defiled a temple on Friday night in Hinoo, leading to riot-like protests all through Saturday.
Led by Ranchi deputy commissioner Manoj Kumar and SSP Prabhat Kumar, many politicians, writers, intellectuals, social workers, religious outfit members, businessmen, students and others joined the 5km peace march on Sunday afternoon.
Starting from Ranchi's fabled landmark Albert Ekka Chowk around 12.30pm, it wended along Main Road and Doranda in between, ending at the disturbed Hinoo around 2.30pm, though not going right up to Patthar Road in the locality where the temple stood. At various stages of the march, the number of participants varied between 200 and 350.
People held hands together, some carried placards asking for peace. A vehicle of the district administration continuously played Md Rafi's famous song from Dhool ka Phool (1959), "Tu Hindu banega na Musalman banega, insaan ki aulad hai insaan banega," mounted on a loudspeaker.
"We are holding hands because we are all holding Ranchi together," said Dina Nath Pente, national secretary of People's Union for Civil Liberties, who was part of the march.
President's medal winning retired school principal Ramkishore Sahu, now 73, who was part of the rally, said: "Come terror, come communalism, we will fight. Evils like communalism got a foothold when our sense of nationalism weakened. We stopped educating children the value of coexistence."
Alternative medicine practitioner K.P. Ahmad, the central president of Qaumi Ekta Parishad, quietly came along with few others at Albert Ekka Chowk to fix a white flag and then joined the peace march.
On Main Road, some youths recorded the rally on their cellphone cameras. "I will post this on social sites and YouTube to show the world that fanatics can't destroy peace in Ranchi. Whoever defiled the temple needs to be condemned and punished," said Md Murtaza.
"No need to panic. Forget nightmares. Today is a memorable day in Ranchi's history. We have shown solidarity. Rumour-mongers and mischief-makers have no place in our society," DC Manoj Kumar told a few elderly women near Mahavir Temple at Main Road.
Across the capital, some shops stayed open, but most stayed closed as is the norm on Sunday. City SP Jaya Roy headed a flag march along with security forces from the morning. Ranchi Police, State Industrial Security Force and Rapid Action Force personnel were deployed all across the city.
At Patthar Road close to Mani Tola in Hinoo, where the temple is situated, the mood was tense, though Sukhdeonagar OC Rajeev Ranjan and eight jawans of State Industrial Security Force have been camping from Friday night. On Sunday, the temple's chief priest Sushil Jha prayed for peace.
Elsewhere in the city, the situation was a lot more relaxed than on Saturday.
A few dissidents did feel the peace march was a mere photo-op. Betel-shop owner in Doranda Manoj Sharma said: "Where were the police, district administration and peaceniks when my shop was damaged? Everything is sponsored, from riot to peace."
Ranchi police on Sunday evening started filing FIRs regarding Saturday violence. "FIRs will be lodged at Kotwali, Daily Market and Chutia thanas," city SP Roy said.
Bandh in Lohardaga
A right-wing outfit clamped a daylong bandh in Lohardaga on Sunday to protest an alleged attempt to defile a place of worship in Kudu, 20km from district headquarters on Friday night. As bandh supporters tried to shut down shops and block traffic, police stepped up vigil in strife-prone zones.