Water bodies inside Dalma sanctuary drying up due to blistering heat
Water level at most of reservoirs has slid down to over 40 ft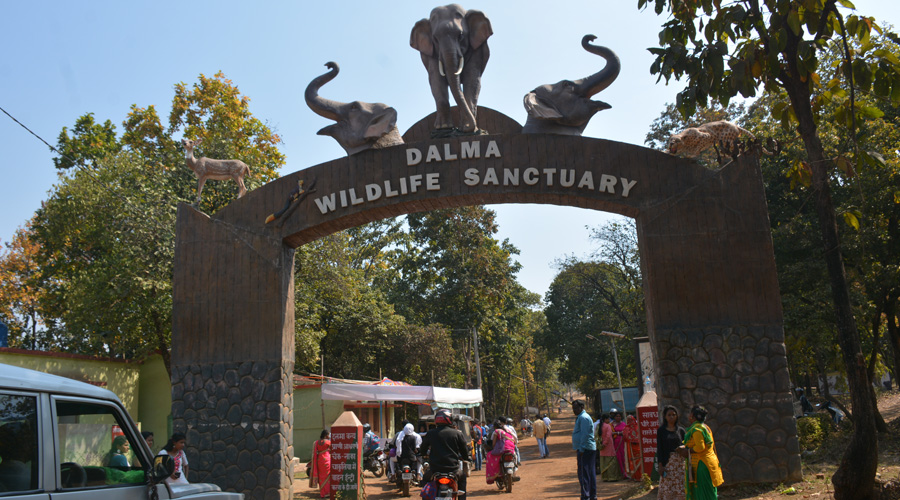 Dalma wildlife sanctuary
File picture
---
Jamshedpur
|
Published 20.04.22, 05:52 PM
|
---
Water level at most of the natural reservoirs inside Dalma wildlife sanctuary has gone down owing to blistering heat and the situation would worsen if there is no shower relief in the days to come.
There are several watering holes, including Badka Bandh, Majla Bandh, Chotka Bandh and Bijli Ghati, inside the sprawling 192 sq km jumbo abode, 30 km from Jamshedpur, has slid down to over 40 ft. Foresters said the water level would further dip if there is no rainfall in a week.
Dalma range officer (West) Dinesh Chandra said intense heat was the reason behind water bodies drying up. "Water level at the reservoirs go down during summer but this time the mercury has climbed very high. Water level at the check dams has also going down," he added.
Foresters are keeping fingers crossed when it comes to showers.
If the situation remains the same  and mercury shoots further it would directly affect the wild animals who are dependent on water bodies. "This would force animals stray into villages in search of water. They might also be killed," one of the foresters said on condition of anonymity.
According him, it would be worse if elephant slip into villages in search of water. This would lead to man-animal conflict whuch "we are working hard to prevent the same. All the elephants have ambled back after their annual sojourn to the jungles of West Midnapore and Bankura in neighbouring Bengal," he added.
In an attempt to conserve rainwater and use them in the lean months of summer, the state forest department has constructed check dams inside the sanctuary.
The facilities have come up on natural drains. Rainwater coming down from uphill flows into the check dams.
The rainwater used to otherwise flow into the Subarnarekha river and Dimna lake from the Dalma hills. There are around 30 check dams and a dozen watering holes inside the sanctuary known for Asiatic elephants.
However, the prevailing heat is playing spoilsport when it comes to water conservation at the sanctuary.