Wasseypur women protest lack of water supply during Ramadan
Executive engineer of Drinking Water Sanitation Department assured protestors to address problem within two days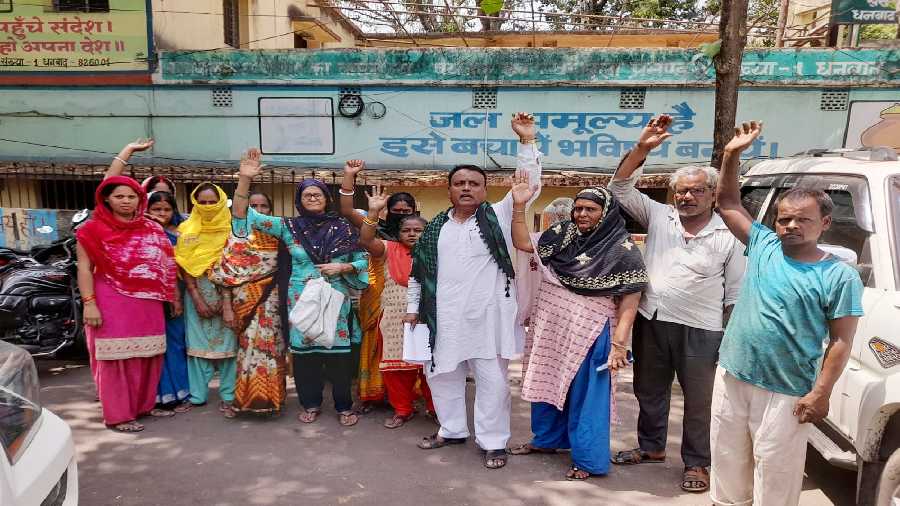 Wasseypur women stage demonstration
Gautam Dey
---
Dhanbad
|
Published 26.04.22, 08:35 PM
|
---
Deprived of drinking water for than a month, more than 100 women residents of different localities of Wasseypur in  Dhanbad including Lala Tola, Nabinagar, Madina nagar and Gulzar Bagh today staged massive demonstration at the office of Drinking Water and Sanitation Department at court road area of Dhanbad.
The protesters who were led by Nisar Ahmad former councilor of Ward Number 14 of Dhanbad also carried out gherao of office of Executive Engineer 1 of Drinking Water and Sanitation Department during which they shouted slogans against the district administration and charged them of neglect of long pending issue of water crisis even during the holy month of Ramzan.
The protesters later had a telephonic talk with Manish Kumar executive engineer of Range I of Drinking Water Sanitation Department who assured to address the problem within two days.
Talking to media at sidelines of protest, Nisar Alam said, "Though, residents of half of area of Wasseypur having a population of around 1 lakh are getting clean and safe drinking water but rest  half are deprived  of water for more than a month"
"I have apprised the DWSD authorities about the problem being faced by the people ahead of beginning of Ramzan but due to lackadaisical attitude of the authorities the problem has yet not been addressed compelling the women to carry out gherao of my house at Wasseypur and their for I have arrived here along with them to apprise the authorities concerned about the problems being faced by the local residents" said Alam.
"Such is the situation in our area that people have to knock on the doors of the people of adjoining localities during Sehri and Iftar  during the month of Ramzan to meet their water requirements" said Alam.
As the Executive Engineer Manish Kumar was away in Ranchi we could not meet him in person but during the telephonic talks he said that through regular water supply is being made in Wasseypur from their end but the lack of supply in some localities may be due to some blockade or rupture in the pipeline"
"He assured to rectify the problem by tomorrow, failing which we will be compelled to intensify our agitation and even resort to carry out gherao of the office of Deputy Commissioner of Dhanbad" threatened Alam.
Roshan Ara, one of women protestors who participated in demonstration programme today said "the problem of womenfolk have been aggravated due to lack of water supply during the months of Ramzan and finding no solution we have been compelled to carry out demonstration here."