Voter turnout up by 6% in first phase in Jharkhand
Over 60 per cent cast franchise at Chatra, Palamau and Lohardaga in first phase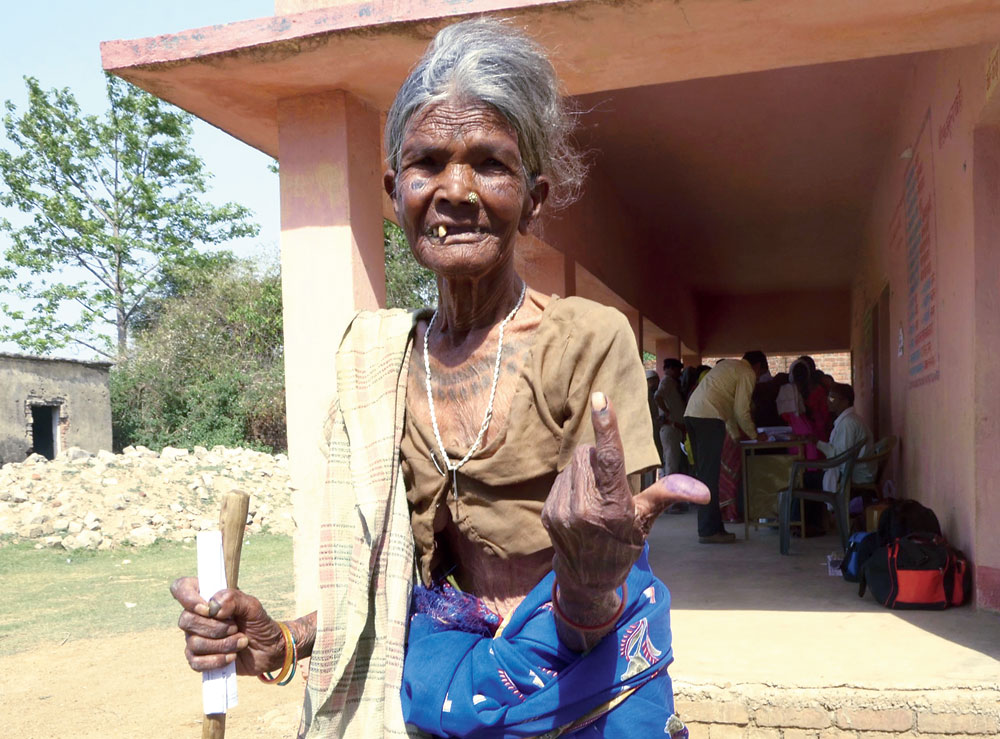 An 80-year-old woman flashes her inked index finger after casting her vote at Kundo village under Lohardaga constituency on Monday.
Picture by Prashant Mitra
---
Chatra/Lohardaga/Latehar
|
Published 29.04.19, 06:46 PM
|
---
Over 60 per cent voters cast their franchise in Chatra, Lohardaga and Palamau on Monday, Jharkhand's first phase of polling in the Lok Sabha elections 2019, an average increase of at least 6 per cent from the 2014 polls, the election commission has said.
Despite blistering heat, voter turnout increased by 7.74 per cent in Chatra, 5.36 per cent in Lohardaga and 4.92 per cent in Palamau this time compared to the 2014 Lok Sabha polls. Overall, these three seats together saw 63.76 per cent voter turnout, with Chatra recording 62.06 per cent, Lohardaga 63.59 per cent and Palamau 64.35 per cent, according to the EC website at 5pm.
The percentages could increase slightly, chief additional election commissioner Vinay Choubey said, as details were yet to come from a number of polling stations in remote areas at 5pm.
Monday's votes decided the fortunes of 59 candidates in the fray, including Sudarshan Bhagat (BJP) and Sukhdeo Bhagat (Congress) from Lohardaga; Manoj Yadav (Congress), Subhash Yadav (RJD) and Sunil Singh (BJP) in Chatra and V.D. Ram (BJP) and Ghuran Ram (RJD) from Palamau.
No untoward incident was reported from any constituency, including rebel pockets, in what is being called the most polarised elections in recent decades.
Modi vs Sunil
First-time voters seemed sold on PM Narendra Modi. Too early to say if sitting BJP 'absentee' MP Sunil Kumar Singh would win or lose in Chatra, but public anger against him seems to have abated after his public apology. "Even if people have a problem with Sunilji, they want Modiji (PM Narendra Modi)," said voter Shivrarayan Prasad in Balumath. "Still, Sunilji should remember that people (the electorate) forgive once."
Road empty, booth full
Roads in Tandwa in Chatra district, a major coal mining belt, bore a deserted look on Monday. "You won't find even a single miner or transporter at work, all are voting. Here, election is the main work today (Monday)," said Manoj Sahu who runs a small hotel in Gadilong where coal mining activity has started recently. The bumpy road passing through Tandwa leads to Balumath in Latehar, also a part of Chatra constituency. At Arrah village in Ganeshpur panchayat of Balumath, a booth had festoons, posters and a red carpet. "This is a model polling centre where every voter is made to feel like a VIP. The crowd is very decent," said a poll official.
Yadav of choice
Non-BJP voters in Chatra seemed confused between outsider Yadav (RJD's Subhash) and local Yadav (Congressman Manoj). A milkman, Lakhan Yadav, did not say whom he voted for but spelt out his dilemma. "Laluji (RJD supremo Lalu Yadav) is our leader, but his candidate Subhash Yadav is from Bihar. If we elect him, where do we go hunting for him. Manoj Yadav is a local leader." BJP rebel-turned-Independent Rajendra Sahu apparently would not be in the reckoning, he said.
Close contest
In Lohardaga, no one can say which Bhagat, Sudarshan (BJP) or Sukhdeo (Congress) is winning. "Voters are polarised on the lines of caste, community and religion. Traders usually back the BJP, but this time a sizeable section of tribal voters seem to have voted for the BJP too. Jamuntoli at Kuru, which was stronghold of the Congress switched loyalties overnight, and are now with the BJP," claimed tea seller Manoj Oraon. At a booth in Lohardaga town, Congress nominee Sukhdeo Bhagat got into a heated argument with poll officials when he asked them not to "act as agents of the BJP". When the media surrounded him outside the booth, officials told him he had to go at least 200m away from the poll station concerned before he could speak to newsmen or do any canvassing.
First ink
Palamau DC-cum-returning officer Shantanu Agrahari said polling was "peaceful" and "memorable". "I was told that people from remote villages Dagra, Mahuadand and Abum where people had never ever cast their votes did so this time, the first time since India's Independence. Also, we had 63 booths meant for female voters of which 46 booths had female polling staff and security personnel."