Visually impaired team wins first state para event
The students edged past the hearing and mentally challenged teams at a bocce competition in Jamshedpur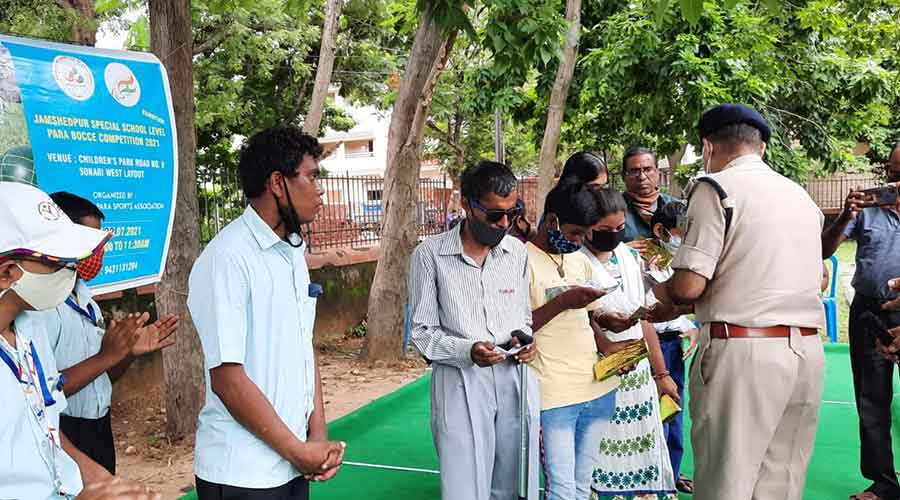 Visually impaired team members receive prize from deputy superintendent of police (Traffic) Babban Singh in Jamshedpur on Thursday.
Bhola Prasad
---
Jamshedpur
|
Published 22.07.21, 08:03 PM
|
---
The four-member visually impaired team sprung a big surprise by emerging champions in the first bocce competition for students of special schools organised by Jamshedpur Para Sports Association at Children's Park in Sonari on Thursday.
The team of Krishna, Sanjana, Ramdhan (Divyajyoti Netrahin Vidyalaya and Anita (National School for the Blind) exhibited a great sense of hearing while competing in the event. It received a huge round of applause from the guests, including chief guest and deputy superintendent of police (traffic) Babban Singh. The team members rolled the ball nearest to the target while stamping their authority.
The participants walked home with a cash reward.
Bocce is played with eight large balls and one smaller target or object ball called a pallina. For one player teams, each player throws four balls. When there are multiple players in a team, a playing rotation is determined at the start of a game and is maintained throughout the entire game.
"The performance of the visually impaired team surprised us a lot. It was unbelievable and a great achievement to say the least. All members of the team are totally blind and sense the target on hearing the sound of a bell. Plaudits to the team." said Jamshedpur Para Sports Association president Avtar Singh.
Singh, a seven time national cycling champion who captained the Indian team in 1982 Asian Games in New Delhi, added that the visually impaired generally don't get an opportunity to perform. They can very well display their talent if given an opportunity," he pointed out.
Singh, who also happens to be the secretary of Jharkhand Para Sports Association (JPSA), promised that the state association would provide ample opportunity to the visually impaired and help them perform.
The visually impaired outfit edged out joint team Jeevika and School of Hope (intellectually impaired) and La Gravitea (hearing impaired) who finished second and third, respectively.      
The competition was organised jointly by Jamshedpur Para Sports Association (an affiliated unit of JPSA) and Jeevika, an NGO working for the promotion of intellectually impaired.
Former international cyclist Inderjeet Singh, social worker Jawaharlal Sharma, ND Subramaniam and Sushant Singh were among those present on the occasion.