Villagers construct 'jugaad' bridge over rainfed river
The only mud path which connected the village to block headquarter had a small river making it tough to wade through the water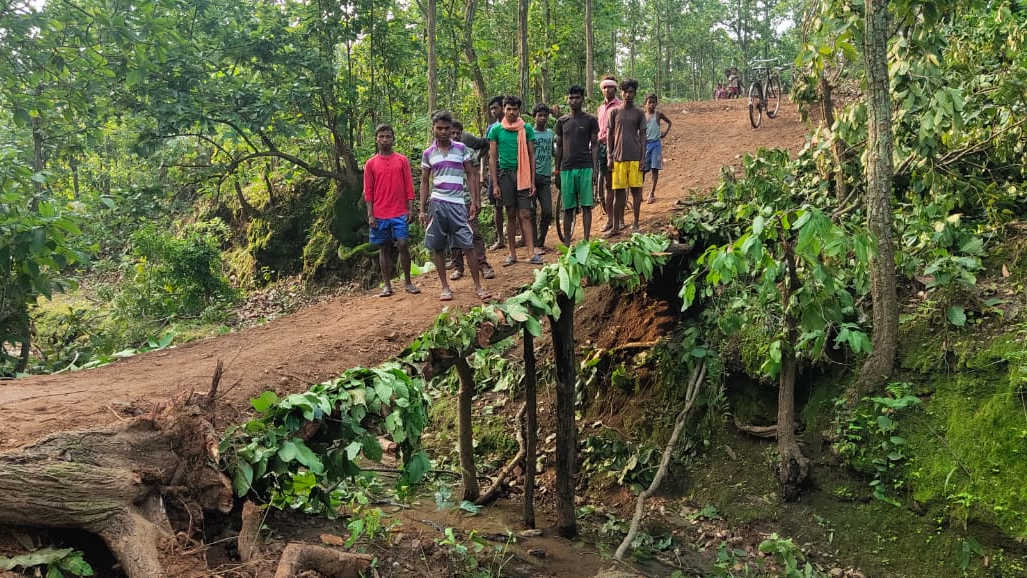 ---
---
Tired of waiting for the government to ease their lives for four long decades, villagers of Hardiya under Dharampur panchayat of Tatijharia block in Hazaribagh have constructed a 'jugaad' bridge over a rainfed river through an innovative 'shramdaan' model and self-financing.

For 300-villagers living here, going to the district involved risking their lives especially in monsoon as the village lacked a proper road and the only kutcha path which connected it to block headquarter had a small rainfed river making it tough for them to cross over. Villagers said they had to go 10-feet down from the kutcha road to wade through the river water. Somar Manjhi, a villager said that if anyone got ill, they found it very tough taking the person to the health centre.

A few days ago, the villagers called a meeting where one Ramlal Tuddu suggested that by making a bridge, they can solve this problem forever. Tuddu, the only Intermediate pass of this tribal village, said he came to know about many such jugaad bridges made by villagers in and around the district. Distraught with promises made by politicians during the time of elections, Tuddu suggested taking up the challenge of making a bridge through 'shramdaan' (voluntary labour contribution). With most agreeing to his plan, work finally started few days ago and a bridge came up within no time.

A villager, Shivram Manjhi said they collected donations and arranged bamboo poles to built the bridge. They erected bamboo poles and fixed wooden blocks over it. After checking that it was now strong enough to walk or to cross with two wheelers, soil was put to cover the wooden blocks.

Villagers said now for the first time going to different places have became easy for them. "Demand for a bridge was heard some four decades ago but it never got fulfilled. Finally we did it," echoed Banshi Manjhi and Parmeshwar Manjhi. "We have made this bridge so it's proven that nothing is impossible. It was our fault that we waited for government to act instead of taking up this work earlier itself," added the duo.

"Yeh hamari ummidon ka bridge hai (This is a bridge of our hopes)," another villager said, adding, "Thanks to Tuddu who showed us the path otherwise, we would had kept facing problem."

Villagers said they will keep checking the bridge regularly so that if there is need to replace any bamboo poles, they will do it immediately. "Aakhir ye hamari suraksha se bhi juda hai (It is related to our safety)," added Lalji Manjhi.