Video on Swadeshi movement
The 2.09-minutes clip depicting the partition of Bengal and emergence of the concept of self-rule, is the sixth edition of a series titled Dharohar (Legacy) on the Congress's history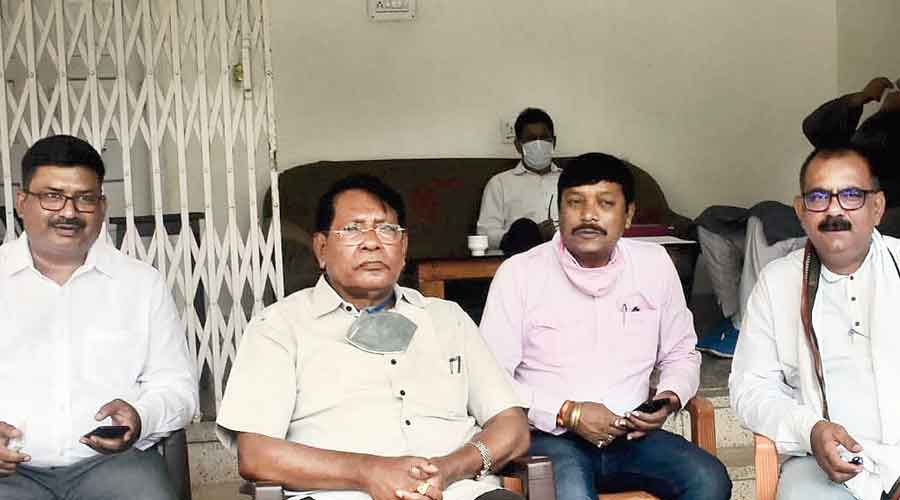 Jharkhand finance minister and state Congress president Rameshwar Oraon (second from left) and others at the video launch in Ranchi on Wednesday
---
Ranchi
|
Published 03.09.20, 01:29 AM
|
---
The Jharkhand unit of the Congress on Wednesday shared a short video on social media depicting a part of Indian history.
The 2.09-minutes-long video depicts the partition of Bengal and emergence of the concept of self-rule and is the sixth edition of a video series titled Dharohar (Legacy) on the Congress's history and its contribution to the freedom struggle and the country's emergence as a superpower within 70 years of its Independence.
"All the MLAs and other leaders of the party will share this video on social media platforms so that the younger generation can know the real history of our country," state Congress spokesperson Alok Dubey said, explaining the intention behind circulating the video.
"The video shows how people united themselves and rose against the divisive policy of the British at that time," said Jharkhand Congress president and state finance minister Raneshwar Oraon. He said the people should unite once again against such divisive forces.
The video on Bengal's partition and the wave of self-rule showed how, following announcement of the decision, a meeting at Town Hall in Calcutta on August 7, 1905, led to the call for boycott of British goods and subsequently the formal announcement of the Swadeshi movement in the Benaras conference the same year and the demand for self-rule the next year.
The video showed how it was also an economic movement in the sense it inspired many Indians to consolidate artisans, workers and others to establish Indian cloth mills, banks and insurance companies, referring to the stewardship of such leaders as Gopal Krishna Gokhale, Lala Lajpat Rai, Bal Gangadhar Tilak and Bipin Chandra Pal.
The launch of the video series was announced by the Congress in New Delhi and the first episode was shared on social media platforms on Independence Day.
While four more videos were also released subsequently, the sixth one was shared on Wednesday.
The first edition of the series on "135 Years' Legacy of a Robust History" began with the formation of the Congress on April 28, 1885, "as an organisation that gave voice to the voiceless and led the fight for India's freedom".
"Congress has been at the forefront in the efforts to create an India which is global leader in industry, agriculture,  science and technology, health, military and culture and all this without ever compromising on its secular and democratic nature," said a statement issued by the party at the time of the launch of the video series.