Varsity students stage dharna to demand PG and B.Ed courses in Kurmali language
Pupils of Binod Bihari Mahto Koylanchal University accuse the state government of backtracking from its promise, threaten bigger stir in coming days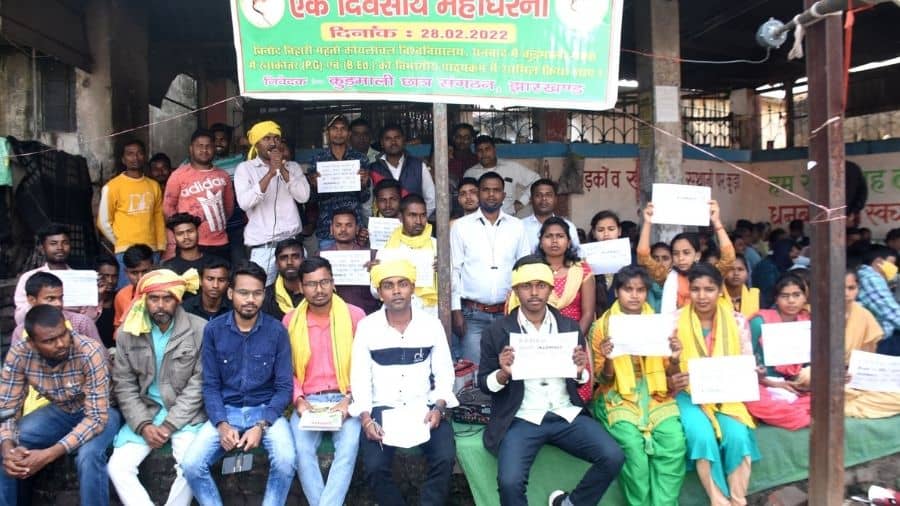 Students of BBMKU, Dhanbad staging dharna at Randhir Verma Chowk in Dhanbad today.
Gautam Dey
---
Dhanbad
|
Published 28.02.22, 07:09 PM
|
---
More than 70 students of different colleges of Dhanbad and Bokaro today staged a massive Dharna at Randhir Verma Chowk near the district headquarters of Dhanbad to protest the delay in launching of Post Graduate (PG) and Bachelor of Education (B Ed) teaching in Kurmali language.
The protesters, who charged the state government of backtracking from its promise made two years ago with regard to the launch of PG and B Ed teaching in Kurmali, also handed over a memorandum addressed to the in-charge vice-chancellor of Binod Bihari Mahto Koyalanchal University Mukul Narayan Deo demanding immediate launching of PG and B Ed teaching in different colleges of the university.
Talking to The Telegraph Online today, Sachin Mahto, a BA (Kurmali Honors) student of Chas College Chas in Bokaro, a constituent unit of BBMKU said "Though Kurmali teaching at the undergraduate level is being carried out in different colleges of BBMKU in Dhanbad and Bokaro, the PG and B Ed teaching in Kurmali has yet not been launched despite our long-pending demand.
"We took out a foot march from Sahid sthal (martyr memorial) of noted educationist and social worker of Dhanbad Binod Bihari Mahto exactly two years ago on February 28, 2020, demanding the launching of PG and B Ed teaching in Kurmali. The government promised to carry out our demand with immediate effect the next day but two years later the course is yet to be launched compelling us to launch the Mahadharna today," said Mahto
Dasrath Mahto another protester said that in Jharkhand Kurmali is generally spoken by residents of different districts of southeastern Jharkhand including, Bokaro, Ranchi, Saraikela, Chaibasa, and Jamshedpur.
"Kuramali was the mother tongue of Binod Bihari Mahto in whose memory the Binod Bihari Mahto Koylanchal University has been established four years ago but the university is yet to launch PG and B Ed teaching in the Kumali," said Mahto and added that if the university fails to launch the PG and B Ed teaching in these subjects they will be compelled to carry out an indefinite Dharna at BBMKU headquarters soon.