Unique Earth Day rallies draw attention in Jharkhand
The students of St Xavier's School, Hazaribagh, pledged to adopt a tree each and protect them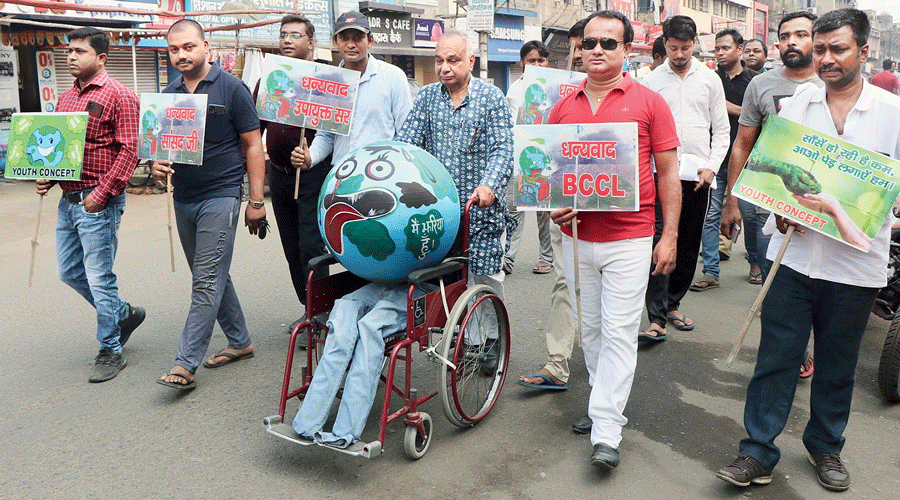 Residents of Jharia at a rally on World Earth Day under the banner of Youth Concept at Jharia in Dhanbad on Friday.
Shabbir Hussain
---
Ranchi
|
Published 23.04.22, 01:05 AM
|
---
Two events on the World Earth Day — in Hazaribagh and Dhanbad — drew attention because of their unique campaign launched on Friday. 
The students of St Xavier's School, Hazaribagh, pledged to adopt a tree each and protect them, considering that would actually help increase green cover than just planting more saplings on such occasions and forgetting about those soon after.
On the other hand, Youth Concept, an NGO of Jharia in the Dhanbad district, urged residents to try to protect their town by combating the pollution that confined their place to a wheelchair.
"A large number of saplings are planted every year but most of them unfortunately don't survive due to lack of care. So it's more important to take care of trees to protect the environment," said Debabrata Mitra, vice president of St Xavier's School,  Hazaribagh said,  adding the teachers convinced the students to take the pledge.
The school also distributed among the students a bookmark with messages reminding their duties, he further informed, adding they also advised the students to use those so that the messages kept them reminding of their duties.
The bookmark asked the student to show they cared for the environment by adopting a tree, feeding the birds,  keeping water for birds and avoiding single-use plastic and advised to do at least one of those,  if not all.
"Taking care of a tree will help it grow properly and then it would, in turn, help purify the environment," said Soumya Vartika, a Class XII student explaining why they took such a pledge and added she would definitely do it.
"It's not difficult to do so as we have a lot of trees around us," added her classmate Ayush Upadhyay, adding he would also do it without fail.
If the Xaverians restricted their activities within their school campus on Friday, Youth Concept of Jharia, one of the most polluted towns of the country, brought out a campaign rally urging its residents to take the initiative to protect their town as "no one else bothered about it".
The rally drew attention of everyone as it had a man on a wheelchair carrying a globe with Mein Jharia hun (I'm Jharia) written on it.
"Rampant and irresistible mining of coal turned Jharia into a severely polluted town that can be compared only with a crippled person on a wheelchair," Akhalaq Ahmad, the convener of the organisation, explained why they brought out such a really.
No one like the coal company active here or the administration did anything worth its name to protect the town from "the killing pollution" and it will eventually be found only in history books, he alleged.
That was why they tried to make the residents aware that they should do something on their own, urgently, to protect their town from pollution.