Undertrial escape bid ends in death at Ranchi
Security guard of Birsa jail said security had been beefed up after this incident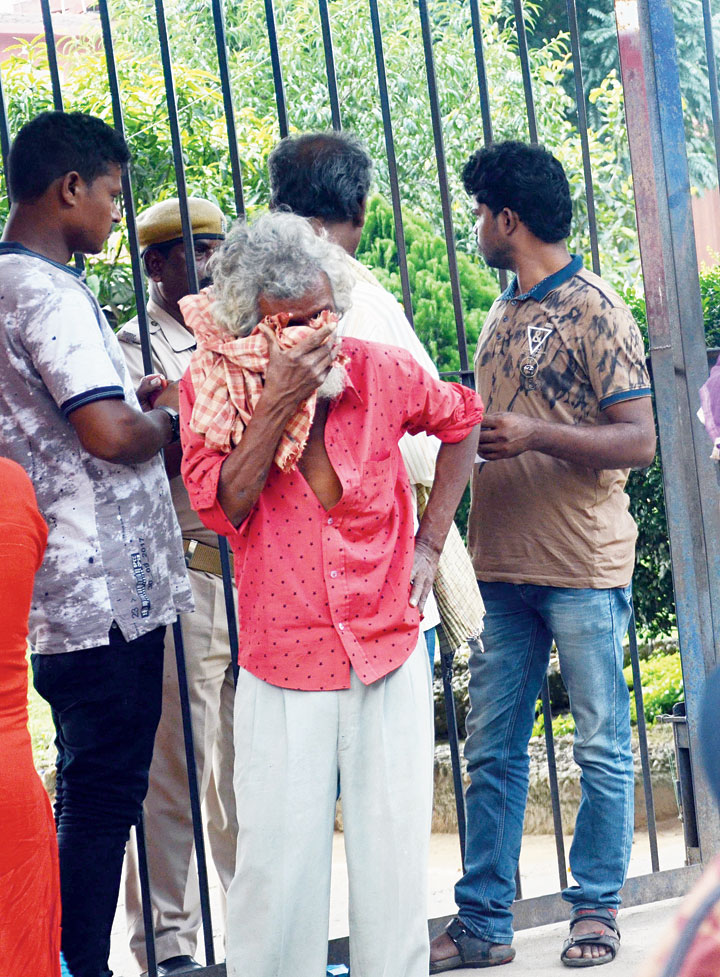 The deceased undertrial's father weeps near the jail in Ranchi on Saturday.
Manob Chowdhary
---
Ranchi
|
Published 05.10.19, 07:23 PM
|
---
 A 27-year-old undertrial prisoner died early on Saturday morning when he attempted to escape Birsa Munda Central Jail here.
Sunil Singh, who scaled up a peepal tree on jail campus to reach the 21-foot-high jail boundary wall, jumped off the wall before the jail guards could stop him. He crash-landed on the ground where his head hit the hard surface of the ground around 6am.
Undertrial Singh died on the spot, Ranchi senior superintendent of police Anish Gupta told the media.
"The undertrial died on the spot due to head injury. His body has been taken to RIMS for an autopsy," SSP Anish Gupta said.
Ranchi subdivisional officer Lokesh Kumar said the undertrial had been mentally unsound. "He was in the jail since April this year after his arrest in a robbery case filed with Pithoria police. Since June, he was being treated by a Rinpas doctor and was kept in hospital ward. This morning he came out of his ward and climbed on a tree. Before anyone could catch him, he reached the boundary wall and jumped off outside the campus," SDO Kumar said.
A security guard of Birsa jail said security had been beefed up after this incident.
"The prisoner was in the medical ward and thus it wasn't expected that he would flee. After this incident, jail security has been enhanced and movement of prisoners kept under vigil," the guard said.
This is second death of an undertrial in Birsa jail within a week. On September 30, Gagan Nayak, 35, of Chutia who was accused of keeping illegal arms, died of cardiac arrest.
Facebook smut cuffs
Jamshedpur: A team of Jamshedpur police led by DSP ( cyber cell) Jayshree Kujur, arrested 22-year-old Ayush Vedant from Samastipur in Bihar for posting objectionable comments to a Sidhgora girl here on Facebook. The girl had on September 28 filed a complaint with the cyber cell in Bistupur that Ayush and two others had posted her morphed pictures and derogatory comments.