Two prisoners flee Covid centre, another caught in Pakur
The three used bedsheets to climb down building, fear grips town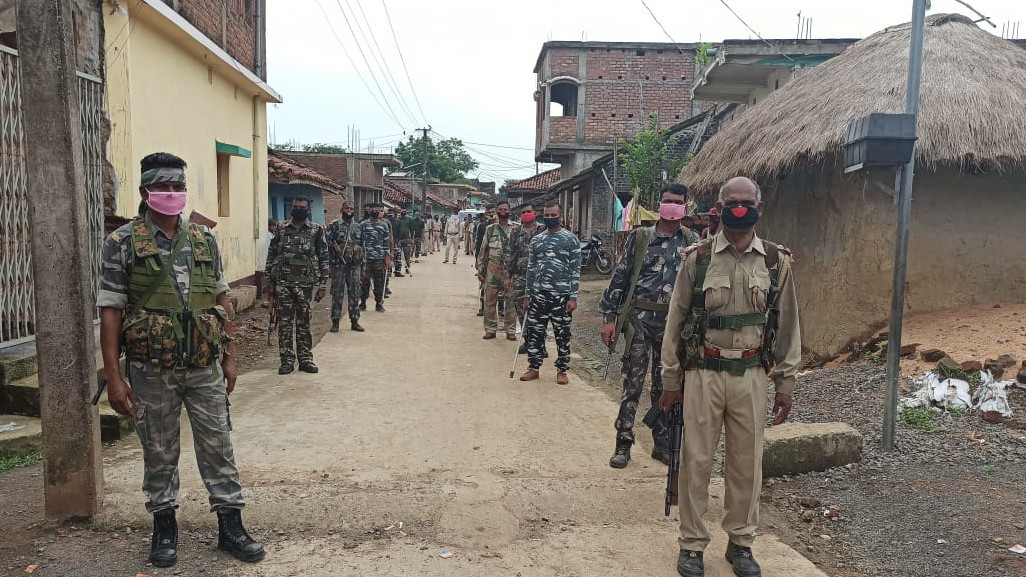 ---
Ranchi
|
Published 02.08.20, 07:28 PM
|
---
Two prisoners, being treated at a Covid care centre doubling up as a transit jail in Pakur, escaped from the facility by using bedsheets to climb down the five-storied building early on Sunday, but a third criminal who was with them got caught as he suffered a fractured leg.
As the day broke there was panic among residents of the town, some 400km from Ranchi, prompting the deputy commissioner of the district to address the press and the local SP to seal inter-state borders and launch a search.
The prisoners, Arjun Singh, Makbul Ansari and Sandeep Kumar Pal are all between 25-30 years, police sources said. Arjun was arrested for theft at a railway siding and Sandeep was nabbed for trafficking. No details were available about Makbul, who was caught after he fractured his leg.
Pakur deputy commissioner Kuldeep Choudhary said the three prisoners were lodged at Pakur district jail. After they tested positive, they were put up at the Covid care centre at a multi-storied market complex and marriage hall near the town police station.
"The three broke the iron bars of a window and climbed down five stories by tying bedsheets and towels into a rope that was somehow attached to a tree adjacent to the building. In the process, one of them suffered a fracture. He was nabbed soon," Choudhary said.
Pakur SP Mani Lal Mandal said a search was on for the duo and that the district's border with Bengal had been sealed. In all, around 36 prisoners had been put up at the Covid care centre after they tested positive after random tests, he said.
"Various police teams are on the lookout for the two prisoners. Fresh FIRs will be filed against the two for violating the Covid norms," he said, adding that action against 13 erring policemen would also be taken.
Residents of Pakur sounded worried. Ramesh Sahu, owner of a grocery shop near the Covid care centre, said, "Many of us did not open our shops today (Sunday) after learning about the incident. It's a scary situation for all of us as such people may come in contact with anyone and resort to anything to hide themselves from police. We are on alert."
There have been earlier instances of Covid positive prisoners escaping from hospitals or care centres. In Hazaribagh, a Covid positive thief, who is suspected to have infected a large number of policemen, escaped thrice, before being caught for the last time. In Latehar, two undertrials escaped last week.