Two minors raped by a dozen men in Garhwa, trade union strike on August 18
STATE DIGEST: Search on for body washed away in Amanat river; lab shut in Bokaro as technicians test positive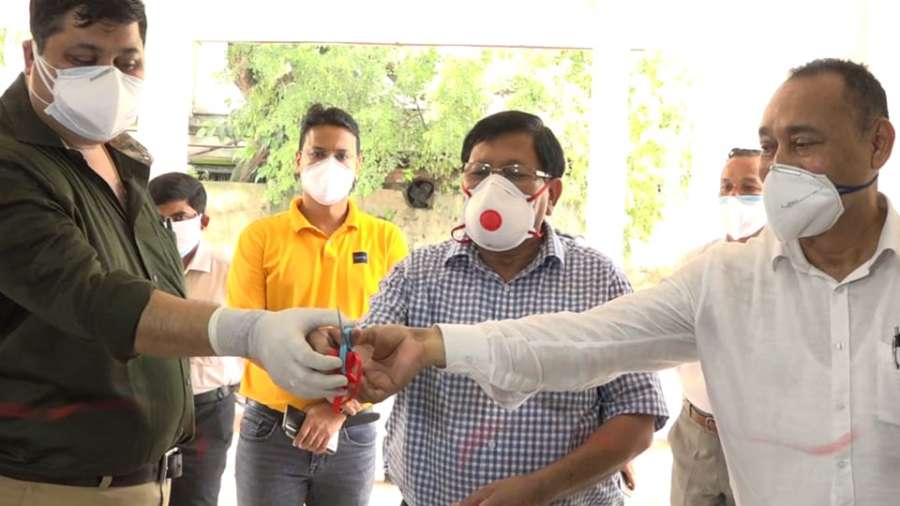 Gopal Das (C), Civil Surgeon, Dhanbad along with doctors of PMCH, Dhanbad in presence of Deputy Commissioner (DC) Dhanbad, Uma Shankar Singh (in yellow t-shirt) inaugurating the 100-beds Dedicated Covid Hospital (DCH) at Sadar Hospital in Dhanbad on Sunday evening.
Gautam Dey
---
Published 02.08.20, 11:39 PM
|
---
Two minors raped by a dozen men in Garhwa
Two tribal minor girls from Uttar Pradesh aged around 17 years were allegedly gang-raped by 12 men in Baraiy Tand forest area under Nagar Untari police station limits of the district, around 40 km away from the district headquarters, on Thursday evening.
The incident came to light after the parents of the girls lodged police complaints.
According to thana in-charge of Nagar Untari police station, Pankaj Tiwari, the incident reportedly occurred between 5 pm to 6 pm on Thursday when the minor girls, both residents of Kone police station area of Uttar Pradesh were going home on two bikes of relatives after updating their Aadhaar card from Nagar Untari. They had stopped near the spot to attend the call of nature.
"One dozen youths, who are not known to the girls, allegedly came by four bikes and allegedly took the girls to an isolated area towards the forest and raped them," said Tiwary, quoting the complaints lodged by the victims.
When the girls' relatives raised an alarm, the men assaulted them. Later, one relative dialled 100 and informed the police, but the men managed to escape before the arrival of the police.
"The accused are absconding. A search has already been launched to trace the accused. The victims have been examined in Garhwa Hospital, and the police also recorded their statement under section 164 CrPC in the court," added the thana in-charge .
Nagar Untari police have registered cases under Section 376D of the IPC and other relevant sections under the POCSO Act.
Trade union strike on August 18
After holding a three-day nationwide strike in the coal sector against commercial mining and other issues from July 2 to 4, the leaders of all five central trade unions including Indian National Trade Union Congress (INTUC), Central Industrial Trade Union (CITU), All India Trade Union Congress (AITUC), Bhartiya Mazdoor Sangh (BMS) and Hind Mazdoor Sabha (HMS) are again gearing up for a day-long nationwide strike on August 18 to protest against similar issues.
Talking to The Telegraph Online, AK Jha, national vice president of INTUC said, "We will hold a meeting to chalk out future course of action on August 4 as we have already submitted a copy of strike notice addressed to the Coal Secretary, Pramod Agarwal, and to the chairman cum managing director of Bharat Coking Limited, PM Prasad yesterday".
"We have decided to stage a day-long strike with our six-point charter of demand, jointly prepared by all five central trade unions. Our demands include repealing of the decision of allowing commercial mining, withdrawal of decision to carry out disinvestment or buyback shares of Coal India Limited, ensuring high power committee wages to contract workers, cancellation of coal block allotment, repealing of decision to allow contractors to decide the rate of coal, relaunching all the closed mines, repealing the decision to sell Singreni Collieries Company Limited, and payment of increased gratuity for retired employees since July 2017," said Jha, adding, "The government has left no option before the coal workers to save the coal industry other than resorting to strike."
Jha said that they will not allow either production or despatch of coal during their strike on August 18.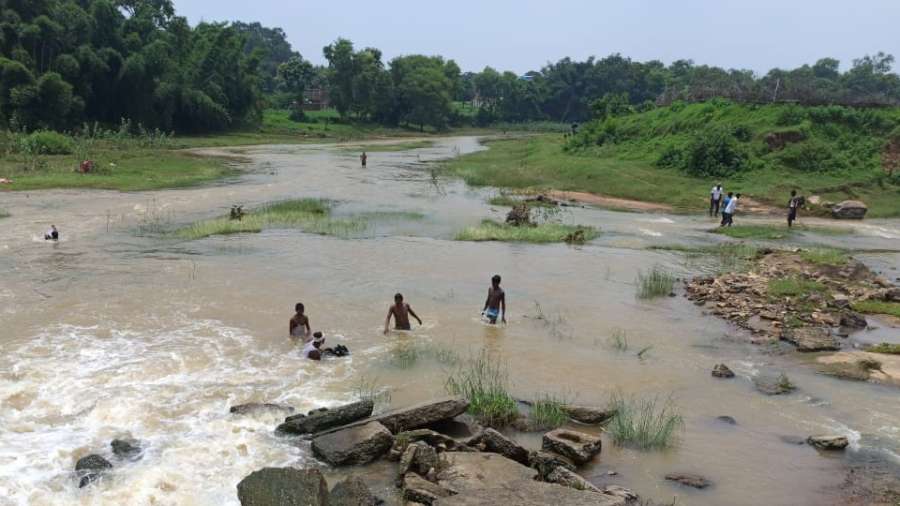 Search on for body washed away in Amanat river
Search is on for a Polpol village boy Saurya Tiwary, who along with his friend Abhinav Tiwary made a dangerous bid to pass through a low lying three-feet turbulent water flowing on the top of a pulya on the river Amanat on the night of Tuesday, July 28. While Abhinav's body has been found, all hopes now lie on the team of the State Disaster Response Force (SDRF) Ranchi to come to Palamau and find 23-year-old Saurya's body.
SP Ajay Linda said, "The two got washed away in the high turbulent waters flowing above the pulya on July 28. They ignored the warning of a truck driver, who repeatedly shouted at them to not take the risk of crossing this high water."
Secretary state disaster management Amitabh Kaushal told The Telegraph Online, "On Sunday, August 2 morning SDRF Ranchi got a requisition mail from Palamau administration. Immediate order was passed to SDRF Ranchi to rush to Palamau on Sunday itself. I spoke to DC Ranjan and got to know the details."
Rupesh Kr Dubey, officer in charge of Satbarwa police station under which this tragedy occurred, said, "The two Tiwary families did not inform us till Thursday, July 30 morning when we got information about two boys getting washed away in the river. Immediately a search was launched through local divers. We retrieved the body of Abhinav Tiwary. We found the bike, too, but Saurya was nowhere around."
Lab shut in Bokaro as technicians test positive
Bokaro district health department on Sunday shut down its Truenat Laboratory in Sadar Hospital following two lab technicians and a supervisor testing positive for Covid-19.
"Of the eight lab technicians working in two shifts in the Truenat testing laboratory, two were detected positive on Sunday, while a supervisor was found positive on Saturday," said Dr A K Pathak, civil surgeon, Bokaro.
He added, "During contact tracing we found that these three persons had come in contact with many people including staff. We have appealed to all of them, who came in their contact in the past few days to undergo the Truenat test. It is necessary to break the chain to stop the virus from spreading. The Treunat Laboratory will remain closed till Monday as disinfection exercise is being carried out."
About 2500 samples were tested during the drive conducted by administration in the district in the past three days. Twenty cases have surfaced, so far.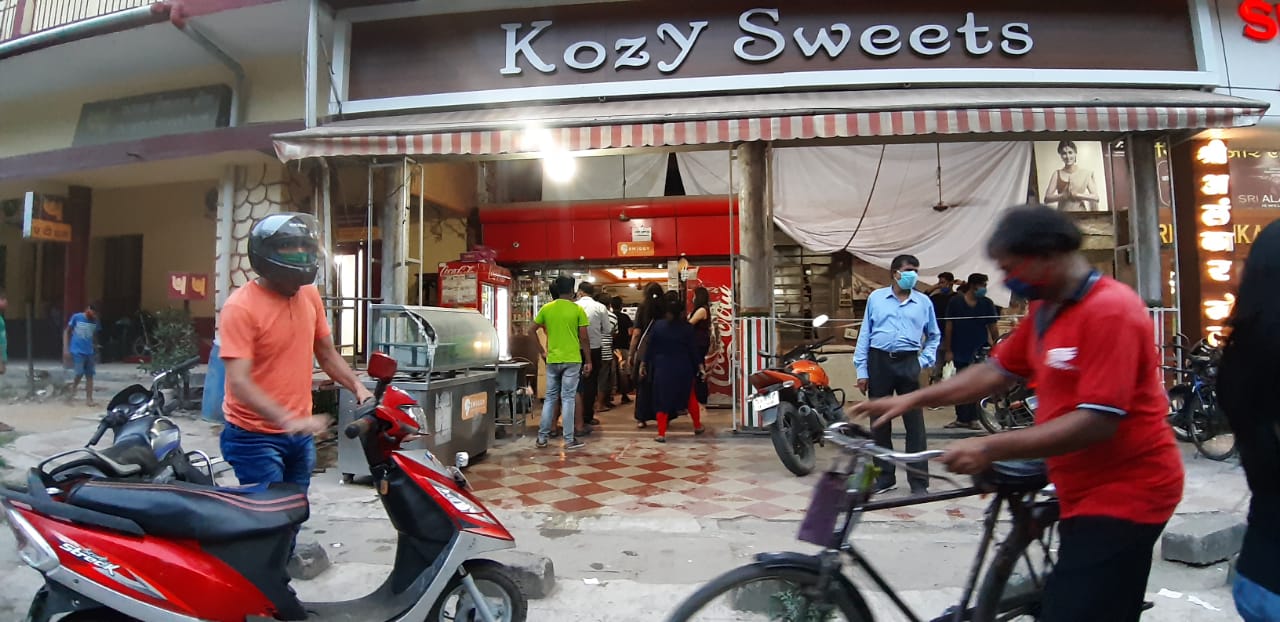 Sweet shops see high footfall before Raksha Bandhan
People in large numbers were seen making a beeline at sweets shops across the Bokaro township, a day ahead of the Raksha Bandhan festival on Sunday.
Policemen are seen asking customers to maintain social distancing and wear masks. They were also seen warning shopkeepers to follow the Standard Operating Procedures (SOP) properly to prevent the spread of Coronavirus.
Despite home delivery services offered by the majority of prominent sweets shops, the footfall was high in the shops. Many shopkeepers, assessing the poor market situation prevailing in the Unlock period had not prepared for a sudden rise in demand for sweets. So, in a few shops sweets got exhausted by early evening.
Amit Johar of Kozy sweets said that their business was good in comparison to the last few weeks. "Besan ladoo was in huge demand," he added.
Many sweet shop owners had deployed staff specially to ensure that customers maintain social distance and SOPs.
Bokaro BJP leader joins Congress
The state BJP has suffered a major setback just before the Bermo Assembly by-election with former vice-president of the state BJP Mahila Morcha, Neetu Singh joining Congress on Sunday.
Singh is currently a member of Chandrapura Zila Parishad under Bokaro district. She joined Congress along with her supporters in the presence of state president cum state finance minister Dr Rameshwar Oraon, state president of youth Congress, Kumar Gaurav and others in a simple party function held in Ranchi.
After taking membership of Congress, Singh said that she has always fought for the rights of women, and now the struggle will continue even further. "I am impressed by Congress ideology and thus joined the party," she said.