Two minor girls found hanging from tree
STATE DIGEST: Jharia residents protest irregular water supply; highway blocked by deceased patient's relatives; Koderma education officer to face disciplinary action; webinar at BIT Sindri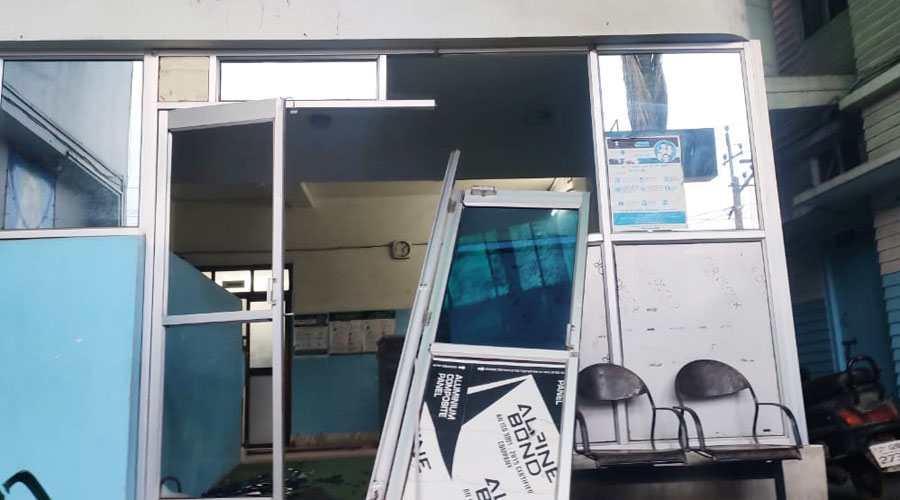 One of the damaged doors of Parvati Nursing home in Koderma on Thursday.
Vishvendu Jaipuriar
---
Published 09.10.20, 01:26 AM
|
---
Two minor girls were found hanging from a tree in a cashew jungle in East Singhbhum's Ghatshila on Wednesday evening.They were 16 and 12 years old.
The girls had come out of their houses in Ghagra village on Monday afternoon for cutting grass, but did not return home.Their family members started a search operation in the adjoining areas and had on Tuesday lodged a missing person report with the Barsole thana.
On Wednesday evening, both of them were found hanging from the tree, about 500 metres away from the Ghaghra village and about 12 kms away from the Bengal border.
The OC of Barsole thana, Jyotilal Rajwar, confirmed the recoveries of two bodies from a tree, but did not give a reason behind their hanging, claiming they are investigating the matter.
The senior SP on Thursday evening said they are probing case and said whether it is a case of suicide or murder can be established only after the autopsy report comes.
"As the bereaved family members are not able to give any clue to the circumstances leading to the death of the two girls under mysterious conditions, we have to carry out an investigation by talking to the people residing in the Ghaghra village.  We are also depending on the autopsy reports which will unfold the mystery behind the deaths of the minor girls," said the police officer.
Highway blocked by deceased patient's relatives
Relatives of a woman who died at a private nursing home in Koderma on Thursday afternoon blocked the Ranchi-Patna highway alleging doctor's negligience that led to her death.
Reena Devi, 22, of Baridih village in Barkatha of Hazaribagh was admitted to Parvati nursing home in Telaiya town and underwent C-section to give birth to twins.
After the operation, her condition turned critcal as her haemoglobin went down. Doctors asked relatives to arrange blood for her but she soon died. 
The relatives said doctors didn't provide the required treatment on time resulting in her death. They went on rampage at the nursing home, from damaging furniture to doors. 
Koderma education officer to face disciplinary action The state government has decided to take action against Koderma district education officer Alka Jaiswal for going on leave without taking permission from her senior authorities. 
Alka's responsibilities have been transferred to regional education officer of north Chotanagpur Mithilesh Kumar Sinha.
According to Jaiswal's close aides, she was unhappy to take charge of district superintendent of education after anomalies found in recruitment of primary teachers. She went on an indefinite leave as a mark of protest.
A senior officer said what Jaiswal did was gross indiscipline and she will have to face stern action. He said instead of going on leave without prior permission, she should have conveyed her problems to department. He said soon someone will also get the charge of deputy superintendent of education as well.
Webinar at BIT Sindri
Training and Placement Cell of BIT Sindri on Thursday organised a Webinar on 'Right Way to connect to your Alumni & Role of BIT SAA Jamshedpur Chapter' which focused on preparing the students to connect with the esteemed Alumnus of the institute spread across the world.
Senior  Manager of Tata Steel, Pawan Ojha addressing over 100 participating students of BIT Sindri threw light on the significance of alumnus  for  institute  development. 
Ojha exhorted students to develop other qualities along with academics and techical knowledge.
He talked about giving a new dimension to his program "Beti Padhao",as per which meritorious students get a chance for training and mentorship.
Jharia residents protest irregular water supply
More than 50 Jharia residents led by former councilor of ward Number 37 Anup Sao on Thursday staged a demonstration at Bata More in Dhanbad to protest against the irregular water supply due to the malfunctioning motors of Civic body Jharkhand Mineral Area Development Authority at Jamadoba based Water Treatment Plant. 
Sao claimed that five lakh Jharia residents are facing water crisis for the last couple of years due to technical snags in the motors and repeated leakages taking place in the water supply pipelines but no body seems to be bothered about finding a permanent solution to the problem by changing the old motors with new one.
64 discharged from Covid treatment centres
A total of 64 patients were discharged on Thursday from different Covid treatment facilities of Dhanbad including 22 from Government Polytechnic Nirsa, 21 from PMCH Cath lab and nine from Sadar Hospital and six each from Regional Hospital of BCCL in Bhuli and SSLNT women's hospital of Dhanbad. 
Dhanbad Deputy Commissioner, Uma Shankar Singh said the discharged patients have been provided medical kits and will have to remain in home quarantine for the next 14 days.