Two CoBRA jawans injured in IED blast in Lohardaga district
The explosion occurred in Bulbul-Peshrar forest area when a joint team of the CRPF and the state police were engaged in an operation against Maoists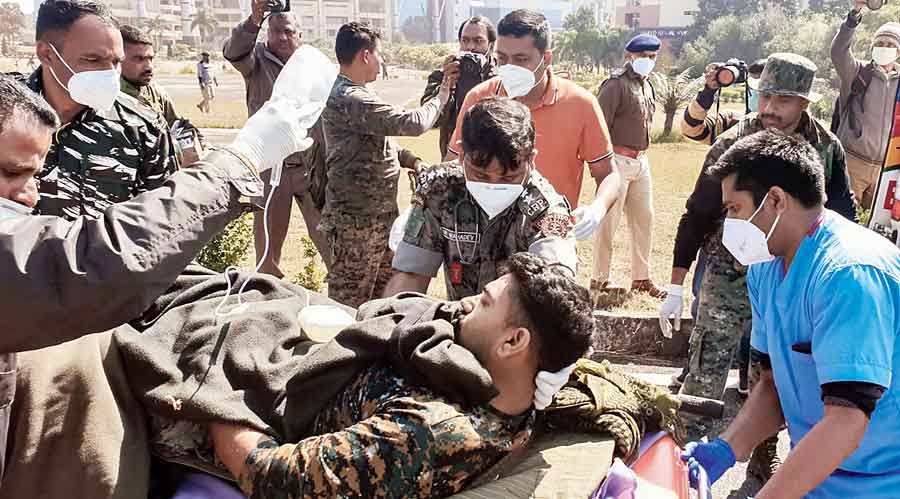 An injured jawan being taken to Ranchi for treatment on Friday.
Manob Chowdhury
---
Jamshedpur
|
Published 12.02.22, 12:28 AM
|
---
Two CoBRA jawans were injured in an IED blast at dense forest under the Peshrar police station area of Jharkhand's Lohardaga district on Friday morning.
According to sources in the Lohardaga police, the blast occurred in the Bulbul-Peshrar forest area when a joint team of the CRPF — of which CoBRA is a special operation unit — and the state police were engaged in an operation against Maoists.
A senior police official said that there are three different factions of Maoists present in the area, which is heavily planted with explosives.
"The security forces had a heavy exchange of fire with one of the factions named Ravinder Ganjhu (who carries a reward of Rs 25 lakh) on Thursday in which more than 200 rounds were fired and police destroyed their camps. On Friday, at around 8am the two CoBRA jawans accidentally had their legs on the pressured IED which led to the blast," he said.
Sources also said that two other Maoist factions led by Chotu Oraon and Ranthu Oraon are also present in the Bulbul-Peshrar area.
"The two injured jawans identified as Dilip Kumar (29) and Narayan Das (38) were injured in a pressure-induced IED blast on Friday morning and were airlifted for treatment at Medica Superspecialty Hospital in Ranchi. Their condition is stable. While Dilip Kumar had suffered blast injury on the right leg and might undergo amputation, Narayan Das has injuries on the face, left arm, and chest," said Jharkhand police spokesperson and IG operation, Amol V. Homkar.
The senior cop said that the police had achieved success during the Thursday encounter and destroyed Maoist camps.
 "Even after the injury to the two CoBRA jawans the search operation continued and we destroyed two more bunkers on Friday afternoon. The operation against extremists will continue," said Homkar.
Sources in the police said that Maoists used the dense forest to escape to other neighbouring districts of Latehar and Gumla during the combing operation of police.
The police had eliminated a Maoist top leader Buddheshwar Oraon carrying a Rs 15 lakh reward in the Kurumgarh forest area sharing borders with Lohardaga and the district of Gumla in July last year.
 "We will go all out to flush out rebels from this region with continuous operations," confided a senior police official.