Truck collision leads to major fire
A car, pickup van, 20-plastic drums and three pushcarts gutted on GT road near Hazaribagh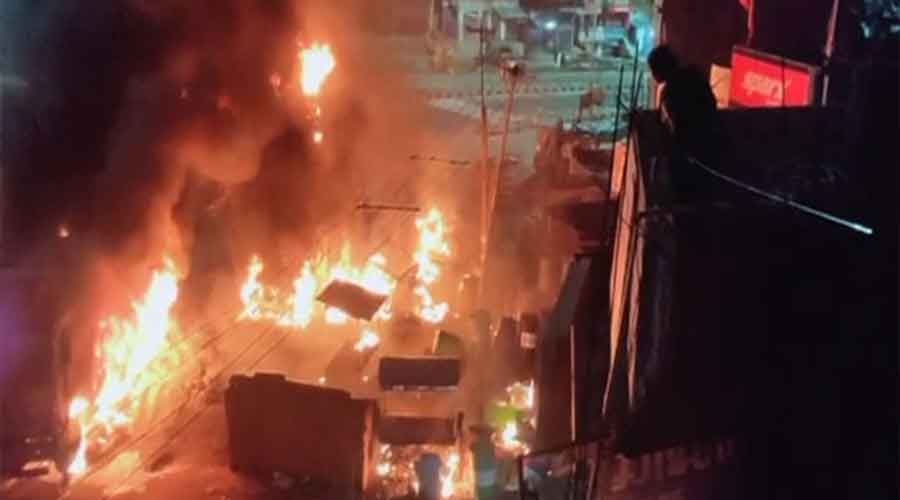 The accident spot at Barhi chowk in Hazaribagh on Thursday.
Picture by Vishvendu Jaipuriar
---
Hazaribagh
|
Published 20.05.21, 05:02 PM
|
---
A collision between two trucks on GT road near Barhi chowk, 40kms away from Hazaribagh, led to a fire accident where both the trucks, a car, a pickup van, 20-plastic drums and three pushcarts were gutted on Thursday morning.
Police officials said one truck was carrying coal and the other stone chips. After the collision, one of the truck's fuel tanks cracked and the diesel leaked to nearby vehicles engulfing them in fire. The drivers of both the vehicles managed to jump out on time.
Fire tenders reached the spot and brought the fire under control. For the fire team, the biggest challenge was to prevent the fire from spreading to nearby houses.
Police said a teacher Rajendra Kesri and one Mohammad Meraj from the locality spotted the fire first and both informed Barhi subdivisonal officer Nazir Akhtar. About the incident, Akhtar said no loss of life was reported.
Many residents said this was the first of its kind accident on GT road where so many vehicles were gutted by fire. They were thankful to officials who acted on time or else their lives would be in danger.