Tribals to march against Netarhat firing range pilot project
We decided to place our demands before the governor who is the constitutional custodian of lands, says Kendriya Jan Sangarsh Samity secretary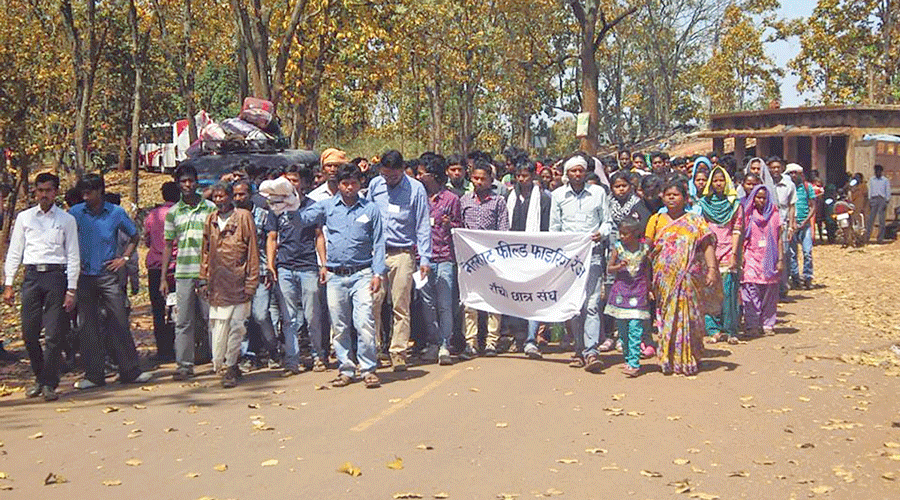 Tribals attend the meeting at the site of the Netarhat firing range in Latehar in March.
Bhola Prasad
---
Jamshedpur
|
Published 20.04.22, 12:37 AM
|
---
Hundreds of tribals will march for over 172km from Latehar to Ranchi spanning over four days to stage a dharna in front of the Raj Bhavan in Ranchi and submit a memorandum to the governor demanding cancellation of the Netarhat Field Firing Range pilot project notification.
The tribals under the aegis of the Kendriya Jan Sangarsh Samity, Latehar-Gumla, will start their march from Tutuapani (at Netarhat in Latehar) on Wednesday morning and cross Gumla district and reach capital Ranchi on Sunday evening and stage agitation on Monday at the Raj Bhavan while a delegation would submit their demands before the governor later on that day.
"We decided to place our demands before governor (Ramesh Bais) who is the constitutional custodian of lands earmarked under the Fifth Schedule and as per PESA Act 1996 gram sabhas (village committees in tribal areas) have the right to take all kinds of decisions regarding the community resources of their area - forests, land, rivers and streams and their development. But in the case of Netarhat Field Firing range our rights have been snatched and thousands of villagers are facing threat of displacement despite not willing to part with their land.
"We want the governor to send our demand to the President and cancel the erstwhile Bihar government notification on the firing range project," said samity secretary Jerome Gerald Kujur.
Significantly, tribals under the aegis of Kendriya Jan Sangarsh Samity, Latehar-Gumla, have been agitating against Netarhat Field Firing Range pilot project since the 1990s, when the erstwhile Bihar government had earmarked about 1,471 sq km in Netarhat Hills in Gumla and Latehar for field firing practice by the army, prior to the creation of Jharkhand.
Two state notifications of November and March 25, 1992, under Section 9(1) of the Manoeuvres Field Firing and Artillery Practices Act, 1938, notified this area for periodical field firing and artillery practice for 10 years. Separate notifications in 1992 and again in 1999, extended the field firing and artillery practice till May 2022, according to the samity secretary.
Owing to enormous resistance in March 22, 1994, practice in the range by the army and the displacement of over 2 lakh tribals across 245 villages was stopped, however, as the deadline for the renewal of the notification nears in May 2022, the adivasi community on the ground is revamping their struggle.
Former Tribal Advisory Council (TAC) member Ratan Tirkey who is also part of the samity has written letters to the governor's office and also to the deputy commissioners of Ranchi and SP Ranchi informing about the tribal staging dharna before the Raj Bhavan.
Last month, farmer's leader Rakesh Tikait had also visited the Netarhat firing range site and extended support to the tribal villagers' agitation for cancellation of the notification.