Tribal outfit gears up for annual hunting festival at Dalma Wildlife Sanctuary
Bishu Shikar dates to be announced on April 9 by Dolma Buru Sendra Samity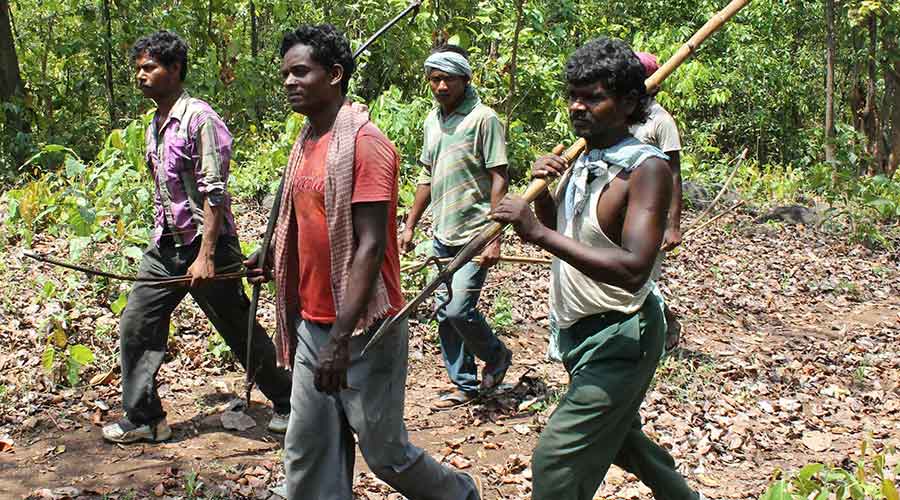 File picture of tribal hunters inside Dalma wildlife sanctuary
Bhola Prasad
---
Jamshedpur
|
Published 05.04.21, 07:42 PM
|
---
Dolma Buru Sendra Samity, a frontal outfit of tribals, has started preparations for Bishu Shikar, an annual hunting festival, at the Dalma wildlife sanctuary.
The samity convened a meeting at Gadra on the outskirts of Jamshedpur on Sunday evening to discuss the festival, called Sendra, celebrated every year between April and May. 
Chaired by Rakesh Hembrom, chief priest of DBSS, the members focussed on the global pandemic which had played a spoilsport to Sendra last year. The nationwide lockdown had kept the tribals living in villages dotting the sanctuary and suburbs of Jamshedpur indoors.
Hembrom said they would announce the date of the festival on April 9 and would invite the Dalma forest authorities when they meet for the second time.
"Bishu Shikar is an annual event celebrated by us at the Dalma sanctuary. We will celebrate the occasion by keeping with the tradition and rituals. Invitations to our tribal brethrens will also be sent on April 14," he added.
Tribals from Jharkhand, Bengal and Odisha, armed with spears, bows and arrows and even firearms, converge inside the elephant abode, and spend the day there in the festival, held symbolically, as hunting is banned in the sanctuary.
Besides DBSS, Dolma Buru Sendra Dishua Samiti (DBSDS), a parallel tribal outfit, also celebrates the festival. The outfit is likely to announce a separate date.
Dalma authorities keep a tight vigil at the sanctuary in the run-up to the hunt festival. Patrol teams tour the sanctuary and also siege traps and nets which are spread at strategic pockets by the tribals. Frisking is also done at the Makukalocha and Fadlugora entry points to prevent entry of firearms.
"We will request DBSS to celebrate the festival sans killing of innocent animals. We will ask the members to keep the festival symbolic," an official at the forest range office in Mango said.
According to him, Sendra is likely to be held in the first week of May.