Tribal group in sit-in in Ranchi demanding Sarna religion code in census
After the demonstration, the participants submitted a letter to the office of governor Droupadi Murmu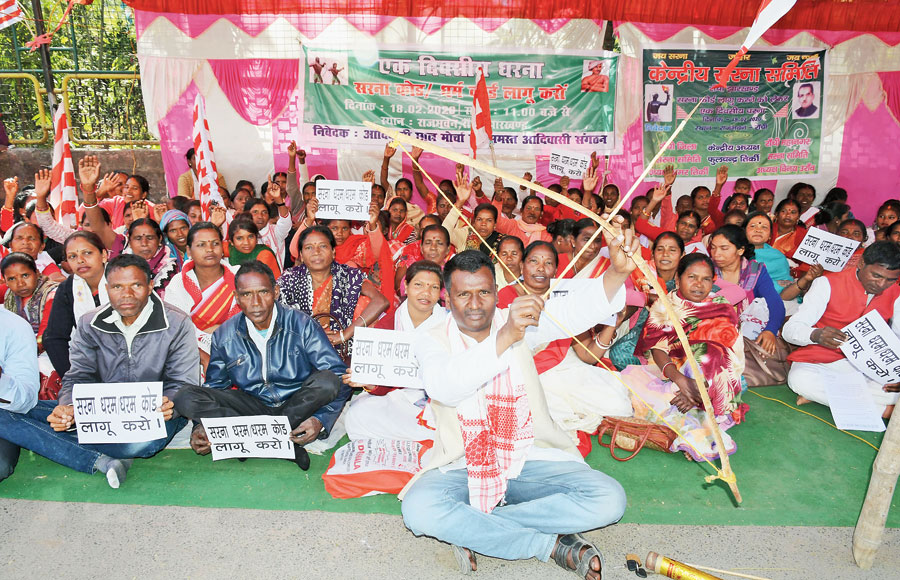 Members of the Adivasi Chatra Morcha and other tribal organisations on a sit-in to demand Sarna Code at Raj Bhavan in Ranchi on Tuesday.
(Prashant Mitra)
---
Ranchi
|
Published 18.02.20, 06:46 PM
|
---
More than 200 tribal persons under the aegis of the Ranchi Zila Sarna Samiti staged a sit-in demonstration near Raj Bhavan on Tuesday demanding the Sarna religion code in the 2021 census.
After the demonstration, the participants submitted a letter to the office of governor Droupadi Murmu.
"From 1871 to 1951 there used to separate code for the followers of Sarna religion but ironically in the first census after Independence in 1951 it was removed and great injustice was done with the follower of the religion," the protesters wrote in the letter.
"During the last census as many as 43 lakh people in the state identified themselves as Sarna and thus a separate code for this religion should be introduced in the census form," they added.
Samiti president Amar Tirkey said that if the initiative for a separate Sarna column in the census form is taken now it would be difficult to introduce it in the last moment.
"All the parties which are components of the government have promised Sarna code in their election manifestos. Thus it is high time to raise the issue to ensure that the Assembly passes the proposal for a Sarna code and passes it on to the Union government," Tirkey said
Samiti general secretary Rajan Bhengra said that the separate Sarna code will help give the tribals a separate religious identity.
"If a person coming for enumerating the census is Hindu he or she identifies tribals as Hindus and if the enumerator is Christian he or she identifies tribals as Christians. This has created a great confusion about the identity of Sarna tribals. If there will be a Sarna column there will be no confusion and tribals, majority of whom are follower of Sarna religion, will get their proper identity," Bhengra said.