Abandoned, transgender now messiah of the poor
Raju Kumari of Bokaro uses savings to feed the needy and look after children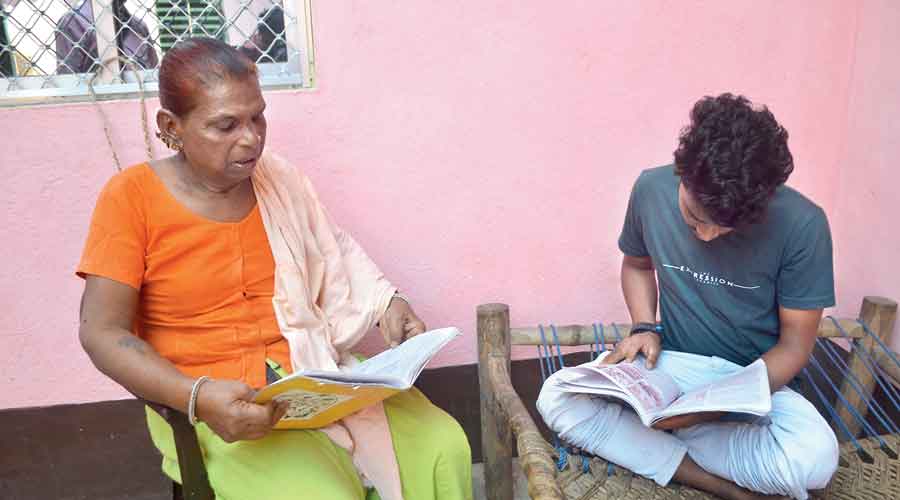 Raju Kumari tutors a boy
Shabbir Hussain
---
Jamshedpur
|
Published 03.11.20, 12:52 AM
|
---
Abandoned by parents for being born an intersex, transgender Raju Kumari has turned Good Samaritan to hundreds of poor of Ritudih locality in Bokaro, around 120km north east of capital, Ranchi during lockdown.
The 58-year-old Raju Kumari was born to a Damodar Valley Corporation employee in Chandrapura in the Bokaro district but faced rejection by her father when it was detected that Raju Kumari was a transgender. Soon after death of her mother, Raju Kumari was forced out of house in 1962 by her father at the age of 10 years.
"I had gone through the plight of an orphan and was fortunate to have been sheltered by a transgender Dulari Kinner in Ritudih in Bokaro who named me as Raju Kumari. "When I started earning on my own by visiting with our groups to houses having happy occasions like birth of a child, construction of new house and marriage of a son, I decided to donate a substantial part for social welfare work by adopting infants who had been abandoned by their parents," said Raju Kumari, sitting inside her semi-concrete house in the slums of Ritudih under Marafari thana of Bokaro district.
It was during the lockdown that people in general came to know about the philanthropic spirit of Raju Kumari who started distributing rice, dal and potato in April and May.
"We saw the pitiable condition of poor and daily wagers during the lockdown and I used my savings and also sought help from other transgenders residing close to my house and we provided 5 kg of rice, dal and potato to nearly 250 poor in April and May," said Raju Kumari who currently looks after a one year-old boy and 16-year-old boys.
Raju Kumari claims to have helped four abandoned poor girls get married.
"In the last three decades I have married four girls whom I had looked after they were abandoned by their own parents. I have also helped in getting three abandoned boys married. Now I am looking after a one-year-old boy and a 16–year-old boy (Kishore Shubham) who is preparing for his matriculation exam next year. I ensure that all the abandoned children under my care receive education," said Raju Kumari who manages to earn close to Rs 40,000 per month. The children stay in a particular part of the locality inhabited by the transgender.
"The children are looked after by other transgenders staying in my neighbourhood when I along with other members of the group go out to seek donations. People also approach us for financial helps on different occasions like marriage, medical treatment cost and shradh ceremony and all transgender residing in the locality help them depending on their ability," added Raju Kumari who has faith in both Muslim and Hindu religion.