Training camps for special athletes to resume next month
Jamshedpur, Ranchi, Dhanbad and Bokaro will be the first cities to host events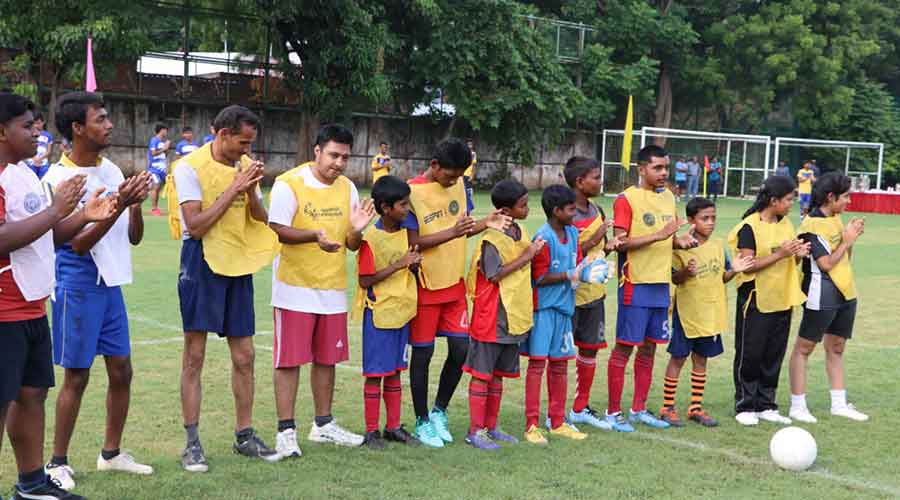 Special athletes at a camp in Jamshedpur last year.
Bhola Prasad
---
Jamshedpur
|
Published 25.07.21, 07:38 PM
|
---
Special athletes in Jharkhand can look forward to resume outdoor activities next month.
The Special Olympics Jharkhand (SOJ) will begin organising training camps for intellectually impaired athletes (boys and girls) who were hitherto confined to their homes for over a year in view of the Covid-19 pandemic.
SOJ assistant area director Satbir Singh Sahota said training camps would first start in cities like Jamshedpur, Ranchi, Dhanbad and Bokaro in the first week of August. "The Covid situation has now improved and stadiums have re-opened. We intend to resume the camps in Jamshedpur, Ranchi, Dhanbad and Bokaro because these cities have the required infrastructure," he added.
Sahota, a former international cyclist, said they would touch rural pickets of the state in due course of time. "We will be holding counselling sessions for special athletes living in rural pockets. They have remained indoors and most would not like to resume their activities," he said, adding that the intellectually impaired need proper handling with utmost care.
According to him, they would first focus on individual sports, including athletics, badminton, roller skating, swimming and cycling, before going for team events. 
"Though special schools across Jharkhand are yet to re-open, we would go for intellectually impaired athletes who don't go to any institutions. We are in touch with parents of such athletes. We will inform the parents (about the camp) on our Whatsapp group. Most of the parents of special athletes are keen for training to resume," Sahota, also resource person (for cycling) of Special Olympics Bharat, a national organisation which promotes intellectually impaired, added.
He said basic fitness of special athletes would be evaluated before they are allowed to train. "We think most of the special athletes would be unfit since they have been staying indoors for over a year. It would be quite difficult to straightaway put them on tracks," Sahota said, adding the volunteers would be shortly informed about the training camp.
The SOJ had asked the parents to keep their wards busy while at home when the Covid-related restrictions were in place earlier this year. However, most parents did not pay any heed. The special athletes wasted their time doing nothing.
The SOJ, an affiliated unit of Special Olympics Bharat, wants to bring its athletes back in shape since national competitions should be resuming later this year. Special athletes from Jharkhand have won medals in national and international competitions.