Tractor strike effect: Trash piles up
President of the tractor owners' association said all tractors would be back in service from Friday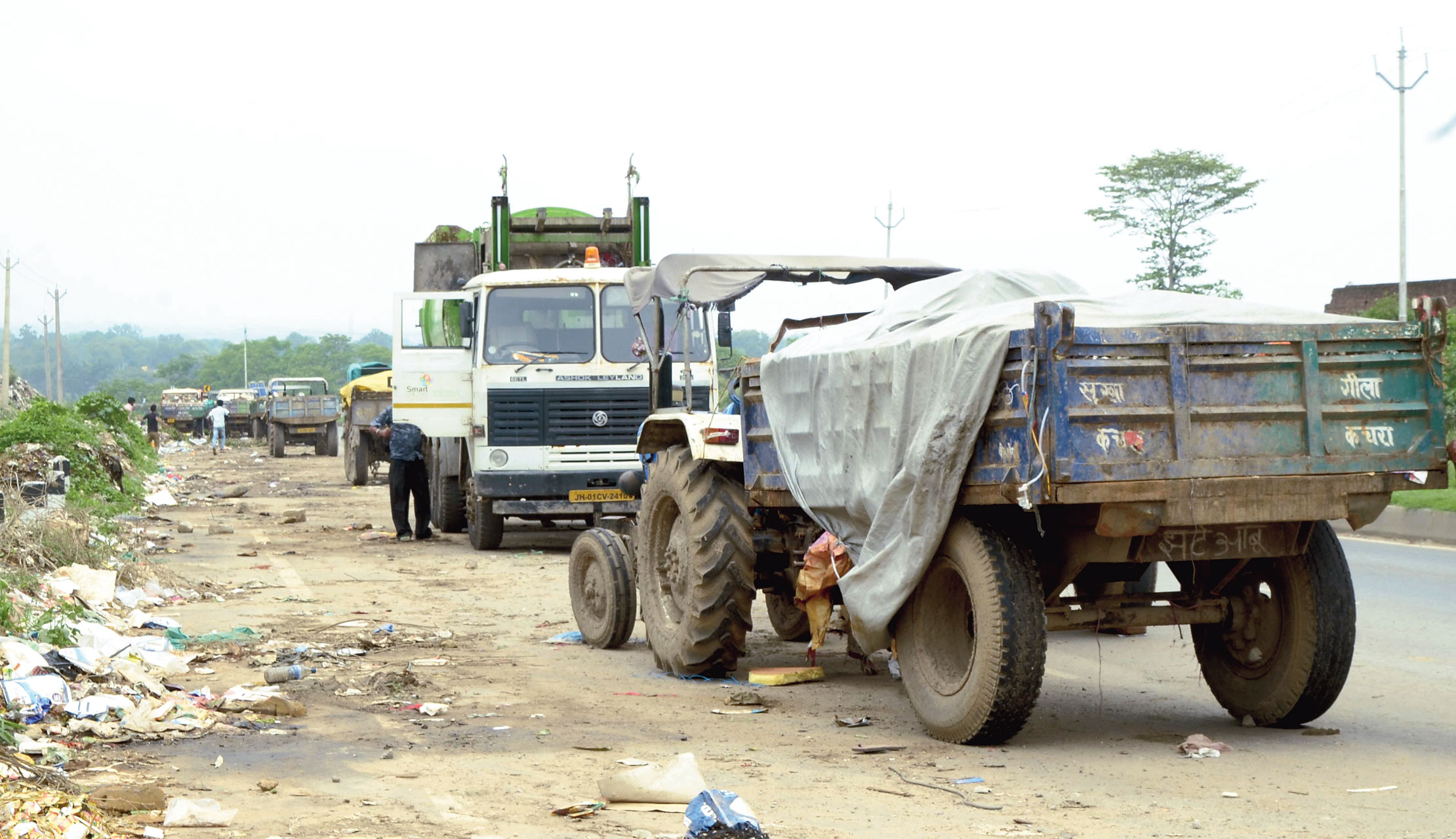 ---
|
Ranchi
|
Published 11.07.19, 06:44 PM
---
The civic body could not clear garbage dumped beside roads and near drains on Thursday as 150 tractors that are used to transport the trash to dumps remained off-road during duty hours — 8am to 2pm — due to a strike of the Ranchi Nagar Nigam Tractors Owner Association.
The tractor owners have five demands: Increasing their payment from Rs 333 per trip to Rs 500, installation of GPS system in the tractors at the civic body's cost, rule of not terminating the service of any tractor without prior permission of the association, payment on monthly basis, and proper arrangement for weighing of the garbage to ensure it is done before 2pm.
Councillor of Ward 26 Arun Kumar Jha said that he kept receiving complaints through the day that garbage was lying piled up.
"Every day at least six tractors of garbage is collected from my ward. As the work could not be done, I kept on receiving complaints from the market and various localities, "Jha said.
President of the tractor owners' association Preetam Kumar admitted the problem but said there was no way out.
"Earlier garbage in our tractors was never weighed and it was easier for us to collect and dump it in the yard to return for the next trip. But in the last two-three days the civic body started weighing the garbage we carry. Weighing is a time-consuming process and the driver has to keep on waiting for his turn in the garbage dump. Due to this it has become difficult for us to run our tractors at the old rate which was never revised after 2011," Kumar said.
Kumar, however, said all tractors would be back in service from Friday.
"From tomorrow, all tractors will run as around 1.30pm we called off our strike on the assurance of city manager Sandeep Kumar, who promised that our rate will be revised after the RMC (Ranchi Municipal Corporation) board meeting expected to take place between July 20 and July 25," Kumar said.
Contacted, municipal commissioner Manoj Kumar said the weighing of the garbage was necessary.
"When the garbage was not weighed, tractor operators used to load garbage in limited quantity and used to complete two trips just to earn money," he said.
"When we told them that the load of garbage on each tractor should not be less than 1.5 tonnes in a trip and started measuring the weight, they, in order to mount pressure, resorted to the strike. They said it would be difficult for them to work on new terms at the old rate. After we realised their problem, we assured them to revise the rate and they ended the strike," he added.