Town bus seat for senior citizens
The town bus outfit is also planning to install surveillance cameras at the new bus terminus in Sakchi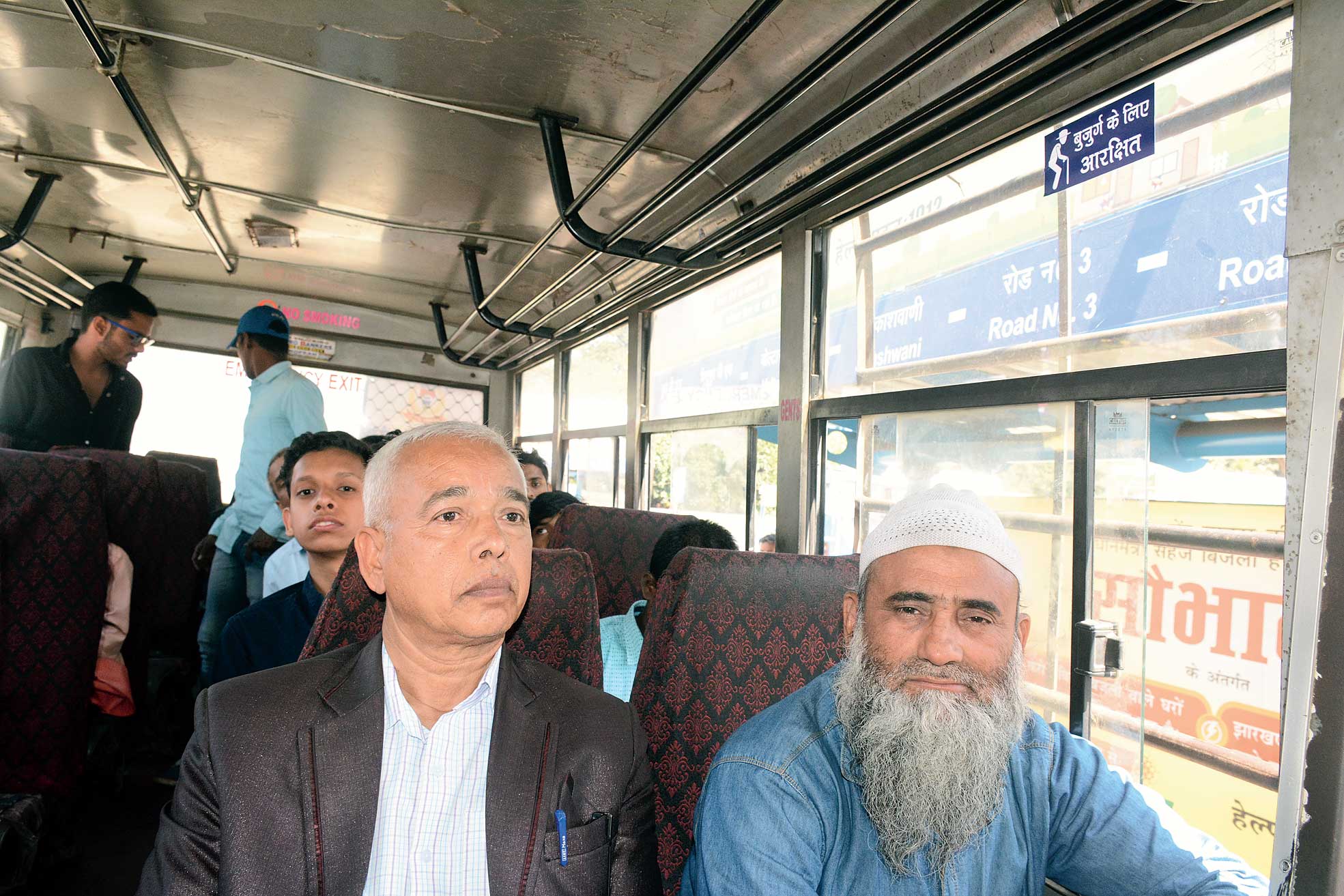 Elderly passengers ride a town bus in Sakchi, Jamshedpur, on Tuesday.
(Bhola Prasad)
---
Jamshedpur
|
Published 20.02.19, 09:48 AM
|
---
Private town buses here have finally become both disabled- and elderly-friendly.
Shikshit Berozgar Mini Bus Association, the outfit that co-ordinates the fleet of 120 on 11 specified routes, made it mandatory from Tuesday for every vehicle to reserve a seat each for senior citizens and those with hindered mobility, impaired hearing or poor vision. Reserved seats will be marked with stickers.
"We had been toying with the idea and are now executing it. The bus staff have been directed to ensure reserved seats are not occupied by general passengers," said association secretary Dilip Jha.
Town buses witness a daily passenger footfall of 50,000. Statistics show senior citizens make up for nearly 20 per cent and the disabled above three per cent.
"Elderly and disabled passengers are often seen standing in crowded buses as people in general lack the decency to offer their seats to such people. Hence, the move. Now, bus staff can ask passengers to vacate reserved seats whenever necessary," said association president Sanjay Pandey.
The town bus outfit is also planning to install surveillance cameras at the new bus terminus in Sakchi.
"We want to fix CCTV cameras at five locations, including the entry and exit gates. The terminus sprawls over 2.5 acres and electronic surveillance is imperative. There have been complaints of theft. The caretaker cannot man the entire premises alone. The camera feed will be monitored from the bus operators room," Pandey said.
Passengers have welcomed the initiatives.
Mahendra Singh, a retired Tata Steel employee and resident of Burmamines, said better late than never.
"Good manners are very uncommon these days. Young people hardly ever spare seats for the elderly. Even physically challenged persons are left standing because no one has the courtesy to offer a seat. Seats must be reserved in all modes of public transport," Singh added.