Tourists head to Dalma Sanctuary for Durga Puja
The sanctuary has become the much sought after destination during the festive season for tourists especially from Calcutta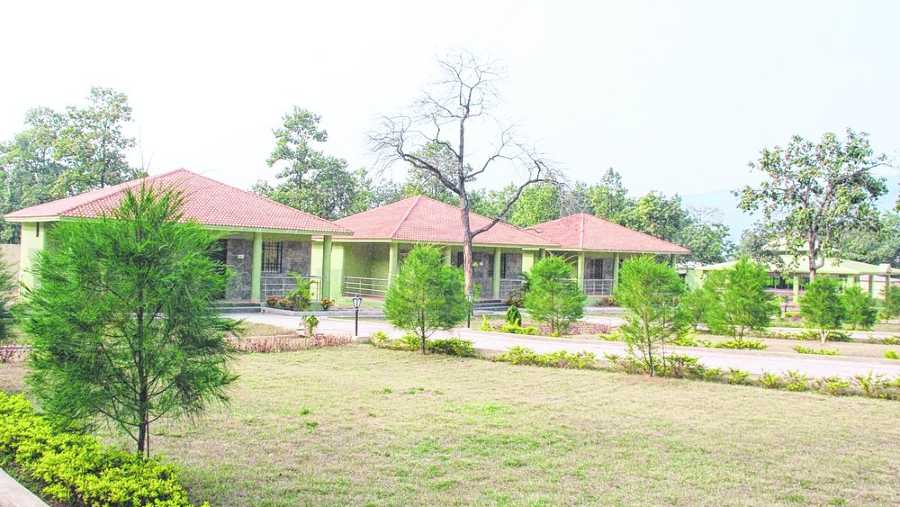 The air-conditioned cottages inside Dalma wildlife sanctuary.
Bhola Prasad
---
Jamshedpur
|
Published 13.10.21, 04:51 PM
|
---
This Durga Puja, the scenic Dalma wildlife sanctuary has turned out to be the most favoured get-away destination, with a huge number of tourists from Ranchi and Calcutta booking the cottages and rooms.
According to sources in the sanctuary, the 192 sq km elephant abode is chock-a-block with this puja. Be it the plush air-conditioned cottages, non-air-conditioned rooms, bamboo cottages or the mud cottages in Makukalakocha or the three staff quarters at Pinderabera at the hilltop, all are booked till October 19.
Majority of tourists who have preferred to spend quality time with their families in the lap of nature are from Calcutta, Ranchi and Jamshedpur.
According to Dalma range officer (West) Dinesh Chandra, accommodations are booked till October 19, but they are open to entertaining requests for more bookings at a later stage. "It's Puja rush at the sanctuary. All accommodations are booked till October 19. Tourists from Ranchi have booked the air-conditioned cottages till October 15 and visitors from Calcutta have reserved the facility (when it falls vacant) till October 19," he informed.
A staff at the Dalma range office in Mango said, "Calcuttans are already holed up at other accommodations, including the bamboo house and the mud house. Some families from Jamshedpur are also staying at the staff quarters in Pinderbera."
According to him, tourists from Calcutta booked accommodations at the beginning of this month. "We are not entertaining further requests as there are no rooms till October 19. But the enquiries are still pouring in for bookings post October-19," he informed.
Currently, there is no water or electricity crisis at both Pinderbera and Makulakocha facilities.
Tourists enjoy spending time near a dozen-plus big and small watering holes, including Majhla Bandh, Chotka Bandh and Bijli Ghati, where the animals come to quench their thirst. However, the hilltop is presently sans elephants, some of whom are stationed downhill on their way to the jungles of West Midnapore and Bankura in neighbouring Bengal.
Tourists also visit the Shiva temple located around 4km from the Pinderbera facility. The visitors can also enjoy a safe and comfortable ride to the top of Dalma Hills.
Guard walls have been put up at vulnerable points along the 17km unmetalled road leading to the 900ft summit of the sanctuary. The roads, which have been repaired with patches of plain concrete cement, are also in good condition.
Tourists can also hire trackers (village youths who work as daily wage earners) to visit the scenic spots.
Visitors are needed to stock up on rations before dropping anchor at Pinderbera. However, they don't need to do the same at Makulakocha, thanks to a full-fledged kitchen and a cafeteria.